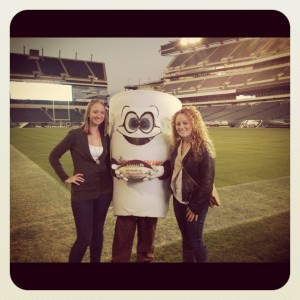 A few weeks ago, I was invited to a mysterious event dubbed "Philly's Coolest Tweet & Greet." All I knew was that it was hosted by Dunkin' Donuts Philadelphia (@DunkinPhilly) and that the event would be held at Lincoln Financial Field, where the Philadelphia Eagles play.
I arrived at The Linc with my friend Lindsay, not sure what to expect. We headed into the stadium and were greeted by cocktails, appetizers and munchkins (of course!). Signs around the room promoted the event's hashtag #DDPhillyTweetUP.
The people who filled the room were winners of @DunkinPhilly contests, avid tweeters and others who had been invited by the brand.
After about a half hour, we were told that we were about to experience part one of the evening. That's when we were taken behind the scenes of the stadium and brought right out to the field, through the very concourse the Eagles players run out of before the start of every game. Very cool.
After a quick photo opp with "Cuppy" we were taken to part two of the night: the Eagles locker room.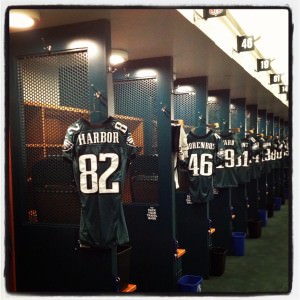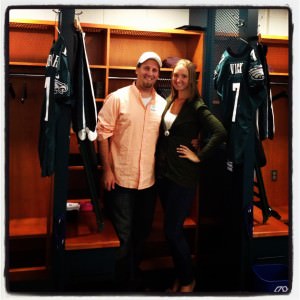 And while we were perusing the locker room (which by the way is very neat, tidy and smells surprisingly good) we had the opportunity to meet Evan Mathis, an Eagles player AND frequent (and hilarious) tweeter. Even tweeted right along with the event attendees, even replying to fans and favoriting tweets throughout the night.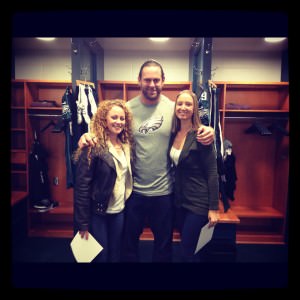 As if that wasn't cool enough, we were told there was one more surprise and brought upstairs to the President's Club, where a delicious spread of food and desserts awaited us. While we ate, Eagles long snapper (and magician) Jon Dorenbos wowed the crowd with a magic show. Seriously. A football player putting on a magic show to a room full of Dunkin' Donuts and Twitter addicts.
One look at the #DDPhillyTweetUp hashtag says it all; @DunkinPhilly impressed the group of attendees. Big time. When I left the event, I began thinking about how innovative @DunkinPhilly is as a brand and how this event proved further solidified their place as a social media leader.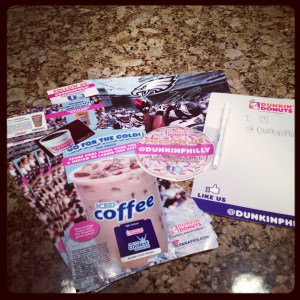 1. They are social. More than just having a social media presence, @DunkinPhilly interacts with fans day and night on social media. I'm always super impressed after checking in at a Dunkin' Donuts on Foursquare or tweeting about a pumpkin spice latte that literally not even a moment later, I see a tweet from @DunkinPhilly thanking me for being a fan. And I'm not the only one. Take a look at their Twitter feed. They consistently engage with fans. Oh and tip: they often tweet out links to pretty sweet coupons!
2. They are brand consistent. As a public relations professional, I'm always extremely impressed by brand consistency. Last night, little touches of the Dunkin' Donuts brand was present everywhere you turned at the Tweet & Greet. When we headed out onto the field, the event hashtag was illuminated on the jumbotron. Even when we went to the President's club, all the digital signage we passed featured the Tweet & Greet hashtag and information. Small touches matter and can be impactful.
3. They demonstrate fan loyalty. Inviting your most social fans to experience a unique event, exclusive to only a small group of people? If that's not a big, "thank you!" to their fans, I'm not sure what is. The brand showed appreciation for those who frequent the store and share their brand loyalty on social media.
4. They provided an unforgettable experience for Dunkin' Donuts fans. It doesn't get much cooler than last night. I know that as I drive by Dunkin' Donuts or stop in to grab a coffee, I'm going to be reminded of the Tweet  & Greet and the fun memories associated with the event. For a brand, having a customer correlate your brand with a positive experience is key. I thought Dunkin' Donuts was an awesome brand before, but now I think even more highly of them.
A big thank you to @DunkinPhilly for inviting me to last night's Tweet & Greet!
What do you think? Is @DunkinPhilly awesome or what? What brands do you think are rocking social media?