Because I work in PR and social media, I keep my eyes and ears open for the latest trends, news and case studies of companies who just get social media marketing. I thought I was at the point where nothing much could impress me…after all, companies will do almost anything to get attention online.
But a couple of weeks ago, I found myself absolutely blown away by a company. FatCow, to be specific.
FatCow is the company I've used for the past three years to host my website. They were recommended to me by my first web designer. At that point, I didn't know much about websites, so I happily took her recommendation and signed up with FatCow.
Every time I have a small issue with my website or when it comes time to renew my domain and I'm confused, I use FatCow's live chat customer service feature. Most companies have them, right? Nothing crazy, here. But every, single time, I have a wonderful experience. I'm tended to in a speedy and friendly manner, and always log off with all my questions answered, and website intact.
So, after my last interaction with the company, I sent out the following tweet: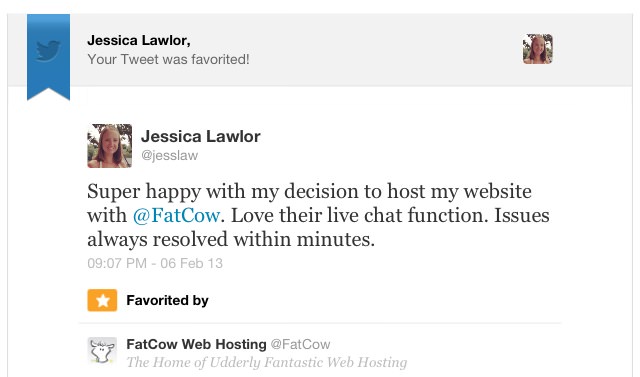 I noticed that FatCow favorited my tweet, but again didn't think much of it. At work, we star several tweets and screenshot Facebook posts to send around to the team, include in presentations, use for award submissions and for a variety of other reasons.
A few weeks after the tweet, I came home to a package in the mail. The envelope said it was from Etsy, which seemed kind of curious to me considering the only purchase I've made on the site was my iPhone case in December. I opened the envelope and was greeted with a small box.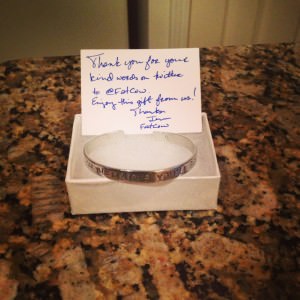 Inside the box was a bracelet inscribed with the words "Oh the places you'll go." The very same bracelet that I pinned to my Jewelry & Accessories Pinterest board nearly a year ago with the caption, "WANT!"
Delighted, but still a bit confused, I reached for the note and read the following:
Thank you for your kind words on Twitter to @FatCow. Enjoy this gift from us! Thanks from FatCow."
UM, WHAT?! My brain began churning a mile a minute with questions and thoughts.
Did FatCow seriously just send me a gift simply because I said something nice (but completely honest) on Twitter? And wait…how did they know that I wanted this very bracelet? Where have I seen this bracelet before? OH MY GOD, on Pinterest. WAIT, OH MY GOD, FatCow looked at my Pinterest boards and sent me a personalized gift. WHOA. They are GOOD.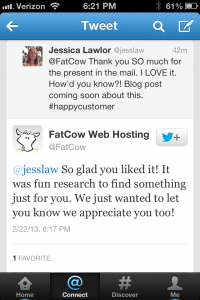 Of course, like any good social media professional, I immediately took to all my social networks to spread the word (Side note: My Facebook, Twitter and Instagram friends were all VERY impressed with FatCow's social media efforts).
I sent a tweet to thank FatCow and was again blown away by their response. The fact that the company specifically researched my Pinterest account to find a gift that they knew I would love impressed me to no end.
Of course, there's a bigger lesson here than FatCow simply sending me an awesome present. Here are four things FatCow did right when it comes to social media marketing, and how other companies can do the same:
1. Pay attention. FatCow clearly carefully monitors their social media accounts and takes note when customers reach out with concerns, comments or compliments. By starring my tweet, they now have it saved and can refer back to it at any time. Companies can also email tweets from many third party sites (like Hootsuite, for example) to save tweets they'd like to hold onto.
2. Show appreciation. FatCow obviously went above and beyond in showing their appreciation in this instance, but companies can thank their customers in other ways online too. By simply monitoring social media sites and replying to both positive and negative comments, companies can show customers that they care. Companies would be surprised to learn how excited every day consumers are when a brand interacts with them online.
3. Master the art of delight and surprise. We talk about delight and surprise a lot at work (specifically, this KLM Surprise campaign case study) and how much of an impact it can have on a consumer. FatCow did exactly that. When I opened that small box, I was completely shocked and immediately super excited. It was a very simple moment that I will remember for a long time. Also, when I wear that bracelet (which I've been doing almost every day!) I am reminded of FatCow and my positive experience with the company.
4. Any company can impress. What I love most about this whole experience is that in general, when you think of companies rocking social media, a web hosting company isn't usually the first to come to mind. But FatCow proves that ANY company can excel at social media and make an impact on their customers and potential customers.
Thank you, FatCow! You've definitely earned a customer for life.
What other companies are rocking social media by mastering the art of delight and surprise? Share stories and examples in the comments.
Disclaimer: FatCow did NOT pay me to write this post, nor do I receive any type of discount for their web hosting services. I'm simply an ecstatic customer and wanted to share my experience with a great company. If you are interested in using FatCow, they have let me know that if you use my name or domain name as a referral, I will receive credit with the company.