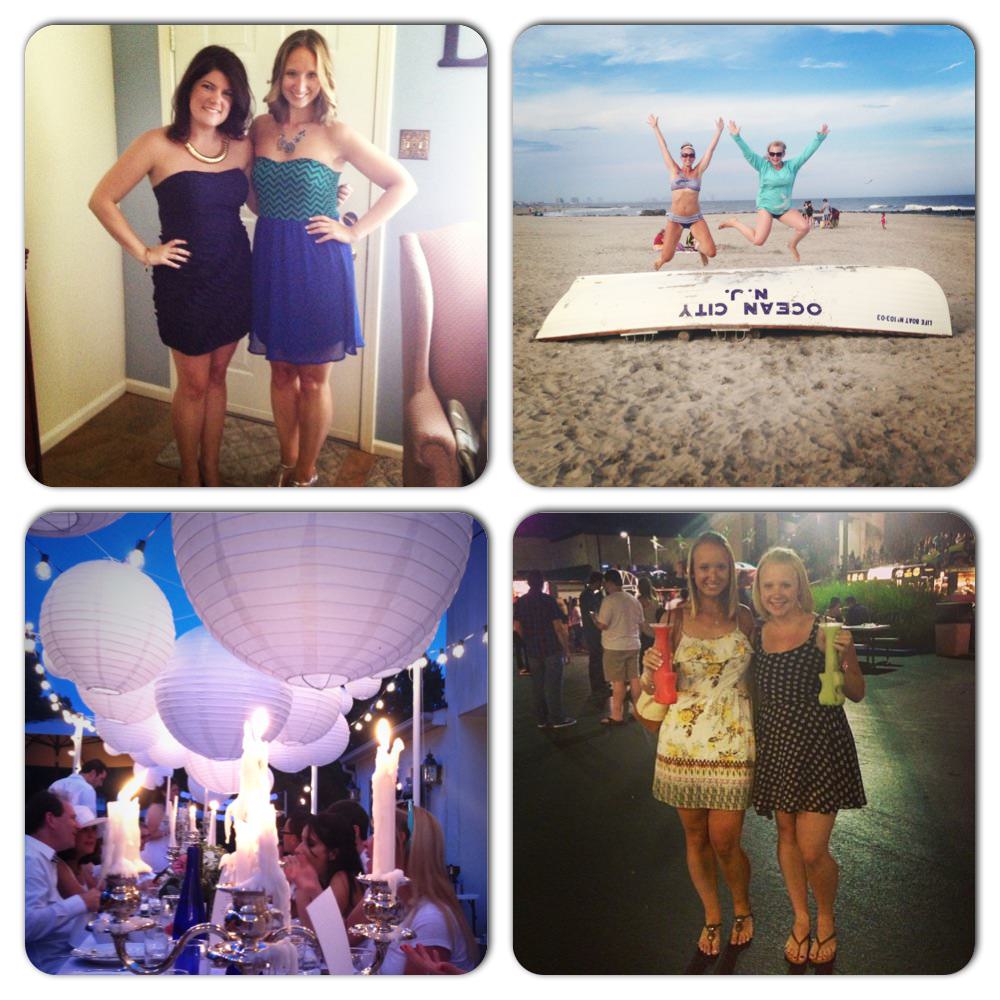 Each month, I share three things I accomplished in the previous month and preview three things I'm excited about or hoping to accomplish in the month ahead. It's fun to look back and forward, and as an added bonus, these monthly check-ins keep me accountable to reach my goals.
I hope you'll join in and share your three things in the comments section! I've been thrilled to see that other bloggers enjoy my monthly check-ins and have adopted the format for their own blogs- this is AWESOME! If you write a similar monthly check-in/look ahead post, please feel free to utilize this format (I'd appreciate a brief shout-out) and be sure to leave a link in the comments below so we can all support you in your goals for the coming month!
In August, I…
1. Spent a week with my family in Ocean City, NJ. Every summer, my family heads to our favorite place on earth, OCNJ for a week. We go with family friends and between the two houses, there are about 25 of us who take over the beach each day. Once again, it was a wonderful week down the shore; we rented bikes, ran on the boardwalk, ate way too much delicious food and spent lots of time lounging on the beach. This year, I really focused on fully enjoying my vacation and tried my best to disconnect and recharge.
2. Did too many fun social things to highlight just one. I was trying to pick one specific event from August to feature here, but the month was just too epic. Of course, I had a great time at the Philadelphia Geek Awards and found myself completely inspired by the work of all those honored at the event. I also had the opportunity to see John Mayer again with my little sister and although we weren't in the third row like we were last month, there's nothing better than great music, an outdoor concert and a delicious guitar-shaped margarita. At the end of the month, my friend Stephanie returned to the U.S. after six years in France and held an incredible private Diner En Blanc welcome home party. Such a wonderful month to spend with friends!
3. Joined a mastermind group with four other smart women. Growing a solo business/blog is not easy, so it's always nice to have other people to brainstorm with and bounce ideas off of. When Dana Sitar invited me to be part of a mastermind group (our awesome name is the Fierce Fivesome, in case you were wondering) I jumped at the opportunity. Every other week, we jump on a Google Hangout and each get 20 minutes to talk about whatever we want- topics have ranged from managing client work to writing an ebook to growing an email list. I'm learning so much from these ladies and can't wait to continue to be inspired and grow my freelance business and blog even more with their guidance.
In September, I will…
1. Try out hot yoga. As I've mentioned a couple times, I've begun going back to yoga. My local Whole Foods offers super cheap classes, so I've been going there once a week to get my fix. I definitely want to increase my yoga-going, so a couple of weeks ago I purchased a LivingSocial deal for a hot yoga studio near me. I'm VERY nervous about trying hot yoga- the idea of being in a 104 degree room kind of freaks me out, but I'm excited to challenge my body in a new way.
2. Begin the process of house searching. Sometime within the next year, I plan to buy a house (AH! I think that's the first time I've said that publicly). It's something I've been thinking about for a very long time and I'm finally *almost* ready to seriously start the process. For the past couple of months, I've been keeping my eye on listings in neighborhoods I like and this month, I'm going to go to my first open house. Any tips for a first-time home buyer? I need all the tips I can get!
3. Start doing all kinds of fun fall things. I LOVE the fall; there's nothing better than pumpkins, hayrides and purposely going out of your way to step on a crunchy leaf. I always try to take full advantage of seasonal activities, so this month, I'm excited to check out a few local festivals, spend lots of time outside and enjoying all kinds of pumpkin-y deliciousness.
August Posts You May Have Missed
Stop Trying to Find Yourself And Do This Instead
Why Being a Geek is Actually Really Cool: A Recap of the 2013 Philadelphia Geek Awards
Five Tips for Embarking on a New Adventure (Plus Advice For My Brother As He Goes to College)
Saying Goodbye to Summer 2013: Lessons Learned from an Epic Summer of Transformation
Four Ways to Use That Back-to-School Energy to Kickstart Your Goals
What did you accomplish in August and what are you looking forward to accomplishing in September? Share your three things in the comments below!
Want more gutsy content delivered straight to your inbox twice a month? Be sure to sign up for my FREE #Get Gutsy e-newsletter filled with inspiration, ideas and action items to get out of your comfort zone.