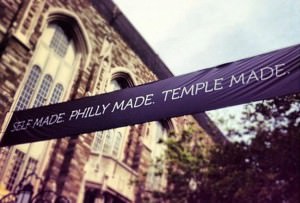 As I was scrolling through Facebook a few months ago, the photo to the left caught my eye.
"Self Made. Philly Made. Temple Made."
The status update came from my alma mater, Temple University.
Since then, I've seen the "Temple Made" campaign everywhere; billboards along the highways in Philadelphia, commercials on television, YouTube videos and Facebook and Twitter status updates.
Last week, Temple even held a special, first-of-its-kind event, projecting a 90-minute video onto the library and Bell Tower in the center of campus. With more than 2,500 students in attendance, "Temple Made Live" turned into a giant block party, reminding students of WHY they chose Temple University and why they should be proud to be #TempleMade.
And last night, immediately after the first presidential debate, Temple University aired this commercial on all major networks from New York to DC:
After admiring this campaign for the past two months (and seeing the flood of tweets in my Twitter stream from other Temple alumni) I started thinking about WHY this campaign works and why it's resonating so successfully with the Temple University community.
1. It reflects an entrepreneurial spirit. If there's one thing Temple students have in common, it's a creative and entrepreneurial spirit. The Temple University community has always been marked by the determination to improve and become something better. This campaign says it all. We're #TempleMade. These values are the ones Temple University students walk away with at graduation, and I know personally, the determination I learned from my four years there carries me through every day, as I work to better myself.  This aspect of the campaign especially fills me with pride as I embark on my journey to "Get Gutsy" and reach my own personal and professional goals.
2. It prominently features students AND alumni. As Temple geared up to launch this campaign, they reached out to followers on social media and encouraged students and alumni to Instagram photos of what being Temple Made means to them using the hashtag #TempleMade. The photos they received make up the ads, commercials and content for the live event held on Main Campus last week. This campaign utilizes crowdsourcing at its finest, and encourages the Temple community to keep a close eye on the campaign to see if their submission is used in a campaign initiative. Brilliant. Brand participation AND loyalty.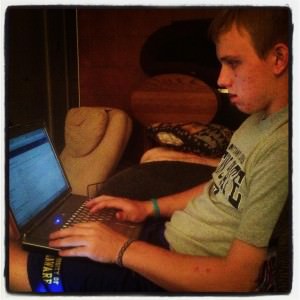 3. It blends traditional media and social media flawlessly. Temple has literally nailed it with the execution of this campaign. The campaign resonates with students and young alumni who regularly use social media sites like Instagram and Twitter. My Twitter feed is constantly flooded with #TempleMade tweets from both students and alumni wishing they were back on campus to experience the excitement (GUILTY!).  It also gives more seasoned alumni a sense of pride with commercials airing on major networks, during University sporting events and print ads on buses and billboards. The campaign honors the past and looks forward to the future; it's completely inclusive of the entire Temple University community and I think THIS is one of the biggest reasons this campaign has succeeded.
I've always been proud to be a Temple Owl, but this campaign seals the deal– and has boosted Temple University to heights I never could have imagined when I was a public relations student there. It's one of the many reasons I'm thrilled that my little brother Matthew is applying to Temple University, with hopes to play baseball there and study sports management.
I am so incredibly proud to be #TempleMade and give the university serious kudos for a campaign that sincerely works and resonates with their community.
What do you think? Has Temple University hit the nail on the head with their #Temple Made campaign?