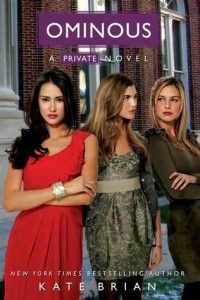 Ominous
Author: Kate Brian
Goodreads| Amazon| Author Website
*Spoilers ahead if you're not up-to-date with the Private series

After finally reuniting with Noelle after her mysterious vanishing, Reed is ready to settle down and enjoy the rest of the school year in relative peace. But at Easton Academy, peace is definitely not in Reed's cards.
In the previous book VANISHED, Reed learns that Noelle is her half sister. The girls grandmother tells them that they are special; and that there's a secret waiting for them to discover back on campus. The girls return to campus and find a book called The Book of Spells.  Spells? Witchcraft? Noelle is annoyed and dismisses the book, calling her grandmother crazy. But Reed is intrigued. She decides to try out a spell.
What ensues is sheer madness. Reed begins having extremely vivid dreams; dreams in which her friends disappear. Slowly, Reed's dreams begin coming true, and she has no idea what she can do to stop them.
I'll be honest. I was extremely skeptical after reading the book before this one: VANISHED. I wrote in my review that I've always loved how Brian's books are thrillers, but I wasn't sure I was ready to delve into the paranormal, at least in this series. However, OMINOUS restored my faith in this series. I was on edge the entire time I was reading, and I actually ended up finding the whole book of spells thing kind of cool.
My favorite line in the whole book? It came from Noelle: "Do I look like Sabrina the Teenage Witch?" I laughed out loud when I read this line. I'm a huge Sabrina fan (I own all the DVD's. Yes, I'm a nerd). As much as this line was funny, it also made me nod my head along with Noelle. This whole witchcraft thing certainly came out of nowhere in the series, and I like that Noelle slyly references the randomness of the new plot line within the story.
Speaking of Noelle, she is much easier to handle in this book. Now that Reed and Noelle are related, Noelle has really embraced Reed, even moreso than in past books. I appreciated Noelle's protectiveness of her half sister, and I really enjoyed the dynamic between the two in this book.
One of the best parts  of this book is the mentions and reminders of past girls from the series. Mentions of Ariana, Cheyenne and Sabine bring me back to the early days of the PRIVATE series. Reading their names makes me want to re-read the series all over again, just to enjoy the feelings I got each time I read a new mystery.
Another one of my favorite  parts of this book (and the series in general) is the unique history of Easton and Billings that Kate Brian has introduced to readers. After reading 13 books in this series (plus the PRIVILEGE series), I feel like I really know and understand the history and background of how these girls came to act the way they did. I understand the history behind the Billings Literary Society, which helps me a little more to understand why witchcraft was even introduced. I love feeling like an insider in this book. It was also fun in OMINOUS to learn about all the relations to the original Billings girls that we had never been introduced to before. Very cool that Reed is descended from one of the founders of the Society.
By the way, this series is perfect beach or pool reading. It's very quick reading, and the stories are extremely fast-paced. You'll definitely be on the edge of your seat the entire time. If you haven't tried the series out, I'd highly recommend them.
The next book (which comes out on September 6, 2011) VENGEANCE is the final book in the PRIVATE series. I am SO excited to see how this book concludes. I'll definitely be sad to see the series come to an end; but after 14 jaw dropping books, I think Brian is ready to wrap this series up.
4.5/5