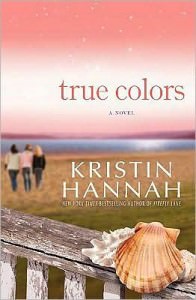 True Colors
Author: Kristin Hannah
Goodreads| Amazon| Author Website
The Grey Sisters stick together. After their mother died when they were just kids, the three girls are there for each other through thick and thin. Winona, the oldest daughter, an overweight lawyer is struggling to find love. Aurora, the middle sister, is the family peacekeeper. And then there's the youngest, Vivi Ann. Vivi Ann is beautiful and gets what she wants.
When a stranger comes  into their small town, life changes for the Grey family. Vivi Ann quickly falls in love with Dallas, despite the wishes of her family. She marries him and they have a child. But one fated night, a woman in their town is murdered. And Dallas is arrested for her murder.Vivi Ann is heartbroken and doesn't believe that Dallas could commit such a crime.
The unbreakable Grey family is suddenly torn apart as old prejudices and grudges are brought to the forefront. Will the family stay together or break up forever?
I've heard so many good things about Kristin Hannah and especially her book FIREFLY LANE, which I haven't had the chance to read yet. Over Memorial Day Weekend, I ran out of books to read, so my mom handed over this title. I decided to give it a chance, and I'm so glad I did.
Whew. This book is hard to summarize. There is so much more to the story than just the murder and the subsequent trial that threatens to break the Grey family. This story is complex. In the first quarter of the book, we learn about the Grey family. We get to know each sister and her strengths and weaknesses. We see Winona struggle with her sister Vivi Ann dating the guy she's always loved, Luke. We see Vivi Ann meet Dallas and struggle with whether to go with  her heart or do the "smart" thing and stay with Luke. Then, the book shifts. We see more action. Dallas is thrown into jail and Vivi Ann is broken after the trial. Later, we see life through Noah, Vivi Ann and Dallas's son's perspective. The book shifts again as the years go by and we wonder if life will ever return to normal for the Grey's.
My major problem with this book is its length. Now, I have no problem with long books if they are long for a reason. And TRUE COLORS spans from 1979 to the present, so we certainly have a lot of ground to cover. However, there were so many moments throughout the book that I didn't think were necessary. There were pages and pages that I feel didn't add to the story and could have been deleted. By that point, I was already so engrossed in the book that I didn't mind and kept moving forward, but I was really just reading on to get to the action. While I enjoyed learning the back story of each family member, I definitely felt like I was on information overload throughout the book.
This story was about the Grey sisters. Three sisters: Winona, Vivi Ann and Aurora. After reading the book, you'd probably only say that the book was about Winona and Vivi Ann. Aurora is a consistent character throughout the book, but she really plays no role in moving the plot forward. She barely has her own storyline. For a book that is positioned as being about three sisters, I thought that Aurora should have been given her own conflict (besides her failing marriage, which was a bit of a dud as far as plots go) that could stand alone next to Winona and Vivi Ann. Perhaps this story would have been better served focusing just on Vivi Ann's storyline, with Winona and Aurora as secondary characters.
Speaking of the three sisters…I'm not sure I ever fully came to like them. In the beginning of the book Winona comes across as petty and jealous. Vivi Ann comes across as flighty and selfish. And Aurora doesn't come across as much of anything. When I began reading, I thought I might eventually have to put the book down because I couldn't relate to any of the women. However, as I kept reading, I watched the women grow. While I still can't say I related to or loved any one of them more than the other, I saw definite growth, and to me, that's what matters in a good story.
I absolutely loved the murder/mystery plot line. I definitely wasn't expecting it and it was a welcome surprise. Like I said, the book was very detailed and I found myself getting a little bored with the mundane description of the everyday lives of each of these characters. The mystery was where the plot began to pick up. As soon as the trial began, I was completely engrossed in the story.
I also loved when we were introduced to Noah. I enjoyed reading his journal entries and learning about life from his perspective as a  pre-teen growing up without a father around. This added an entire new dynamic to the book. It was also fun to see him fall in love for the first time.
In terms of other secondary characters, I never warmed up to the girls father. He held on strong to his prejudices and his comments were hard to swallow. He also never showed any true emotion or love for his daughters….at any point in the book. I definitely struggled with relating to him. He may have been the only character who didn't grow throughout the many years the novel took place.
What an absolutely stunning place to set a book! I found myself wishing I could visit Washington after finishing TRUE COLORS. At first, I wasn't too keen on the whole rodeo, horses, ranch lifestyle, but toward the end, I had definitely embraced it. There were so many scenes describing the beautiful land; Hannah did an excellent job with description. Several times, I actually felt like I was in the story. I could completely picture everything the author described.  And have you seen the cover of this book? Wouldn't you like to visit?
This may have been my first Kristin Hannah book, but it certainly won't be the last. FIREFLY LANE, you're up next!
4/5