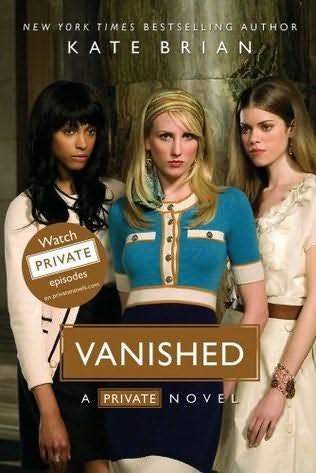 Vanished
Author: Kate Brian
ISBN: 978416984719
*Spoilers ahead

Vanished, the 12th book in the ever-intriguing Private series reacquaints us with Reed Brennan at a moment where Reed is in serious panic. Her best friend, Noelle Lange, has gone missing. Reed receives a text message from an anonymous source saying that they have Noelle and that Reed must not go to the police or to Noelle's parents. They demand that she complete four assignments before she can see Noelle.And when she finally finds Noelle, Reed learns a secret that she had never imagined, even in her wildest dreams.
I am a huge Kate Brian fan, but I think this series might be nearing its end. I mean, 12 books (with another on the way) is a pretty good run! But the plot lines are getting a bit repetitive, so it may be time to wrap the series up while it's still intriguing and awesome.
In the last few books, Reed has been really getting on my nerves and in this one, that annoyance scale went up another tick. Reed just isn't the lovable main character I remember from the early books. Now that she fits in and runs the A-list crowd, she's lost the charm that made her Reed.
The ending is definitely…interesting. Not what I'd normally expect from a Kate Brian book, because while the books are always thrillers, they never tend to delve into the paranormal. I'm not sure what to expect from the upcoming book Book Of Spells, but I'm super interested in reading it, if only to figure out what is going on at Easton. After reading this book, I'm concerned because this whole book of spells thing doesn't really seem to fit into what Kate Brian usually does. I think the audience who reads this type of book may be put off by this seemingly out of place change, but who knows? I guess we'll find out more when Book Of Spells comes out on December 21. Not too long to wait!
All in all, this book definitely still had the suspense that I've come to expect and love from the Private series. I was turning the pages trying to figure out WHO had Noelle and WHY. As long as the suspense is there, Kate Brian still has my attention.
3/5