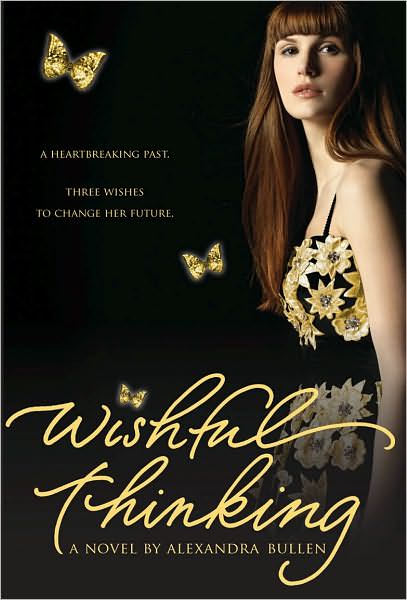 Wishful Thinking
Author: Alexandra Bullen
Goodreads| Amazon| Author Website
Hazel Snow longs to know what it's like to have a real family. Adopted as a child, she's never had the pleasure of knowing her real mom. She doesn't feel like she fits in at school, and she's not sure what her future holds.
But on her 18th birthday, Hazel is given a copy of her birth certificate, and learns the name of her birth mother: Rosanna Scott. After doing research, she learns that her mother will be hosting a local benefit. Hazel digs out the one nice dress she owns from her closet, but needs to take it to a tailor to fix a rip. Hazel picks up the dress from the tailor, and heads to the event location to get changed. When she puts the dress on, she realizes it's not the one she dropped off…but it's perfect. The dress looks like it was made just for her.
With a little boost of confidence, Hazel enters the party and sees a photo of her mother, Rosanna. But a few minutes later, she learns that the party is in honor of Rosanna…because Rosanna has passed away. Defeated, Hazel leaves the party and hops on the ferry, where she wishes out loud, "I wish I had gotten to know her first." Then, something unusual happens. Hazel wakes up in a completely different time and place with three gorgeous dresses in her bag, and a note explaining she's already made one wish, but has the opportunity to make two more. Hazel realizes she now has the chance to get to know the  one person she'd always longed for.
If I thought I loved Alexandra Bullen's debut novel WISH (which I absolutely did), then I really extra L-O-V-E-D her sophomore novel WISHFUL THINKING. This book  left me thinking about it long after I had finished.
I was immediately sucked into Hazel's world and I adored her as a main character. In the beginning of the story, my heart broke for Hazel. Even though her life was not easy, she made it through with a strong and brave attitude. I really admired her because of these unique qualities; qualities you don't often find in someone so young.  Hazel developed so much throughout the book and it was amazing to see her open her heart to family, friends and love as I turned the pages and dove even deeper into the story.
Alongside Hazel, I also immediately fell in love with the secondary cast of characters. Rosanna, Luke and even Jamie all became the family Hazel had always wished for. The scenes between Rosanna and Hazel warmed my heart and watching the unlikely friendship between Hazel and Jamie develop was definitely a highpoint of the book, as well. And of course, the swoonworthy Luke….it's hard not to root for Hazel and Luke to fall for each other.
The setting of this book also made the book completely easy to fall in love with. Set in gorgeous Martha's Vineyard, readers will feel like they've been transported to a simpler summer, where ice cream cones and bonfires on the beach are the social highlight of a weekend. Bullen beautifully describes Martha's Vineyard, and even though I've never been there before, I certainly feel like I have. WISHFUL THINKING had me yearning for summer.
One of my favorite parts of WISHFUL THINKING was that I really had no idea what was going to happen in the end; this certainly wasn't a predictable book. Bullen expertly weaved this story so that there were so many possible endings  running through my mind, but ultimately, I was still on the edge of my seat until the very end, wondering what would happen when Hazel's perfect summer ended.
Oh and the time travel? Fantastic. I wasn't sure how I'd feel about the time travel initially, but it worked extremely well, and added another layer of conflict to Hazel's wishes. It definitely got me thinking what it would be like to go back in time to my birth year and see my parents, and all of my family 22 years younger. Very cool concept.
The ending wasn't as clear-cut as I had hoped. I was sort of holding out for Hazel and Jamie to meet again, years later, but I was still definitely satisfied knowing that Hazel knew what it was like to have a family who loved her. I think the story definitely came full-circle and Hazel came out of the situation with a way more positive outlook on life and family. You'll definitely get a little teary-eyed, so have some tissues prepared!
And for those who read and enjoyed WISH? You'll definitely appreciate the cameo that Olivia, Violet and their mom make in WISHFUL THINKING.
4.5/5