A few weeks back when I posted about my book blogging pet peeves and blog rolls, a few people commented and asked me what Google Reader was.
*eyes grow wide and jaw hits the ground*
Color me SHOCKED. I've sworn by Google Reader for the past three years- it's the only way I've managed to read more than 300 blogs on the regular.
So, for those of you who aren't familiar with the fabulousness that is Google Reader, let me give you a quick tutorial.
Here's how Google describes Reader:
Stay up to date
Google Reader constantly checks your favorite news sites and blogs for new content. Whether a site updates daily or monthly, you can be sure that you won't miss a thing.

Simplify your reading experience
Google Reader shows you all of your favorite sites in one convenient place. It's like a personalized inbox for the entire web.
In even simpler terms, you know all those blogs you love to read every day? Perhaps you painstakingly click on each one daily to see if they've updated. Or maybe you use a blog roll. Google Reader allows you to "subscribe" to blogs (which basically means you copy and paste the blog's URL  into the 'add a subscription box' or click their RSS button) and your Reader will let you know when a blog has new content available. See the image below.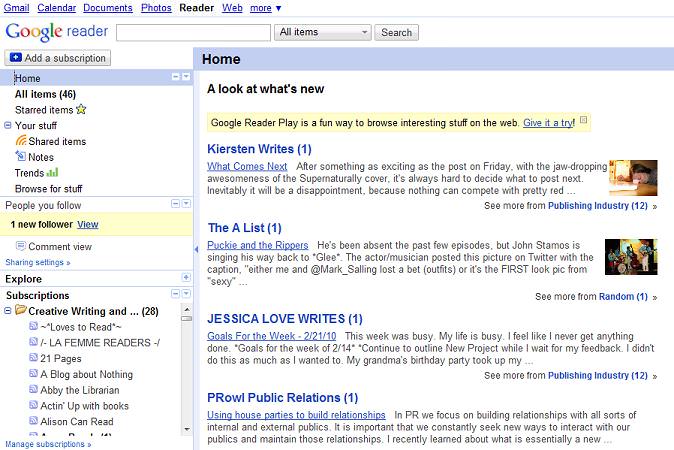 The above photo is my Google Reader home screen. Every time I log in, it shows me some new posts in the main screen. You'll see that the four blogs featured each have a (1) next to them. That means I have one new post to read from each of those blogs.
I also have my subscriptions broken into folders (you can see the first one on the left). This has allowed me to be completely organized in prioritizing what I want to read first. It's really simple to create folders and you just drag and drop blogs into those folders to keep organized. My folders include:
-Creative writing and book blogging
-Freelance Writing
-Public Relations
-Publishing Industry
-Random
-Travel
-Work and Life
Next, let's take a look at what Reader looks like when you actually click to read a post: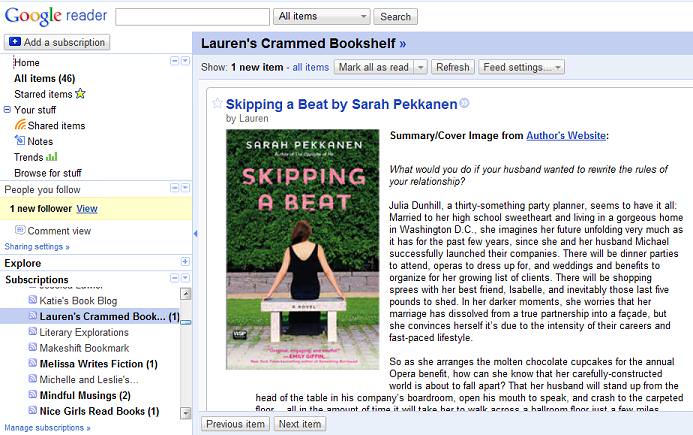 What you see above is a post from one of my favorite book bloggers, Lauren's Crammed Bookshelf. You'll also see on the left that I have some other unread posts. Unread posts are  bold, so you'll always be alerted when someone has a new post. Once you click the post and scroll to the end, the bold and the number go away. Ta da!
Another cool feature of Google Reader is that it provides some basic statistics on how many people subscribe by Google Reader to a specific blog. You can view it for ANY blog (go ahead, you know you want to find out how many subscribers your favorite blog has. Just click 'show details' when you have clicked into a blog post). It also shows you how often on average a blog updates per week. Here's a photo of what my stats on Google Reader look like: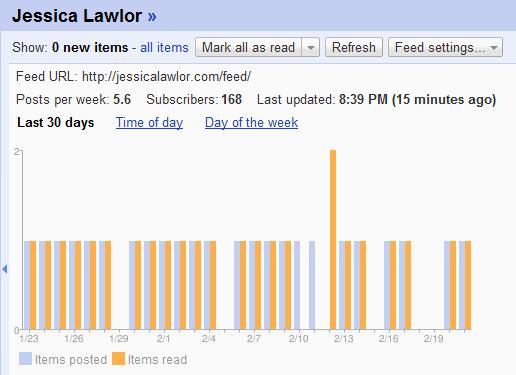 I think my absolute favorite part of Google Reader is how E-A-S-Y it makes blog reading! There are some blogs that I comment regularly on; Reader lets me know when they update. There are other blogs that I love reading, but rarely comment. Reader allows me to simply scroll through and scan posts to see which look interesting and which I can skip over. Using Reader has made the time I spend reading blogs much more efficient so that I can comment away on all of your wonderful blogs, instead of clicking around wondering who updated and who didn't.
My one problem with Google Reader? If you want to leave a comment, you do have to click out of reader and open the blog up in a new page. However, once you get used to doing it, it's really no big deal.
You probably hear people lamenting on Twitter about how out of control their Google Readers are. Be warned: if  you read a lot of blogs, be prepared to see your unread blog posts number go way into the 100's if you take a few days off.  But never fear, you can take all the time you want to catch up; Reader just keeps collecting those posts. And if you get too overwhelmed? You can click the ominous 'mark all as read' button and your Google Reader will instantly clear to zero and you can start back over again!
Have Google Reader questions? I'd be happy to answer them in the comments. Ask away!
If you use Google Reader, share some of your best tips. or your favorite thing about the site.
If you don't, HOW on earth do you read blogs?! Share in the comments! I'd love to know.