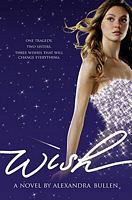 Wish
Author: Alexandra Bullen
Goodreads| Amazon| Author Website
After the shocking death of Olivia Larsen's twin sister Violet, Olivia's parents uproot their family clear across the country to California to start over. Olivia is dreading going to a new school without her beautiful and confident sister to keep her company.
Olivia trudges through her first few days at school, merely going through the motions. When her mom announces that the entire family is going to a cocktail party at her new office, Olivia is dreading the event. She finds a dress in one of Violet's boxes hidden in an empty room in the new house, and heads out to find a tailor to fix the slightly damaged dress. Olivia happens on a tailor shop right down the street from her house, where she meets Posey, a slightly odd young woman who takes the dress and tells Olivia that she'll drop it off at her house the following morning.
When Olivia finds the dress that Posey left on her doorstep, she is shocked to find that it's a completely different dress than the one she dropped off- completely different, but also completely beautiful. In a time crunch, Olivia puts on the dress. On the way home from a night out, Olivia sits in the back of a cab, sad and lonely, and wishes for her sister. She sees a tiny butterfly fly off of her dress and thinks she must be crazy.  The following morning when she wakes up, her sister is sitting in her bedroom. As a ghost, but still present.
This book was such a cute and quick read! I saw it free on Kindle and quickly downloaded it, knowing that it would make the perfect gym read. It had all the elements of a fun, but heartfelt book for teens- a magic dresses, wishes that come true, a likeable main character and some serious emotion.
I was immediately drawn to Olivia. Even through her sadness, the reader could tell that deep down, Olivia wanted life to go back to normal, and wanted to be happy again. I rooted for Olivia throughout the book, happy when Soren, her love interest liked her back, excited when Calla, the most popular girl in school struck up a friendship with her and a little heartbroken when she finally had to say goodbye to her sister for good. Olivia learned a lot about life and what it means to truly live- a lesson that I definitely took away from this book, as well.
The secondary characters in this book  make all the difference-Bullen does a great job developing relationships between Olivia and several different characters, all while keeping the relationship between Olivia and Violet center stage. I was especially drawn to Olivia's relationship with Calla. At the end  of the book, we see that Calla is not like most typical "popular girls." She actually has a lot more depth and I was happy to see Olivia rekindle her friendship with Calla, especially at such an achingly difficult time.
As far as love interests go, Soren was definitely a character I could get behind. He was very swoonworthy and I appreciated that he truly fell for Olivia. It was completely obvious, and very sweet. Where can I find myself a Soren?
I loved the storyline between Olivia and Violet. I love books about sisters- and this one was definitely different  in the fact that Violet was dead. This added a completely new level of depth and dimension to the book. Their relationship was different than before, but in the grand scheme of things, it was exactly the same. It was fun to see how different both girls were, yet it was also completely obvious why they got along so well. They shared a special relationship and bond that would make any girl envy.
The idea of being able to make three wishes is certainly not original, but Bullen develops the idea expertly, making it just different enough that I wanted to keep reading on to see what else Olivia would wish for. I love that Olivia was able to wish her sister back, even for a short time to get that closure she needed to move on and begin to live.
A beautifully written story that left me teary-eyed, but happy at the same time. I am so looking forward to the sequel WISHFUL THINKING that came out on January 1, 2011. Can't wait to get my hands on a copy!
Um, and how completely unplanned and appropriate that I published this post on 1/11/11. I've always been a huge fan of making wishes at 11:11, so it feels extra special to me that I randomly posted this review today. Guess I'll be making some extra wishes!
4.5/5