There's something about a new year that just makes me want to organize- my closet, my shoes, my computer files, Twitter, Facebook, and of course, my bookshelf.
Contrary to popular belief, my bookshelf really isn't all that big. It only has three rows and comes up to about my chest.  It was stuffed to the gills and was super disorganized, so yesterday, I got out my dust rag and put on my neat freak face and started going through all of my books.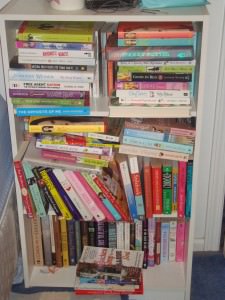 See how everything is all messy, disorganized, double stacked and falling over? Yuck. Not good.
During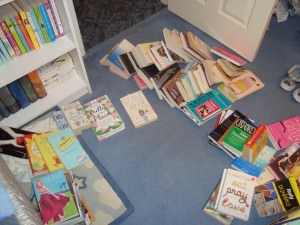 In the middle of cleaning, I got super stressed because I really wanted to put books I haven't read yet on the top shelf, books I love so much I want to stare at them all day on the second shelf and some series I really like on the third shelf (coughHarryPottercough) but I ran into some difficulties. Not enough space to make sure every single book was visible!
After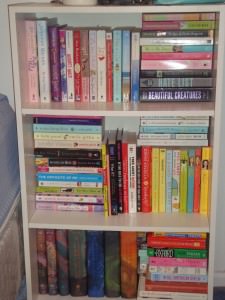 So pretty and more organized than before! I was able to keep the books I haven't yet read on the top shelf, and like I said above, the second shelf is full of some of my favorite books. Unfortunately, I had to double stack on the third shelf for now.
I ended up with a bag of about 20 books that I'm going to donate to the book sale at my local library…it's always hard to part with books, but I know they will go to a good home and someone else will get to enjoy them- and even better, I'll have room for more books! I usually try to donate to my local library a few times a year, especially if I know it's a book I most likely won't read again/don't absolutely WANT or NEED for my collection.
Hopefully, I can rearrange my room soon to make space for a second bookshelf so that all of my lovely books can be seen and admired (and I can buy more, of course!), but for now, I think I did a pretty good job! I can at least see the books I haven't read, so I can make a point to read, review and either keep them or pass them on.
Bring on the 2011 books!
What does your bookshelf look like? How do you keep it organized?