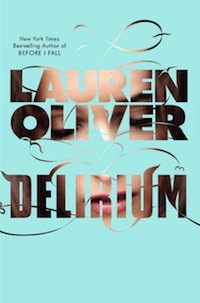 Delirium
Author: Lauren Oliver
Goodreads| Amazon| Author Website
In Lena Holoway's world, love is a disease; the worst disease there is. After the government found a cure for what they call amor deliria nervosa, all citizens of the United States were mandated to undergo a procedure so that they could be cured. Food is rationed, girls and boys are segregated in school, minors have a strict curfew and citizens are fenced into the city by electric walls.
Lena's life hasn't always been easy. Her father died when she was a baby and her mother committed suicide when Lena was young. Now, she lives with her aunt and uncle, where life is the same day in and day out.
With Lena's 18th birthday quickly approaching, she is looking forward to her procedure so that she can finally begin her own life. On the day of Lena's evaluation, a test that last for hours that will decide her fate;  who she is going to marry, where she'll go to school and what her career path will be, something strange happens. A herd of cows bursts into the room, interrupting the testing (and thank goodness- because Lena's answers are way too colorful and out of the box for the evaluators). Lena glances up to the  observation deck in the evaluation room and sees  a boy- he winks at her.
Lena is confused and devastated when her best friend Hana begins listening to illegal music and invites her to attend an underground party. Lena wants to do what is right and is scared to break government rules, because punishments can be as severe as death. But when Lena attends the party and runs into the boy from her evaluation, she learns that there's a whole other world out there; one that she has been missing out on. Lena doesn't want to like Alex, but something inside her warms and she knows she can never turn back. Lena has caught amor delieria nervosa- and she wouldn't have it any other way.
I'm not quite sure how to begin this review. So many thoughts and emotions are still swirling in my head after finishing this book a few short days ago. There aren't even words in the English language to properly describe how I really feel about DELIRIUM…It's just too good.
I was completely and utterly swept into Lena's world. It certainly isn't a world I'd want to live in, but during my short time there, I felt like I had lived there all my life. Oliver is an expert world builder. I felt like Lena's world was all I had ever known; all anyone had ever known. I loved learning every little detail about Portland, Maine, set in Lena's future. I was fascinated by the descriptions of the security around the city, the electric fence, the regulators who frantically check IDS and go on raids to ensure that all citizens are where they should be. Reading about this society absolutely terrified me. I don't think I've ever felt so strongly while reading a book.
Most importantly, I was fascinated by the idea of love as a disease. It was so interesting to read about the "symptoms" of love, and heartbreak; something we've all surely felt at some point in our lives. Can you imagine a world without love? A world where parents aren't encouraged to smother their children with hugs and kisses? A world where people aren't encouraged to find their significant other based on feelings, but based on a piece of paper that lists compatible matches. It's amazing to think about growing up in a world where love doesn't exist, and then finding it, like Lena does, and experiencing all of those feelings for the very first time.
Like Lena, you'll quickly fall for Alex too. You'll fall for his kindness, his knowledge and his sneakiness. You'll want to know more about him and just how much he knows about the society; because he knows a lot more than he lets on.
There were so many little cliffhangers at the end of DELIRIUM. But again, Oliver expertly ends the book, leaving me with just enough of a definitive ending to leave me satisfied (for now), but enough open storylines that I'm still yearning for the next book to come out.
This was the first dystopian book I've read in awhile. The only other I can think of is THE GIVER, and I read that years ago. I wasn't too keen on the whole dystopian genre at first, but I knew because this book was written by Lauren Oliver that I'd have to try it. I have to say, I'm hooked, and can't wait to find other great dystopian reads.
DELIRIUM is every positive book review cliche that I can think of: powerful, heartbreaking, moving, shocking, gripping, fascinating, a real page turner. Like I said above in my tweet, words can't describe the feeling you'll get when you read this book. There's so much more that I want to discuss about this book. I could keep going on and on, but I won't. Two more books are planned for this trilogy and I can't wait.
Take my word for it. This book is a must-read. In my opinion, it's a must own. I'll be  pre-ordering my copy this week so that my hardcover arrives at my house on February 1, 2011.
5/5
Review copy provided by NetGalley.