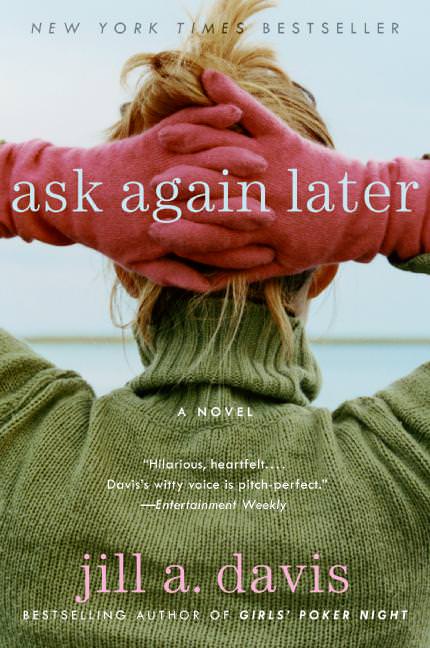 Ask Again Later
Author: Jill A. Davis
ISBN: 9780060875961
Ask Again Later by Jill A. Davis is the story of Emily Rhodes, a lawyer in New York City. When her mother is diagnosed with breast cancer, Emily drops everything in her life, her boyfriend and her career, in order to be her mother's primary caregiver. Emily is almost too happy to give up these things in her life though- she is scared of commitment and jumped at the opportunity to fully put the focus on her mother.
As she takes care of her mother, she also begins to develop a relationship with her estranged father. Slowly, she pieces her life back together and begins to enjoy a newfound friend in her father. She takes a job as a receptionist at his office, and begins to build a new life. One that involves taking care of her mom, getting to know her dad, chatting with her therapist and avoiding the man who loves her, Sam.
This book was NOT what I expected. Not necessarily in a bad way, but just in a different way. I was expecting a full-fledged novel, where Emily goes from Point A to Point B in a different series of events. And yes, this did happen, but in a much different, more fluid way than in most novels.
The writing in this book was almost prose-like. There were no chapter numbers, just titles of chapters. Short sentences. Short chapters. Fragments. The book just continued on, with no stopping point, perhaps a metaphor for life? Whether we like it or not, life continues on.
While I liked the book, Emily was a frustrating character for me to relate to. I'm a serious go-getter and I'm not afraid to vocalize what I want and need. I'm not afraid of commitment. In fact, I crave it.  Emily was the exact opposite. Afraid of commitment and afraid to become independent, I grew annoyed at her constant need for validation from her therapist. It was interesting to see her grow throughout the book, and in the end, I felt like she had come a long way.
What I liked best about the book was Davis's ability to make me FEEL. At one point, I was sobbing as I read because by the end of the book, I felt emotionally attached to these characters. I love when an author can make you feel so connected.
Davis definitely digs deep in this book…we see Emily with her psychologist. We hear her inner-dialogue as the book is written in the first person. We see first-hand what a broken childhood can do to a person mentally and emotionally later in life. However, though this book was extremely deep at times, Davis also beautifully intertwined humor into every page of the book. Emily's dry sense of humor made it easy to continue turning the pages.
3/5