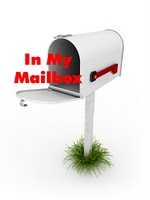 In My Mailbox, started by Kristi from The Story Siren is an awesome weekly meme to post what books we've received this week; whether it was sent for review by a publisher, purchased at a book store, borrowed from the library, or won from a giveaway.
Happy New Year everyone! I hope you all had a great holiday and a great end of 2010. 2010 was definitely a love/hate year for me, but in terms of books, it was AWESOME. I know 2011 will be even better though…I already have a huge TBR list!
Without further ado…here are the books I received this week!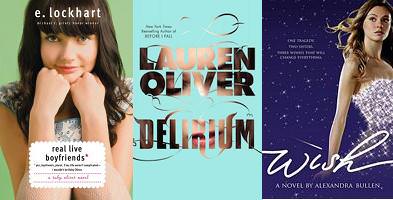 From the library:
Real Live Boyfriends by E. Lockhart: I absolutely loved the other Ruby Oliver books and I feel like I've been waiting A LONG time for this one to come out! Can't wait.
From NetGalley:
Delirium by Lauren Oliver: After reading, loving and raving about BEFORE I FALL,  many of my Twitter friends immediately told me, "DELIRIUM is EVEN BETTER!" I couldn't believe that this could be true, but I've been reading it since yesterday and I haven't been able to put it down!
Free from Amazon for Kindle:
Wish by Alexandra Bullen: First of all, I think it's really cool that Amazon and Barnes and Noble offer free books every now and then for Kindle and Nook. I was super excited when The Compulsive Reader posted that this gem was free on Amazon for a limited time. How cute is the cover? Bullen's latest, a companion to WISH, just came out yesterday! It's called WISHFUL THINKING.
What's in your mailbox today?