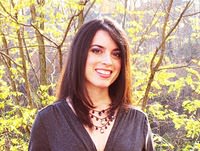 As part of the OTHER WORDS FOR LOVE blog tour, I'm so excited to welcome 2011 debut author Lorraine Zago Rosenthal to the blog today! When I first saw the cover for OTHER WORDS FOR LOVE a few months back in a Waiting On Wednesday, I knew this was a 2011 debut that I definitely had to read- and I certainly wasn't disappointed. See my review here.
I was lucky enough to be invited to be part of Lorraine's blog tour and I got the chance to interview Lorraine AND I also have a copy of OTHER WORDS FOR LOVE to give away! Scroll to the bottom of this post to enter to win your own copy of this fab book!
Onto the interview!
Like Ari, you grew up in New York City and attended a prep school. How much did your personal life inspire OTHER WORDS FOR LOVE?
When creating the setting for OTHER WORDS FOR LOVE, I definitely used my experience of living in New York, attending a prep school, and spending time on Long Island and in Manhattan. I was also inspired by people I have known and/or observed. Some characters are combinations of people, or representations of a certain type of person. I think that all writers mix their personal experiences with imagination and embellishment when they're writing. Some of what we write is based on fact, and some is pure fiction. It all gets muddled together when the novel is done!
In OTHER WORDS FOR LOVE, Ari falls into an intense and consuming relationship. How did you bring yourself back to that "teenage, first love, can't take your hands off each other" frame of mind to write Ari's character? Must have been kind of fun 🙂
It was really fun to develop the relationship between Ari and Blake and to write the parts of the novel that depict the euphoric feelings Ari has when things are going well with Blake. It wasn't difficult to get myself into that teenage/first love frame of mind, because I have a very vivid memory! I'm the type of person who can remember what I was wearing and what I ate for lunch on a particular day ten or fifteen years ago""which is unusual, but true. Also, I think that most authors inhabit their characters while writing""we sort of walk around in their shoes. That's what I do, and it's similar to when an actor gets "in character" while preparing for and performing a role. I had to get myself into Ari's frame of mind, and when I did, it wasn't difficult to feel what she feels. Everything just flowed when I understood her and delved into her psyche.
What kind of research did you do when writing this book?
An aspect of the novel is the concept of "limerence," which is when a person has extremely strong love/lust/infatuation for someone else, has high hopes and expectations for the relationship, and goes through a painful crash of depression if things don't work out. Limerence causes very high and very low emotions. It's a psychological phenomenon, and I researched it before writing the novel. I also researched post-partum depression, which Ari's older sister deals with in the story. Additionally, I had to research details relating to the setting, time period, and other real-life references that appear in the story. Fortunately, Random House has very efficient copyeditors and proofreaders who fact-checked everything!
Some writers have tons of story ideas in their back pockets. Others have this one burning story that they need to tell before they can move on to another idea. How did you come up with this specific idea for a story?
I'm a character-driven writer, so the characters always happen first. For a long time, I carried around the idea of an artistic, smart, and somewhat depressed teenage girl who is deeply affected by an intense romantic relationship""and that was the start of Ari's character. I also had the idea for Ari's mother in my mind for quite a while, and then the rest of the family developed""especially Ari's sister and brother-in-law. All of these characters came together and ended in OTHER WORDS FOR LOVE.
You mention on your blog that you create playlists while writing. How does music help your writing process?
I always create playlists! They help me get into the mood and the setting of the story, as well as to delve into the characters' minds. I never listen to music when I'm actually writing, because it's just too distracting""I need complete silence when I'm writing! I always listen to music before I write, or I'll stop for a few minutes and listen to a particular song that captures the essence of the scene I'm working on. Music evokes emotion, and that's what it does for me""it helps me feel what the characters are feeling, and to transfer those emotions onto the page.
You write YA. Who are some of your favorite YA authors?
There are so many authors I admire, but I'll narrow it down to Judy Blume. She really paved the way for YA authors, because the genre barely existed when she was first published. There were novels that were written for teenagers, but few with Blume's readability, realism, and honesty. I believe that her novels and her work against censorship have helped to define and develop the YA genre as we know it today. I also think that J.D. Salinger was amazing""although he didn't plan for THE CATCHER IN THE RYE to be a YA novel, that's how it worked out. The voice of the protagonist in that story is incredible""it's so engaging and insightful, and also quite humorous.
Share a bit about your road to publication. What was querying agents like? How long was the process? Highlights, lowlights, etc.
Querying agents is basically like sending your hard work out into the world and then holding your breath, hoping that someone will love your novel as much as you do. Fortunately, I found an agent in about two months. OTHER WORDS FOR LOVE was being read by several agents when I was contacted by Elizabeth Evans and offered representation, which I was thrilled to accept. Elizabeth understands the creative side of publishing as well as the business end, and our collaboration has been a great one!
What one piece of advice would you pass on to other aspiring writers?
Whether you're a yet-to-be-published author or a published author, always be a professional. Writing is a creative business, but it's still a business""so treat it that way. You shouldn't write only when the mood strikes you. If you want to be a professional writer, you need to meet deadlines and to write and revise even when you're not feeling particularly inspired. You should never wait around for inspiration, because doing so will prevent you from ever getting a novel finished and published. Always push yourself to write even when you're not in the mood, because good ideas often come through hard work. So the one piece of advice I'll give is: treat writing as a career, if that's what you want it to become.
Thanks so much Lorraine! Now onto the giveaway! Please enter your information in the form below.

Loading…