Today, I'm participating in Waiting on Wednesday, a weekly event hosted by Jill at Breaking The Spine. This event highlights the upcoming releases that we are eagerly awaiting!
Today, I am waiting for…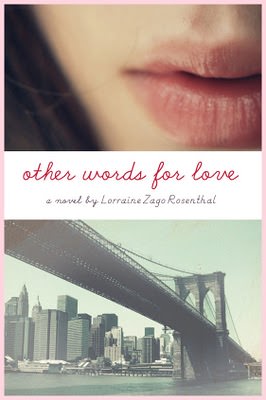 Other Words for Love by Lorraine Zago Rosenthal (January 11, 2011)
Sometimes I peruse through Amazon searching for my favorite books and then looking at the recommended books based on the book I searched and just continue browsing. I love finding new authors and checking out titles I've never heard of. That's exactly how I came upon this gem. I've seen the cover around before and I'm even chatted briefly with Lorraine on Twitter (aka I gushed about how much I loved the cover of this book) but now, I'm thoroughly excited about the release of Other Words for Love in January.
Check out this snippet from Amazon…
When an unexpected inheritance enables Ari to transfer to an elite Manhattan prep school, she makes a wealthy new friend, Leigh. Leigh introduces Ari to the glamorous side of New York""and to her gorgeous cousin, Blake. Ari doesn't think she stands a chance, but amazingly, Blake asks her out. As their romance heats up, they find themselves involved in an intense, consuming relationship. Ari's family worries that she is losing touch with the important things in life, like family, hard work, and planning for the future. When misfortune befalls Blake's family, he pulls away, and Ari's world drains of color. As she struggles to get over the breakup, Ari must finally ask herself: were their feelings true love . . . or something else
Sounds just like the type of book I love to read. I'm especially looking forward to reading about the NY setting; I enjoy reading books that take place in NYC, because even though I've visited several times, I definitely don't know the city well.
And also? Did you see that cover? So cute.
What are you anxiously waiting for this Wednesday?