*Don't forget to check out my giveaway! I'm giving away a copy of OTHER WORDS FOR LOVE by Lorraine Zago Rosenthal.  Click here to enter!*
Today, I'm participating in Waiting on Wednesday, a weekly event hosted by Jill at Breaking The Spine. This event highlights the upcoming releases that we are eagerly awaiting!
Today, I am waiting for…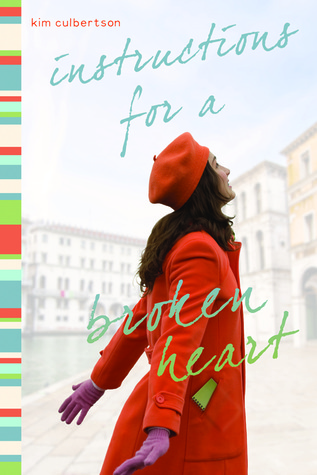 Instructions for a Broken Heart by Kim Culbertson (May 1, 2011 by Sourcebooks Fire)
Check out this Goodreads summary:
Three days before her drama club's trip to Italy, Jessa Gardner discovers her boyfriend in the costume barn with another girl. Jessa is left with a care package from her best friend titled "Top Twenty Reasons He's a Slimy Jerk Bastard," instructing her to do one un-Jessa-like thing each day of the trip. At turns hilarious and heartwrenching, Instructions for a Broken Heart paints a magical Italy in which Jessa learns she must figure out life-and romance-for herself.
When I saw this on Tara's blog last week, I nearly jumped up and down with excitement. After studying abroad in Rome in 2009, I am obsessed with all things Italy and adore reading books that take place in beautiful Italia.
Plus, the title is just awesome. Wish someone could have sent me some instructions for a broken heart a few years ago!
I absolutely love the sound of this book!  Letters with instructions coming from a far away friend, a coming of age story, heartbreak, new love, ITALY! What more could you want in a book? Jessa sounds like a character who I'll be able to relate to. I can't wait to see how she overcomes heartbreak and finds her true self in one of the most gorgeous countries in the world.
This is absolutely going to be one my 2011 must-reads!
What are you anxiously waiting for this Wednesday?