In just a few days, I'm going on the trip of a lifetime.
Tim and I are heading to Australia for a wedding, making stops in San Francisco and Hawaii on our way across the globe.
This vacation has been in the works for more than a year, and I'm beyond excited to explore corners of the world I've only ever dreamed about.
But preparing for a massive trip like this — and preparing to take time away from my business has been complex and stressful. Because here's the thing: We're going to be gone for awhile.
In total, we'll be gone for three weeks (or 16 business days).
This is the longest trip I've ever taken — and it's certainly the longest I've ever been away from work, especially since starting JL&Co.
I have to admit: The idea of taking several weeks away from the business I've built from the ground up for the last three years is pretty terrifying.
But! It's also really exciting! And totally possible.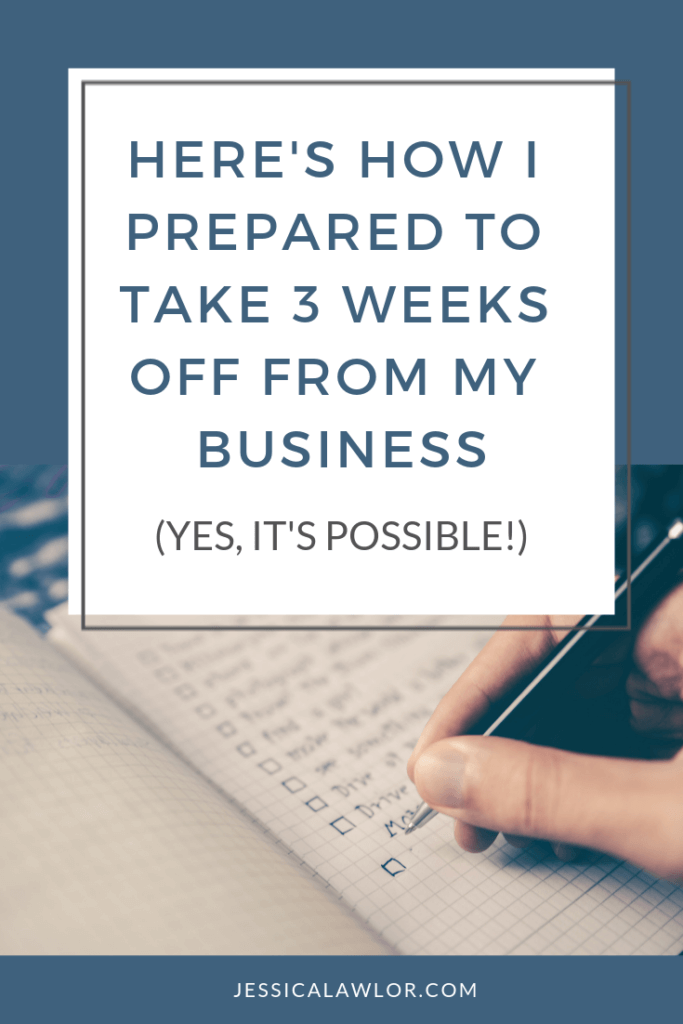 Is it possible to take an extended period of time off from your business?
Before we booked the trip, I asked myself a lot of tough questions:
Can I really take three full weeks off of work?
Will my clients care?
Will I lose a client or potential work because of this decision?
Should I maybe work just a little while I'm away?
Is it really possible for me to get ahead on work so that I can truly enjoy my travels?
And as I worked through the answers to my questions, I came to a few important conclusions:
Yes! I run my own business. I can do anything I want. That's why you started this business in the first place, Jessica.
Maybe, but not if I give clients enough notice and get my work done.
Again, maybe, but if I lost a client or potential work because of this trip, is that really a client I'd want to work with anyway? Probably not.
No, I shouldn't work while I'm away. The whole point of this trip is to unplug and see the world.
Yes! With planning and coordination.
So yes, it IS possible to take time away from your business, but it certainly requires detailed planning and a whole lot of work upfront.
Am I really not going to work?
When I tell friends and colleagues about my trip, the #1 question I get is: Are you really not going to work for three full weeks?
My answer? That's the plan!
When I depart, my pre-vacation to-do list will be complete, and anything I've promised clients ahead of my trip will have been delivered.
And yes, as a business owner, there's always something more I can be doing, but it's really important for me to take this time to unplug and recharge.
If I work, it's going to be because I choose to — not because I have to.
Since we're traveling quite a long distance and have many long flights (I'm already dreading our 26-hour travel day on the way home), I'm sure I'll be tempted to fire up my laptop at some point during the three weeks. And I'm hopeful that my travels will inspire — so if I feel the urge to blog, I'm going to do that.
But I'm not going to be working because anyone told me to — or because anyone expects me to.
It feels good leaving JL&Co HQ knowing that clients aren't waiting on me for anything until I return.
4 ways I've prepared to take three weeks off from my business
I've always been an organized person, but preparing for three weeks away from JL&Co has brought out a level of organization in me I didn't know was possible.
Here are four ways I've prepared for my time away from the business.
1. Plan ahead (like really far ahead)
I began planning for my time out of the office about three months ahead of my March departure date.
To get organized and start to develop a plan, I created a simple Google doc titled "Jessica in Australia."
I noted the business dates I'd be out of the office and listed out each of my clients. For each client, I made a list of all of my daily, weekly and monthly duties. I then separated those duties into tasks that could be completed before my trip and tasks that had to be done in the moment that would need to be delegated to a team member.
Here's what my plan looked like for my largest content management client:
Can be completed ahead:
Scheduling blog posts

Scheduling social media for scheduled blog posts

Complete Q1 case studies and customer profiles
Can't be completed ahead:
Biweekly newsletter

Social media management

Alerting the team to new blog posts published each day with a prepared Click to Tweet to share

Monthly report
After I developed this plan for each of my clients, I spoke to my team to see where they might be able to help and fill in the gaps for the items that I knew would need to get done in the moment while I'm away.
2. Notify your clients — and then tell them again
Once I completed step #1 above, it was time to let my clients know about my trip!
My goal in reaching out to each client was to let them know the dates I'd be away, but more importantly to include a plan of action so they'd be confident in knowing that our work together would continue even in my absence. I wanted to quell any worries or concerns they might have about me being away from the office for a longer period of time.
I notified each of my clients two full months out from my trip. Here's an example of the email I sent to the same client as above:
Hi X team,

I'm reaching out today to let you know of upcoming dates I'll be off the grid due to travel. I'm taking a big, longer-than-normal trip this year to Australia (!) so I wanted to reach out with ample time for preparing and planning, so our work together continues seamlessly in my absence.

I'll be off the grid XX- XX, returning to the office on XX.

I've detailed out below our regular work together, noting what Team JL&Co plans to complete ahead of my departure and the items my team will continue working on with the X team while I'm away.

This email is meant to be a starting point for our discussion, and I'm confident with the processes we have in place, and the great relationships between our two teams that we'll be good to go come March.

Please let me know if you have any questions. Thanks so much!
I was pleasantly surprised by the reactions of each of my clients. (I don't know why I was so surprised — they're all amazing people, and that's why I've chosen to work with them.)
Each client told me how awesome they thought it was that I was taking deserved time away and wished me a great trip.
Two weeks before my trip, I reached out to each client on the same email chain with a reminder of the dates I'd be away + status update on the items we were working to complete before my departure.
The most important thing here is to keep your clients in the know. No one will ever be angry that you over-communicated, but they will be angry if you assume they know something and they don't.
I'll plan to do one final check-in a couple days before I leave just to close the loop before I officially go off the grid.
3. Work ahead where you can
Since this trip was a long-time coming, I've had ample time to plan for my time away, meaning I've had the luxury of working ahead.
Luckily, much of the work me and my team do centers around content management and development, which requires a lot of planning anyway. We write blog posts for clients and when we're not doing the writing ourselves, we work with freelance writers editing and preparing their work.
Because I knew I'd need to plan editorial calendars for March/April, I started scheduling earlier than usual in December and January, rather than waiting until February or so like I'd normally do. I let our regular writers know I'd be away and I'd be looking for them to submit their work early, giving them time to plan and meet their deadlines.
Once I had their work in early, I tried to always get a couple days ahead of scheduling than I normally do, eventually allowing me to have scheduled out a whole month of content.
(Side note: I'm pretty proud of the fact that for one client I scheduled out 20+ blog posts for the time I'll be away!)
Of course, there are some projects that aren't as easy to plan ahead for, so I've also had to be flexible. Case in point: I took on a two-month consulting project toward the end of the year that had to be squeezed into one month due to the government shutdown. The completion date of the project bumps right up to my departure date, which isn't ideal, but we're making it work.
4. Trust your team and processes
Yes, going on a longer vacation is possible, but it also requires having successful people, systems and processes in place already.
First, I'm incredibly lucky to have an incredible team member in Rachel, who has made it possible for my business to grow far bigger and faster than I ever thought possible. Knowing Rachel is at the helm while I'm gone, and trusting her fully, makes it way easier for me to step away.
And second, Team JL&Co has spent the last few years honing processes and even put a few new ones into effect just this year to make it possible for me to take this time away. It feels good to have team members and processes in place that allow me to get away without having to worry about the business suffering in my absence
So yes, full disclosure: Three years ago when I just started JL&Co, I never would have been able to take this type of trip, but now, with the right processes and people in place, I can.
Bon voyage, JL&Co! See you in three weeks!
So with that, I'm ready.
I look forward to turning off my email notifications, removing Slack from my phone and powering down my MacBook for three weeks.
I know JL&Co will continue to chug along while I'm away — and I look forward to returning with a clear and inspired mind, ready to take on whatever the rest of 2019 brings.
Have you ever taken a longer than normal trip or time away from your business? I'd love to hear how you made it work! Leave your tips in the comments below.