Remember back in the fall when I launched this little beauty of a new website?
It was a labor of love, with lots of moving parts.
A major part of the redesign and rebranding included taking updated photos of myself to include on the new site. After all, the headshot that appeared on the side bar of my old website was from 2012 (!)
As I worked on the redesign, it was important to me to have recent photos that coincided with the overall look, feel and vibe of my website and business. Imagery can be super powerful, and I knew that having warm, welcoming and professional photos would help invite blog readers and potential clients in.
While showing up for an hour-long photo shoot is a breeze, coordinating a photography session requires research and preparation. If you're planning a photo shoot of your own, whether it's for your business, blog or social media accounts, follow this guide to make sure you you leave the experience with photos you love.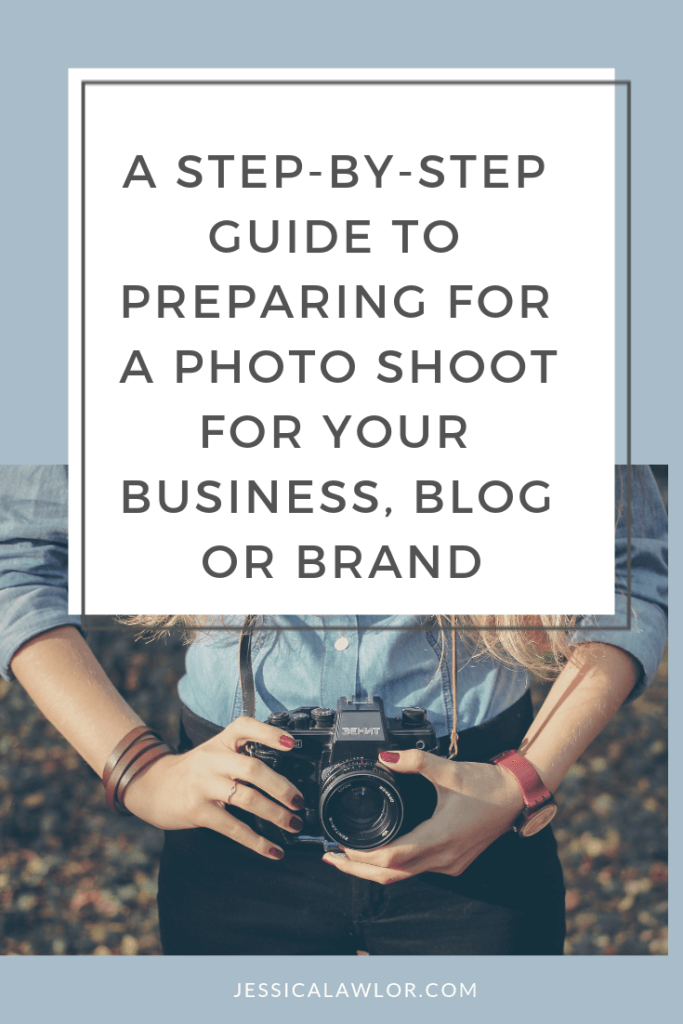 Choosing the right photographer
While I've worked with many talented photographers over the years, for this particular shoot I was looking for something very specific.
Enter Brian James Photo Studio.
I met Brian at the gym, and we became fast friends bonding over our similar entrepreneurial lifestyles, and the ability to take a break in the middle of the work day for a workout. Over the course of getting to know Brian, he'd tell me stories about his photography — from shooting weddings to the most adorable newborn shoots and family sessions, I knew right away Brian was a true talent.
Then he told me about his in-home studio in Chestnut Hill where he captures all kinds of headshots and lifestyle shoots.
Bingo!
I shared with Brian my vision for the photos, and right away he understood exactly what I wanted. We decided to move forward and work together.
If you don't already have a Brian in your life, when choosing a photographer, Brian advises asking around for referrals. He says it's important to get a recommendation from a trusted loved one or friend to get their personal opinion on what it's like working with a particular photographer.
Finding the right photographer also includes making sure it's a personality fit and that you feel comfortable with this person.
"Personality is super important. It's a really intimate relationship. Sometimes I feel I learn more about someone in an hour of shooting than people they've been friends with for a long time," Brian says. "You want to feel comfortable."
I can attest — it is intimate! I had to trust and rely on Brian to get up close and personal making sure my hair was in place, my outfits were sitting properly and to help guide me into poses that worked well on camera.
Take the time to choose the right photographer. You'll be glad you did when you get back photos you can't wait to share with the world.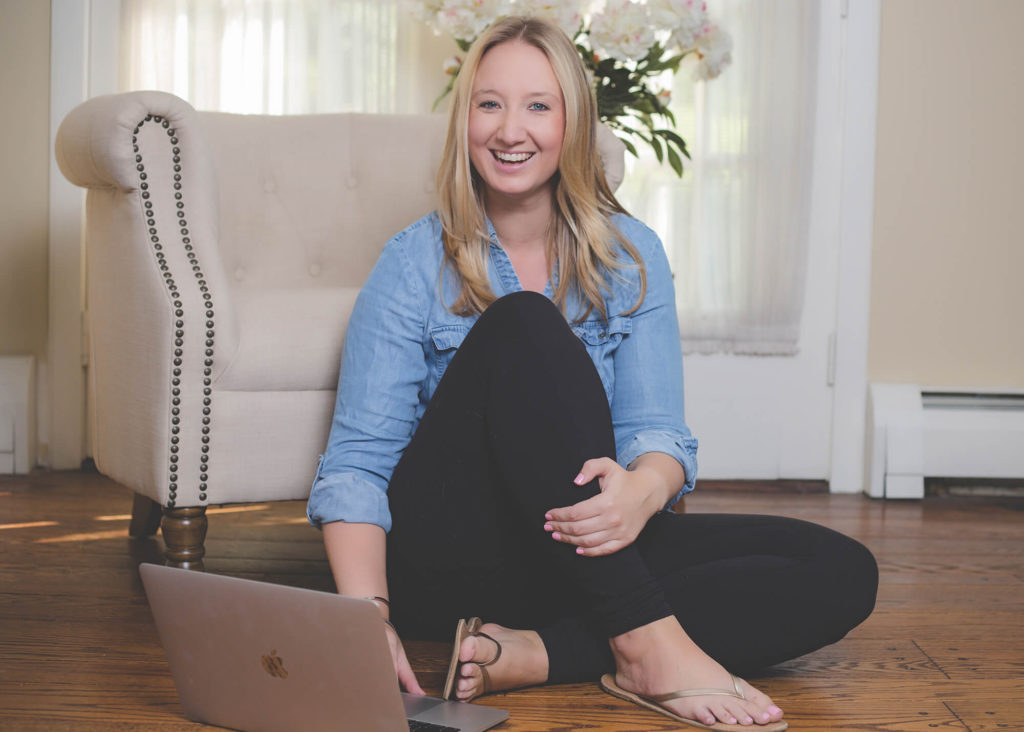 Preparing for photo shoot day
You can't just show up on photo shoot day and expect to have amazing photos taken! It requires a little bit of pre-work.
Here's what Brian and I recommend.
Nail down (and communicate) your vibe
Before even figuring out which photographer I wanted to work with, I spent a lot of time browsing Instagram, Pinterest and other business owner and blogger websites to get an idea of what kind of photos I connected with.
I noticed I loved photos that were light, airy, simple, uncluttered and cheerful.
When someone looks at my photos, I want them to feel warm and welcoming vibes. And even though I'm the founder and CEO of a business, I wanted the photos on my site to be a bit more casual, and more reflective of my personality, rather than a typical, stuffy headshot. After all, you'll never catch me in a suit jacket — just saying.
So as I researched, I created a Pinterest board of photos I loved to share with Brian to help communicate my vision.
One thing to keep in mind though? Explain to your photographer what you want, but manage your expectations.
"When you're online or on Pinterest, it's great to have an idea, but don't expect an exact copy," advises Brian. "If someone's a good photographer, they should be able to tell you what can and cannot be done."
Heres my Pinterest board of photos that I shared with Brian: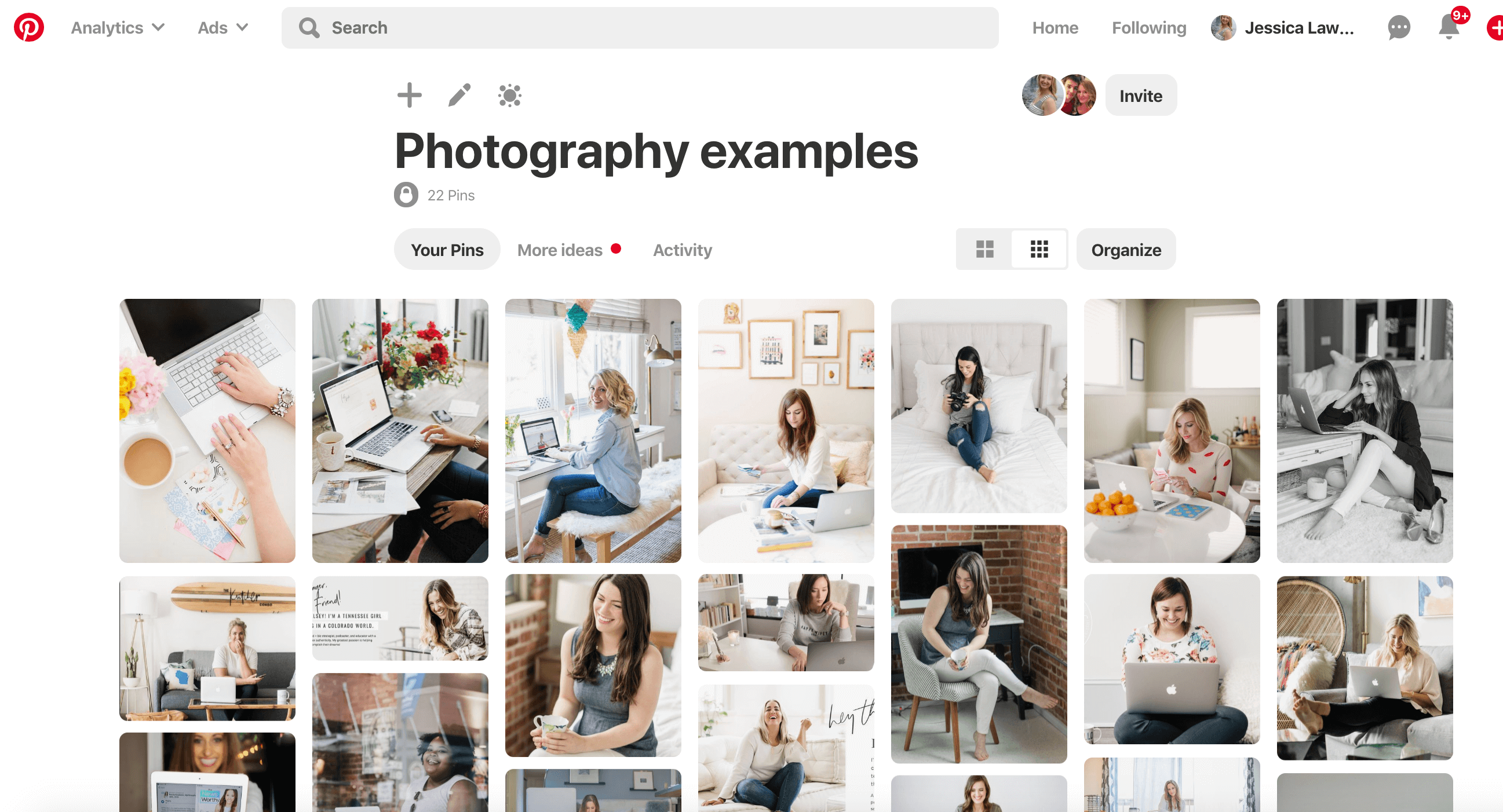 Brian says in addition to showing your photographer other photos you love, talk to them about your expectations and the final product you need.
"Explain the purpose of the photos to your photographer. For example, if a lawyer came to me and said, 'I love Jess's photos. I want something like that,' I'd advise against it. I don't think I'd have them sitting on the floor laughing with a computer. The photos would need to have a different feeling."
Listen to your photographer's suggestions
You hired a photographer for a reason, right?
They're the expert! Let them tell you what to do.
Before my session, Brian sent me a super helpful email detailing what I should know before the shoot, how to prepare and what to bring, all the way down to the dirty details with super specific suggestions on wardrobe, jewelry, hair and makeup.
Having that information upfront let this Type A gal feel fully prepared for the day.
Prepare your wardrobe
Ah, the toughest part of the process for me! Figuring out what to wear.
Here's the thing: Clothes you love on a normal basis may not photograph well (and on the flip side, a shirt that seems normal or boring in everyday life might look fantastic in a photo).
Case in point: I did a shoot two years ago and ran to the mall the morning of to find something to wear. I picked out an adorable fall dress from Francesca's. I felt cute, flirty and fun in the dressing room.
I got the photos back and was shocked to see that the dress was way more low-cut than I saw in the mirror, especially when sitting for photographs. I felt uncomfortable with how revealing the photos turned out and sadly couldn't really use them anywhere.
So this time around I relied on Brian for his wardrobe guidance. Prior to our session, I sent him photos of my possible outfits and he offered helpful feedback.
"If your photographer allows, send them pictures of the clothes you want to wear so they can give their expert opinion," says Brian.
On top of that, I brought a TON of options over to his studio so I could try things on and get his opinion and even take a few test shots to see how certain outfits looked on camera. It was an added bonus that Brian had a separate dressing room in his studio for all of my clothes and hair/makeup touchups.
When it comes to picking out clothes for a shoot, Brian says to dress the part (i.e. how you would normally dress for the occasion you're shooting for). He recommends avoiding logos or distracting patterns.
"Less is more," offers Brian. "A natural polished look is really the best."
And he was totally right. Know which photos turned out to be my favorites? Photos of me wearing a boring, tan colored top that I almost didn't bring with me to the shoot.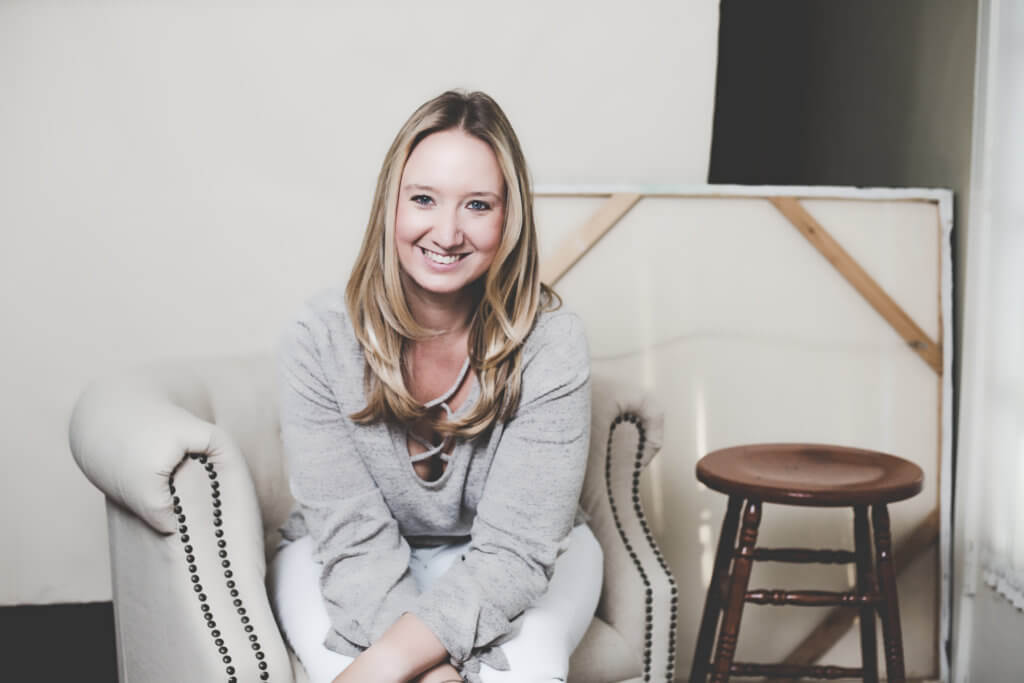 What to do on the day of your photo shoot
Okay, so the day of your photo shoot is finally here.
You have a vision in mind and an armful of possible outfits. Now what?
On the day of my photo shoot I followed my normal routine and worked out in the morning — getting a workout in helped me get in the right mindset for the shoot.
I also scheduled a blowout for about an hour before my shoot. I'm not the best at doing my own hair, so I relied on an expert to ensure my hair looked great (but still natural) for my photos.
And don't forget to eat and hydrate! And by hydrate, I mean with water 😉 I asked Brian if I could have a glass of wine to get more comfortable and he advised me that even one glass of wine could impact the way my eyes looked in photos. Who knew?! No wine until after the photo shoot!
But most importantly? Have fun! According to Brian, "It really makes a huge difference if you come in with a positive attitude looking forward to being there."
And have fun we did! Brian eased me into the session with a bit of conversation (obviously we already know each other so the personal connection was already there) and a quick look at my outfits. He had a few "sets" and props ready for me including a cozy chair, sheer curtains with natural sunlight shining through, flowers and more. We switched up backdrops and sets, along with outfits and tested out various poses while listening to upbeat music.
I did a whole lot of "fake" laughing, smiling with teeth, smiling without teeth, looking at my laptop, looking away from the camera. We tried it all!
Every so often Brian would show me a sneak peek on his camera of what he was capturing. Seeing the photos right away helped me feel confident in knowing we were getting exactly what I wanted. And as soon as we had what I deemed my "hero image" (the main photo you see when you land on JessicaLawlor.com), I immediately relaxed and had more fun with the rest of the shoot.
The entire shoot took about an hour and a half, though Brian says most sessions like mine typically take an hour.
Oh, and after the shoot? I was exhausted! Smiling for two hours straight made me want to take a nap.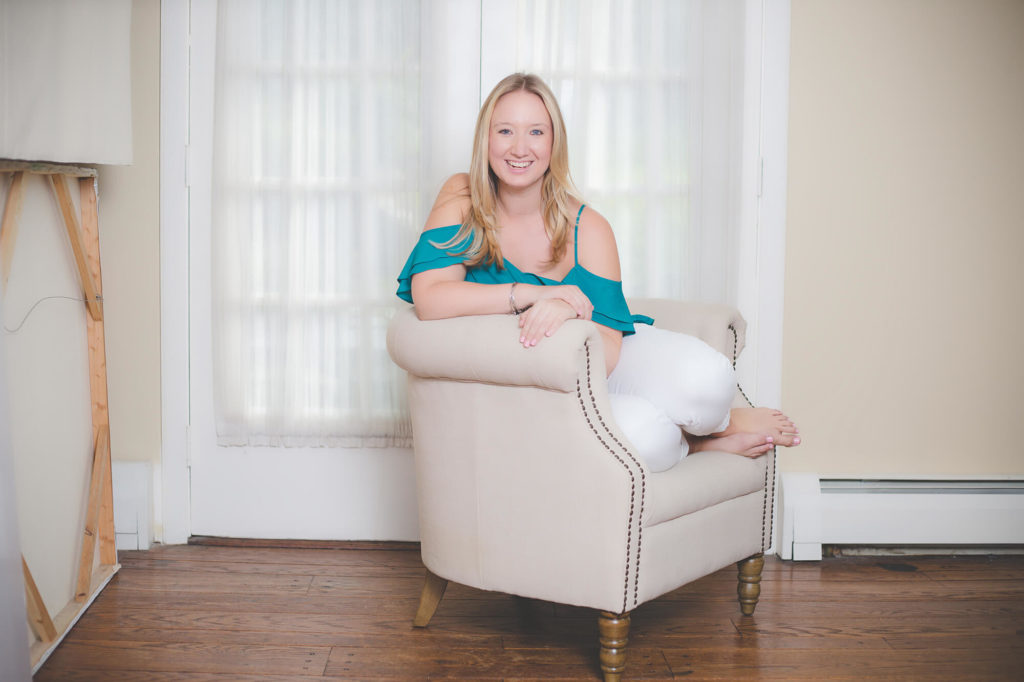 After the photo shoot
A few days after the shoot Brian sent me over a sampling of my photos! What an exciting email to land in my inbox.
Depending on who you work with, your photographer may narrow down the photos for you or may send over hundreds of photos to review. Brian had thankfully narrowed down my bunch. I don't need to stare at 1,000 photos of myself, no thank you!
What Brian sent over was the untouched photos, and from there I chose about 15 that I wanted Brian to edit for me. He then spent time editing and touching up the photos so they were website and sharing-ready.
Here's the funny thing: at a photo shoot, your photographer will take hundreds of photos of you, yet you'll probably only end up using 5-10 of the photos. Out of the 15 Brian retouched, I've shared/used probably 6 or 7 of the photos.
And remember, when you share a photo on social media, be sure to tag your wonderful photographer to give them credit and let your friends and followers make new connections.
Good to know
If you live in the Philadelphia area or find yourself traveling through the region, I highly recommend working with Brian.
Here's the details you need to know:
Brian James Photo Studio
Chestnut Hill, PA
Get in touch with Brian
Disclosure: Brian and I partnered together on this post, and I received my photo shoot and photos for free. All opinions, as always, are my own.
Have you ever done a photo shoot? Have any additional tips for finding a photographer or preparing for a shoot? I'd love to hear about your experiences in the comments.