Tap, tap, tap.
Is this thing on?
Normally I hate when bloggers acknowledge their absence from their blogs or social media accounts — after all, everyone is entitled to time away from their work or their passion project — and at the end of the day, my blog is likely one of many you read. I know I never mind when my favorite bloggers take time off. I'm just excited when I see a new post from them in my Feedly RSS or in my inbox.
But in this case, acknowledging my absence makes sense, so hear me out.
Let's get you caught up
The last time you heard from me (ahem, in mid-March) I was getting ready to leave for our big Australian adventure and told you all about how I prepared to take three weeks off from my business.
In that moment, I felt on top of the world. So much hard work and preparation went into the decision to not work while Tim and I traveled for three weeks, and I was pumped to share with you how I made it happen.
We went off on our trip (which was amazing, by the way! See some of the highlights on my Instagram) and just as quickly as we left, we were back home. Man, three weeks flies when you're having fun.
Toward the end of the trip, I did feel little urges to check my work inbox or to peek at Slack, but I resisted. I told myself there would be plenty of time for work when I returned home.
And so, on that first Monday back from vacation, I expected to sit down at my desk, coffee in hand, ready to conquer the world. I love routine, and I was itching to get back into my normal life.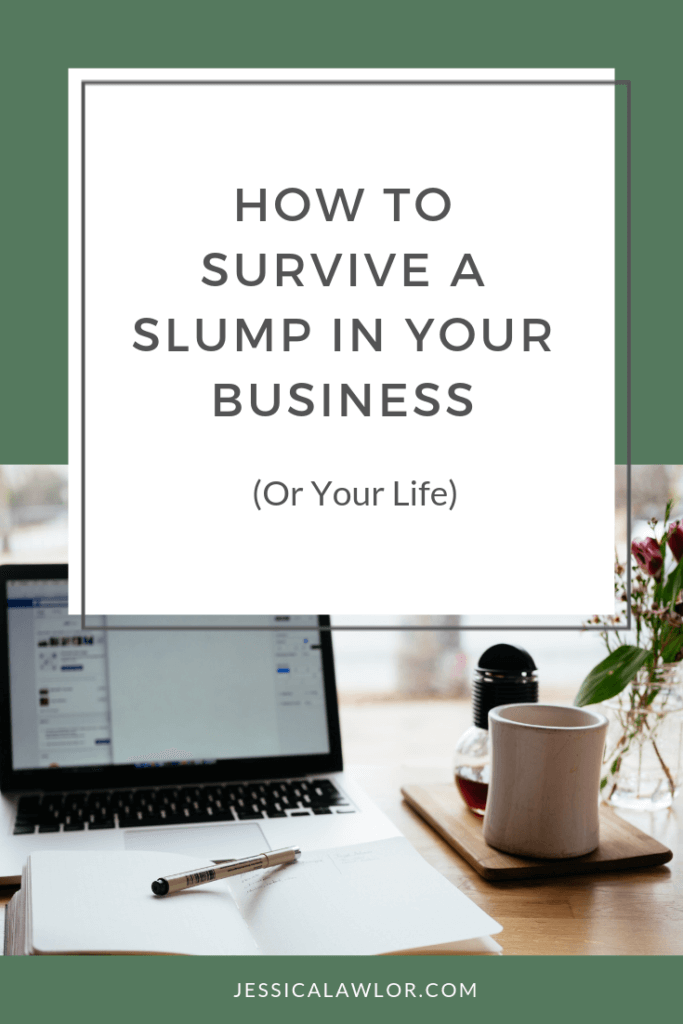 Enter: The slump
But on that Monday, something strange happened. I wasn't excited to dive back into work. I felt overwhelmed by my inboxes. I didn't feel like making my to-do list .Writing a blog post was literally the last thing I wanted to do.
I chalked it up to jet lag. (That 26-hour flight home was killer.)
Then another Monday went by. And another. And another.
And still, nearly a month later, I felt the same.
The only word to describe how I felt about anything that wasn't binge-watching Parenthood (my new favorite show, by the way) was MEH.
It's not that I felt sad or angry or unhappy in any way.
I just felt sort of…indifferent.
And as someone who describes themself as a go-getter, that "meh" state of mind did not feel good.
I found myself in a slump.
Now, I've found myself in slumps before — it's totally normal. I've had bad days and even full-on bad weeks.
But this one felt different. It felt more permanent. And when I hit week three of the slump, I started to worry. I couldn't see the light at the end of the tunnel on this slump.
Would I ever find my motivation again?
How to survive a slump
Like all things, this slump too will come to an end.
But in the meantime, for those who can relate to feeling totally MEH, here are a few tips for surviving a slump.
1. Accept the slump, embrace the slump, love the slump
Because resenting the slump sure as hell doesn't work!
After week one of my slump, I came out of my jet lag fog and recognized the feeling for what it really was: a slump. I could no longer blame being tired or overwhelmed from getting caught up after vacation.
I had to accept it for what it was, despite how sucky it felt.
Once I understood why I was feeling the way I was feeling, it was easier to embrace that sometimes this happens, and the only way to get through it is to go through it.
2. Get as much stuff done during the times you know you'll have the most energy
For me, the slump hit the hardest in the afternoons. After lunch most days, I was a goner.
So for that reason, I made it my personal mission to get as much as possible done for my business and brand in the early morning hours. Because despite feeling meh, I still had a business to run!
So I'd wake up, drink my coffee and power through as much of my to-do list as I possibly could before my energy started to wane.
Luckily, I run my own biz and work from home, so I have a bit more flexibility when it comes to my schedule, but for those with 9-5s in a slump, consider getting your toughest work done when you have the most energy and saving your administrative (or low-energy) tasks for when you're feeling your slumpiest.
Use your energy effectively!
3. Give yourself a little leeway
Sometimes when you're in a slump, powering through makes sense and may even be mandatory (see above).
But in the times that you can be gentle with yourself, do so.
Give yourself a little leeway.
Here's how I gave myself leeway during my month-long slump:
I took the afternoon off if I truly felt I couldn't get anything done.
I allowed myself the chance to be a little bit lazy on the couch.
I took naps.
On some days, I did the very bare minimum, and that was that.
I'm not especially proud to admit that, but it's true, and I'm guessing I'm not the only one who has ever felt this way.
4. Recognize that this feeling won't last forever (even if it feels that way)
When you're in a slump, whether it has to do with work or your personal life, it can often feel like there's no way out.
I consider myself as somewhat of a productivity nerd, and I tried every trick in the book, to no avail.
So at some point, as the days and weeks dragged on, I reminded myself that this too shall pass.
I won't feel this way forever, and my motivation will return.
See ya later, slump
And guess what? It took a bit longer than I'd prefer, but this week, I started to turn a corner.
I started to feel excited again.
I eagerly jumped on new business calls. I powered through my to-do list. I busted my way through my various inboxes. I even dusted off the old blog (hello, thank you for reading!)
And while this slump is over for now, I know that one day in the future I'll face a slump like this one again. This time though, I'll be ready for it.
(Wow. That felt really good! I guess I'm back.)
Tell me about your worst slump! Let me hear it in the comments below.