And just like that, another summer draws to a close.
Yes, I know summer doesn't "technically" end until late September, but every August, the anticipation for fall seems to creep in earlier and earlier.
I mean, did you see Starbucks completely jumped the gun and started selling pumpkin spice lattes today?! I don't know about where you are, but it's 97 degrees in Philadelphia, so you won't catch me with a PSL in hand for at least a few weeks.
I get it though, I do. The rush of one season ending and another beginning. While I'd love to hold onto summer for just a few weeks longer, it's time to say hello to fall.
And for me, life is about to get a whole lot crazier starting right now.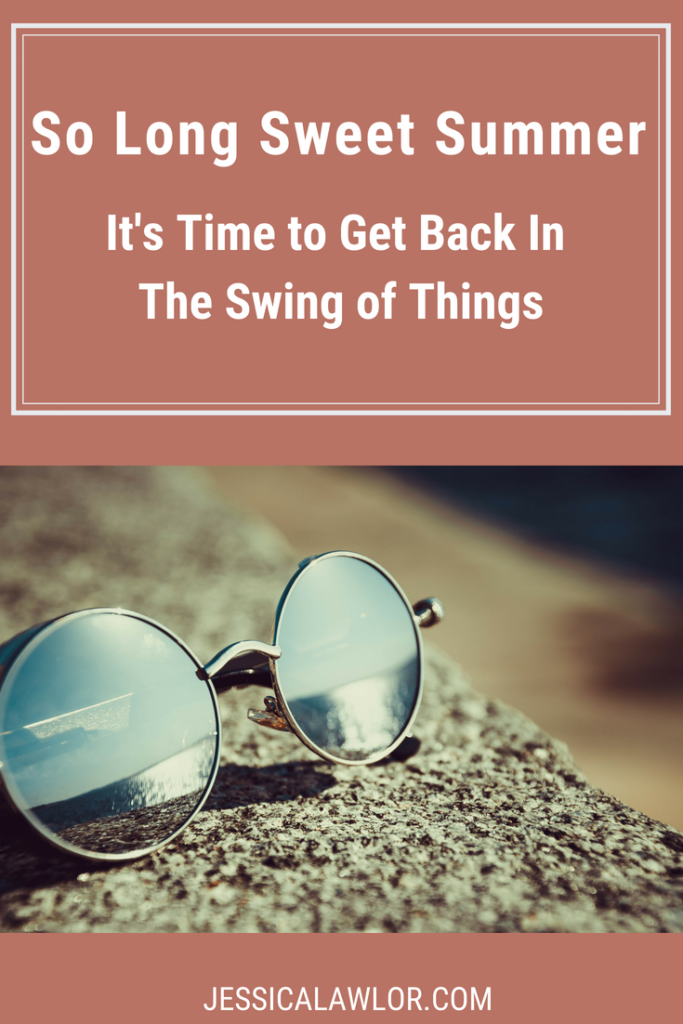 So long sweet summer
The summer began with possibility — funnily enough, possibility that stemmed from what I first perceived to be a setback: Parting ways with a big client.
It turns out losing that client was a major blessing in disguise. The sudden gap in my daily schedule gave me ample time to pursue what I called "The Summer of Passion Projects."
Over the past three months, I've purposefully slowed down new business prospecting and focused my energy and efforts on personal projects that excite and inspire me, all while still doing great work for my current clients. I hosted a personal branding workshop. I wrote for fun, publishing my work on sites like The Penny Hoarder and Craft Your Content. I prepared for my upcoming website redesign with a photo shoot.
It was fruitful, fun and much-needed.
Plus, I enjoyed plenty of R&R — a few beach weekends, a couple of days in the Poconos, a Taylor Swift concert — the summer wasn't without its fair share of fun memories. It was a good summer.
Hello, fall
But now? It's time to get back into the swing of things.
While I love slowing down and taking time for me, I do have to admit, I sometimes like being busy, and there's nothing I love more than getting shit done. And in looking at my calendar and to-dos, it seems that's exactly what this fall is all about.
Here's what I have up my sleeve as we head into the final stretch of 2018.
1. A new semester begins
Professor Lawlor, back in action! I'm returning to Temple University this fall semester to teach PR Writing.
When I taught two years ago, I wrote this letter to my students, and many of the same sentiments still hold true. I'm so looking forward to getting to know this new group of students. It's rewarding to be a small part of their journey, and have the chance to watch them grow and shine as they step into the real world.
Teaching is a lot of work (Confession: way more work than I ever anticipated. Hello to all my former professors, I have an immense amount of respect for what you do), but I'm pumped for the semester to begin.
2. I'm planning a trip to the U.K. to visit my sister
I haven't seen my little sister Jamie since June 7, and for those of you who know our relationship, you know that's a very long time.
We haven't seen each other for good reason because Jamie moved to the U.K. at the beginning of the summer for work. I miss her so much, but her living abroad gives me the perfect excuse to plan another trip!
Tim and I are heading to the U.K. in October (Yes, we will be there when the Eagles play in London, and yes, that was planned strategically!) and I can't wait to experience a new country, with my little sis as our tour guide.
As of now, we plan to spend a few days in London and a few days in Cambridge where she lives, so I'd love any of your U.K. recommendations!
3. My new website launches in November
It's really happening! I've been putting off my website rebrand and redesign for years now, but I am so proud to share that the new JessicaLawlor.com is officially coming your way in November 2018.
Earlier this summer, I brought on Beachside Studio for my redesign, and working with Michaela has been absolutely wonderful. She's been such a strategic partner, and together we've delved into who my ideal customer/client is, the buyer's journey, the problems me and my business solve, the best way to merge my business and my blog, plus so much more.
A website redesign is no simple feat, and I'm so grateful to have Michaela's team, plus my small team to help make this project a reality.
I'm planning to publish a tell-all post about the experience after the site launches, so stay tuned.
4. I'm excited to bring on new clients
The past three summers I've run JL&Co, I noticed a trend: Business tends to slow down in the summer. A lot.
Not necessarily recurring client work — I was busier than ever the past few months working with my current clients. But when it comes to prospecting, taking meetings, sending proposals and signing new contracts? Most companies just don't make those types of big decisions from June-August.
But in the fall? Things start to pick up, and I'm ready for it.
I sent out my first proposal last week after an awesome meeting, and I'm ready to work with new clients starting in September. Just a heads up, you may be my dream client if:
You're a major blog or website a la current clients Muck Rack and The Write Life looking for someone to swoop in and manage your editorial strategy.
You're a destination or a tourism/hospitality related business like an attraction, winery or brewery looking for PR, content or social media help.
You're an organization like a hospital, university or other type of business looking to spread the word through awesome writing.
If that's you, and you'd like to chat, please get in touch!
Cautiously moving into a new season
OK, so while I'm excited about all that fall has to offer, I do have a little confession: I'm also kind of terrified.
Yes, I'm obsessed with to-do lists, a full calendar and being productive, but I also know I tend to take things too far and overcommit. Case in point, two years ago when I: taught at Temple for the first time, instructed yoga five times a week, brought on a major client that required a significant period of onboarding, moved into a new apartment and started a new relationship. Yeah. All of that. In a short period of about three months.
So much of what I listed above were amazing additions to my life, but they still put an insane amount of stress on me, and I experienced real anxiety for probably the first time in my adult life.
I definitely know my breaking point now, and I know I'm much better equipped to handle the anxieties I experienced two years ago today. I don't plan to take on nearly as much responsiblity as I did back then — I don't want to ever put myself back in that very, very stressed-out place again.
So I'm cautiously, purposefully and hopefully moving into fall. Here's to a smooth transition!
Are you ready for summer to end? Have any big plans for the fall? Let me know in the comments below!
Photo via Pexels
Want more gutsy content delivered straight to your inbox twice a month? Be sure to sign up for my FREE #GetGutsy e-newsletter filled with inspiration, ideas and action items to get out of your comfort zone.