Before I start my rant, know this: I love inspirational quotes.
As I sit here writing this post in my office, I have a full view of my quote gallery wall. Despite some calling it "inspiration porn" I'm on board with the thousands of motivational quotes you can't help but stumble upon these days as you scroll through Instagram or Pinterest.
Words have power, and I wholeheartedly believe that quotes can transform a bad day, boost a mood or change an attitude.
However, there is one quote I absolutely cannot and will never be able to get behind. It goes like this:
"Do what you love, and you'll never work a day in your life."
(*Shudders* Just typing it makes me feel all gross inside.)
To be frank, this quote is complete and utter bullshit. Here's why.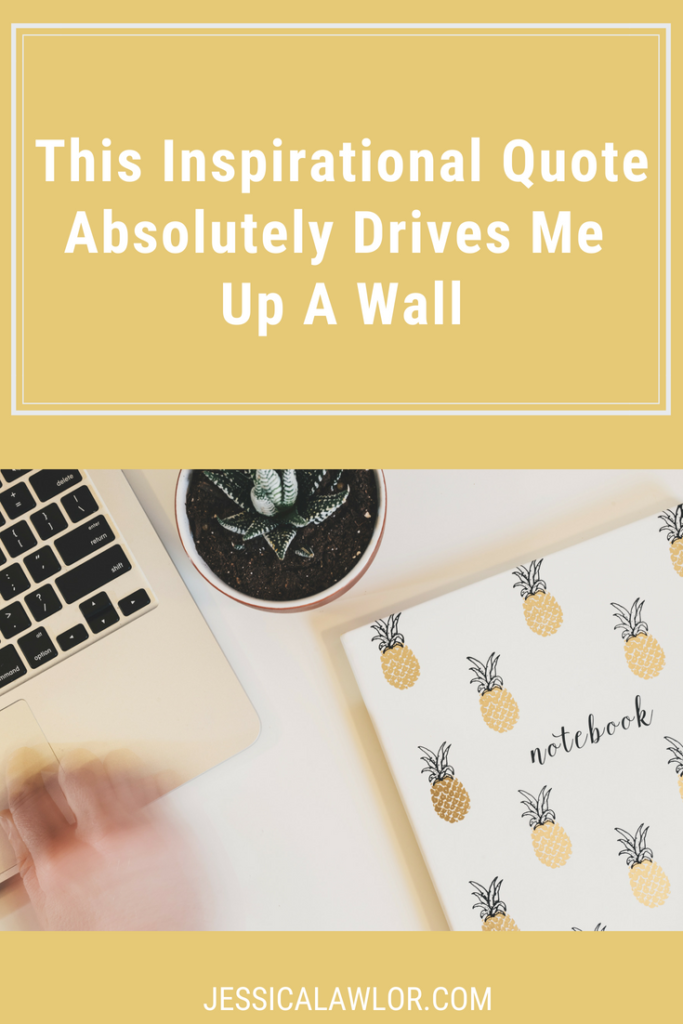 Yes, I'm doing what I love, but it is still hard work
I count myself lucky because I get to do what I love. After all, I quit a 9-5 job doing something I wasn't super passionate about to start my own business.
Living the dream, right? Well…sort of.
The truth is: Work is work, whether you love it or not.
Even though I enjoy what I do, and as the CEO of JL&Co, I make the rules, I still:
Deal with tricky client situations.
Experience failure (like when I lost what I thought would be a dream client).
Wake up some mornings and would rather do anything than sit my butt in my chair to work.
Procrastinate.
Go through periods of burnout.
Have moments where I think it might be easier to just go back to a day job.
Sit in meetings.
Sift through endless emails.
There are days that are amazing, days that are hard and days that flat-out suck. Really, just like any other job.
So yes, I love what I do, which is an amazing feeling, but it most definitely still feels like work each and every day.
Sometimes doing what you love means losing sight of your passions
When I quit my job, I proudly wrote in my announcement blog post:
"I'm creating a career of my own choosing — a career doing all of the things I love."
In theory, that kind of career and life sounds incredible. However, I never realized this same sentiment would also turn into one of my biggest struggles.
Here's something I didn't expect when I started my business: I turned my passions (blogging, teaching yoga, social media) into my job, and suddenly they didn't seem as fun anymore.
So while I get to do what I enjoy, at the same time, I had to find new hobbies — hobbies that weren't attached to my career or potential income. I sought to find something I enjoyed doing, but didn't feel pressure to excel at or earn a living from.
It's definitely not a bad thing (Hey! Now I like golf and weight lifting!), but this was an unexpected consequence of having the opportunity to "do what I love."
When you do what you love, you tend to work harder
Since starting a business, I've worked harder than I ever have in my life.
Because JL&Co? That's all me. If it fails, I'm the only one that can be held accountable. The ability to pay my bills and live my life depends on the success of this business.
So because of that, I find myself working longer hours and harder than I did before.
That's OK, because I often enjoy the work I'm doing, so that makes my day more pleasant, but it's still hard work. I find I pour more of my heart and soul into this work because I truly feel attached to it.
If you do something you love, I guarantee you'll work harder than you ever have before — because you'll care 1,000 times more.
The danger behind quotes like this one: You don't always get to see the behind-the-scenes of what success looks like
If you follow any influencer, entrepreneur, fitness expert or motivational speaker on social media (Instagram, I'm really looking at you), you know how easy it is to get sucked into their world, and start making assumptions.
I find myself guilty of it from time to time too.
You don't always see the full picture, so it's easy to throw out quotes like this one in question.
Here's a great example: Take my friend Helene, the travel/lifestyle blogger behind the Helene in Between blog.
If you only followed her on Instagram, you might see photos of her traversing Europe and think, "Wow. Lucky her! Wish I could travel the world." (Helene has actually written about this very assumption before). But what you don't see — and what most content creators don't choose to show you because it's boring AF to watch — are the hours of hard work that go into running a successful blog or running a business.
Do you want to see photos of Helene in her apartment writing a blog post or do you want to see her soaking up the scenic views in Greece?
Always assume there's more to the story that you don't know — and more work going down behind the scenes than you get to see.
Yes! Go do what you love
Don't let this post discourage you. Please — do what you love and chase your dreams. There's really nothing better in life than that.
But as you chase those dreams, don't let fluffy quotes fool you into thinking it's going to be easy or that you won't have put the work in along the way.
You'll be working, but working with a purpose, and to me, that makes it all worth it.
What do you think? Am I taking this too far or do you hate this quote as much as I do? Is there a quote that drives you up a wall? Let me know in the comments below.
Photo via Pexels
Want more gutsy content delivered straight to your inbox twice a month? Be sure to sign up for my FREE #GetGutsy e-newsletter filled with inspiration, ideas and action items to get out of your comfort zone.