Earlier this month, Jessica Lawlor & Company (JL&Co) celebrated its second year in business!
Each year on my business anniversary, I like to take a bit of time to reflect on the day in 2015 that I quit my PR job, and the terrifying, yet exhilarating weeks and months that followed as I introduced JL&Co to the world.
Last month, my team member Rachel and I met for a retreat and planning day where we discussed how JL&Co is doing, some of the highs and lows from the previous year and the big goals we have for 2018. Oh, and there was pizza and massages too, because what's a retreat day without pizza and massages?
It was the first-ever (and soon-to-be annual!) State of JL&Co.
Since you, along with Rachel, have been a part of this journey since 2015, I wanted to let you in on some of the juicy details too.
Read on for the State of JL&Co — how we made money this year, major client accomplishments, all the things that made us giddy, our dream clients and what's to come in year three.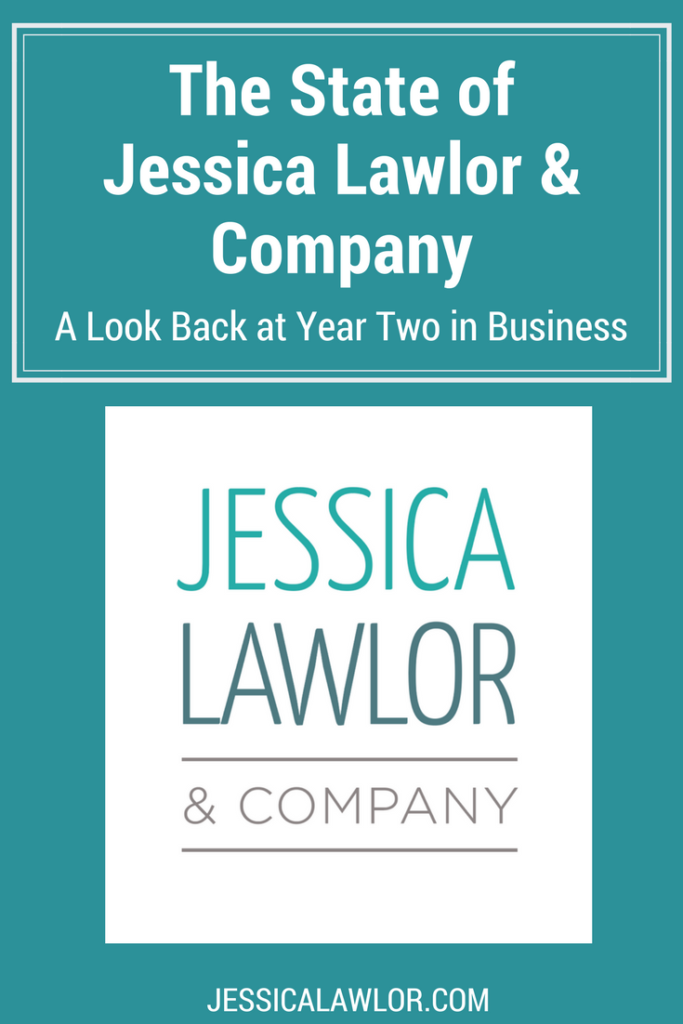 How did JL&Co make money?
Here's an income breakdown of how exactly JL&Co earned an income in the second year in business.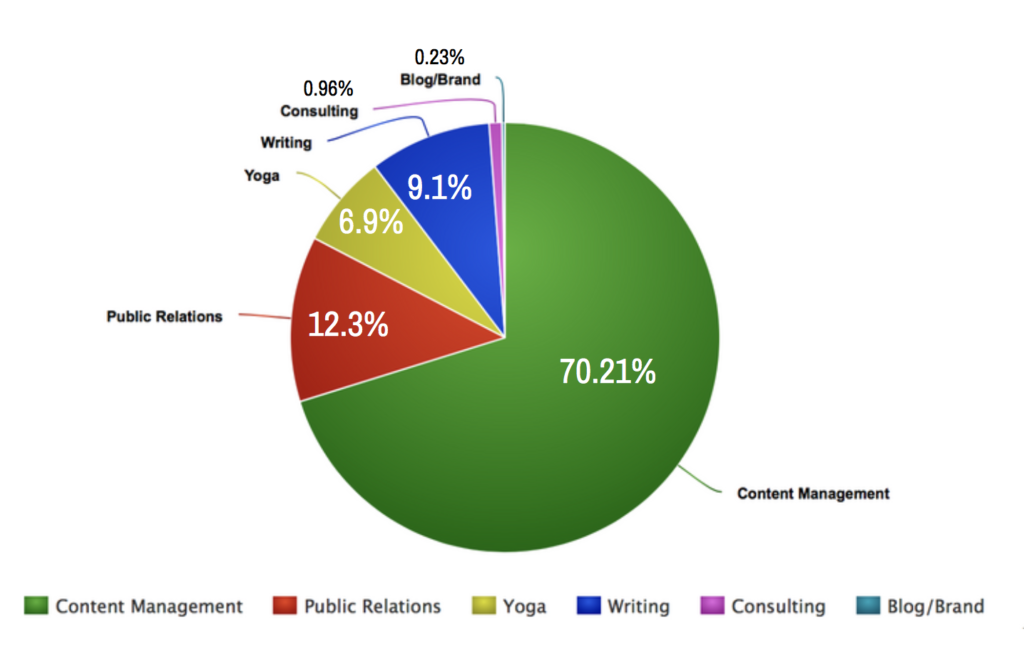 A couple of key thoughts and reflections:
Once again, content management reigns supreme here at JL&Co! In year one, content management made up about 50% of my business, so this core service has grown even more in year two.
While content management grew as a service, public relations definitely took a bit of a backseat. In 2017, I let go of a PR client (more on that below), so my PR income dipped a bit as a result.
I continued writing in 2017, bringing on new writing clients and continuing steady work with familiar brands.
Blog/brand is a new income category for year two! I'm pumped that in 2017, I forayed into working with brands on this very blog. I kicked it off with one project in 2017, but already completed my first of 2018, with a few more on the horizon.
Noticeably, I'm doing a lot less one-on-one consulting. When I started my business, I thought this area would be one I'd want to grow, but I've simply realized, I can earn more money and save a ton of energy by focusing on attracting larger and fewer higher-paying clients rather than chasing lots of small fish. That's not to say I won't do individual consulting anymore — I definitely will, but it's not something I'm actively chasing right now.
I'm teaching less yoga– and that's okay! Where I used to teach five classes/week, I'm now down to just one class (plus subbing and teaching private groups, here and there). While I love teaching yoga, five classes/week simply took up too much time — think prepping, travel to the studio, getting there early, teaching, staying late, etc. it simply didn't make sense to continue teaching at the volume I was teaching, when I could use that time to grow JL&Co.
Clients we worked with in 2017
Curious about the types of clients JL&Co worked with in 2017?
Here's just a small sampling of our clients, along with some of our favorite projects we completed with them.
Big moments for JL&Co in year two
There were some major business and life-changing moments in year two of running JL&Co. Here are some of the moments that had me giddy with excitement or taught me a big lesson.
I made doing PR for myself and for JL&Co a major priority. The Penny Hoarder, one of the largest personal finance websites in the world with more than 16 million readers, published a profile on me and shared the story of how I quit my full-time job to start my business. Plus, I was quoted in this BusinessNewsDaily piece about side hustling, this Entrepreneur piece about productivity and profiled by my alma mater, the Klein College at Temple University.
I grew the blog and my social media presence like crazy. Attending The Blog Connect Conference in the spring gave me a very necessary boost of inspiration to focus on my blog. Reprioritizing blogging has brought about some amazing opportunities — in the summer, I partnered with PepsiCo and Hersheypark on a sponsored social media campaign and did an Instagram takeover for my neighborhood, Chestnut Hill. Oh! And JessicaLawlor.com was named one of the 100 Best Sites for Solopreneurs by One Woman Shop for the third year in a row.
I did a bit of speaking. In March, I spoke to the Women In Hospitality Philadelphia group about stepping outside your comfort zone — on a moving boat nonetheless! What an experience. Then in the summer, I spoke to the PennSuburban Chamber of Greater Montgomery County about hustling hard and promoting yourself.
I'm picking up new skills. Over the summer, I purchased a Canon Rebel t6i to start to improve my photography for both social media and my blog.
I took two vacations. I know that may sound silly, but taking time off as a business owner is easier said than done — luckily, my awesome team member Rachel held down Team JL&Co in my absence both times. Plus, I got to decompress in Mexico and explore Ireland, so it doesn't get much better than that!
I let go of a client that was no longer a good fit. Running a business isn't always sexy, and part of the challenge is knowing when it's time to say goodbye to a client. I did that this year, and while it wasn't an easy decision, at the end of the day, I felt in charge and empowered.
All the things we want to do in year three
When Rachel and I chatted during our planning day about our big goals for year three, the list was pretty endless, but here are some of our major goals for the coming year.
Land our dream clients — see below! You could be one of 'em.
Redesign JessicaLawlor.com
Blog once a week (at least).
Earn six figures.
Develop a stronger pipeline for new business development.
Speak more. (Check out my speaking page!)
Are you our dream client?
Excellent news! JL&Co has some space in its client roster for a couple of amazing businesses and brands.
You may be our dream client if…
You're a major blog or website a la current clients Muck Rack and The Write Life looking for someone to swoop in and manage your editorial strategy. When it comes to our content management clients, we help you figure out the type of content you need to reach your goals, manage your editorial calendar, write content or hire experienced and talented writers to assist, craft super smart and witty SEO-friendly headlines, format and publish posts and then promote your content for your target audience to consume.
You're a destination — or a tourism/hospitality related business like an attraction, winery or brewery looking for PR, content or social media help. With my background in travel/tourism PR (and Rachel's! That's how we met — she was my intern wayyyyy back in the day), we both absolutely adore working in this space. And we know how to get results for it. See above for our work with Pennsbury Manor and Crossing Vineyards.
You're an organization like a hospital, university or other type of business looking to spread the word through awesome writing. A personal goal is to amp up my writing this year, and my work with Cancer Treatment Centers of America, Temple Dental, Digital Ink and more is proof in the pudding that Team JL&Co's got this.
Think you're one of our dream clients? Let's chat!
Onto year three!
I have high hopes for my third year of running JL&Co.
And as always, I want to end this post by saying thank you. Thank you for your support. For your love, your tweets, your Instagram comments, your emails.
Your support drives me.
It really does mean the world.
I'll leave you with my absolute favorite quote — the one I come back to time and time again.
"Every morning you have two choices: continue to sleep with your dreams, or wake up and chase them."
Want more gutsy content delivered straight to your inbox twice a month? Be sure to sign up for my FREE #GetGutsy e-newsletter filled with inspiration, ideas and action items to get out of your comfort zone.