Time for a crowd poll.
Anyone guilty of agreeing to plans you're really not into? How about going to events you don't want to be at? Taking on a commitment you know you can't handle at the moment?
*Raises hand*
You, like me, my friend are falling prey to saying yes to things you straight up don't want to do.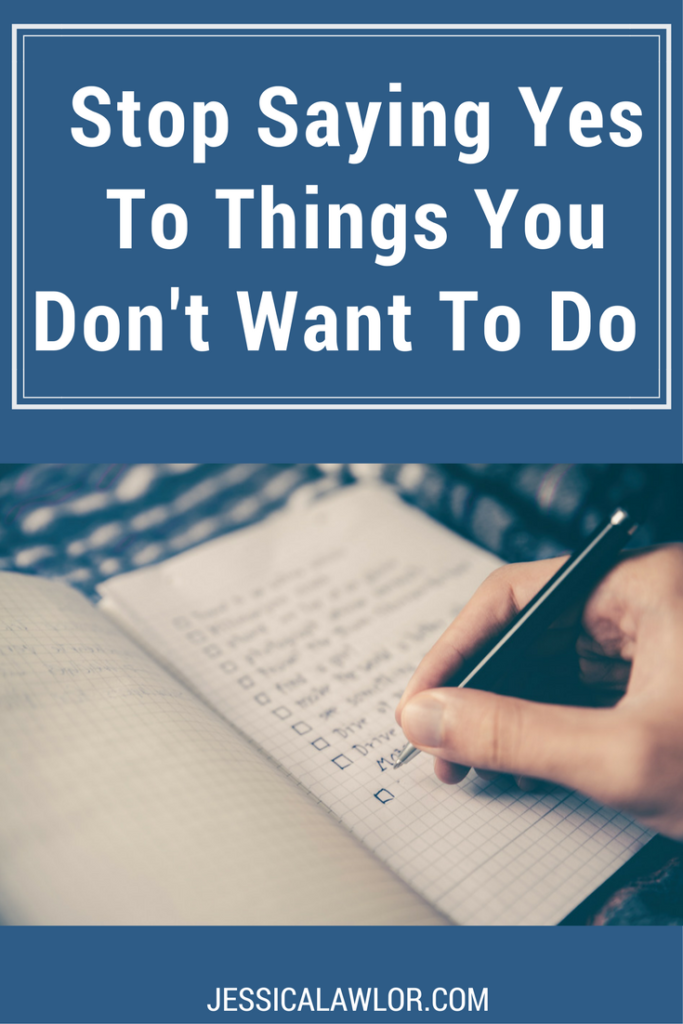 Don't worry, you're certainly not alone. This is something everyone struggles with from time to time.
Saying yes is often the easier option, even if it causes us anxiety, fatigue or strain. We think saying yes will make people like us more.
A couple of situations and choices over the past few months have brought this issue back to the forefront for me:
I changed my yoga teaching schedule from 5 times a week to 1-2 times a week.
I stepped down from an extracurricular leadership role.
I've declined invitations to events, meetings, phone calls, etc. that I know won't serve me.
Clearly, this is a topic that has been on my mind a lot, as of late.
But a recent conversation with a friend brought it back into perspective. The friend asked if I'd be attending an event for a mutual group we belong to — my immediate answer was straight up, "No."
No thought behind my response, no excuses, just an immediate, no-hesitation "no." She laughed at the immediacy of my response and asked why I wasn't going. I told her, "Because I don't want to."
And then, feeling inspired by the conversation, I sent out this tweet.
My new motto: Life is too short to go to shit you don't feel like going to.

— Jessica Lawlor (@jesslaw) October 31, 2017
This message apparently resonated with my Twitter community, and I knew I wanted to bring the conversation over here to the blog.
It's best to be long-term greedy
Get ready for a serious wisdom-drop.
A couple of years ago, a smart friend sent me an email that I think about every single time I struggle with making a decision that will impact my time and energy.
She said:
"I find there are often two categories of people: the over doers and the under doers. The over doers find themselves too busy to do anything well and the under doers are lazy. There are a smart few, a different group, who understand that in order to conquer the world it's best to be long-term greedy by focusing on being stellar at few things before moving onto others instead of trying (often unsuccessfully) to accomplish it all."
Damn, she's smart, huh?
Saying no is empowering
Here's the reality of the situation: While we all want to be helpful to others, be involved in as much as we can and take advantage of every opportunity offered, we simply can't.
There are only 24 hours in a day and let's be real, sleep is super important, and I'm not giving that up.
Have you tried saying no lately? When you get past the initial pang of guilt, saying no feels REALLY good.
Know why?
Because when you say NO, you are actually saying yes. Saying yes to the things that matter — and the things that move you closer to your goals. Saying yes to YOU. (Like this idea? Click to tweet it)
Saying no frees up your time. It frees up space. It gives you energy.
It empowers you.
What long-term greedy looks like for me right now
Long-term greedy looks and feels good right now. For me it means:
Keeping my professional commitments to weekday business hours only, and keeping my evenings free.
Cooking dinner multiple nights a week (another perk of being home in the evenings) — cooking relaxes me and is also super fun.
Reprioritizing my health and scheduling workouts into my weekly schedule. I'm currently working out five days a week and feeling better than ever!
Weeknights are for couch and Netflix time (with the exception of Wednesday night trivia, of course!)
Most importantly, long-term greedy makes me a better person — it makes me a better business owner, a better blogger, a better daughter, sister, girlfriend, yoga teacher, friend.
It makes me a better me.
Because I have the time and energy to spend on the things that truly matter right now.
Yes, those priorities will change over time. They will change as my life and business circumstances shift and evolve.
But right now, this is what feels good. This is what feels right.
This is what is best for me.
And I hope you can appreciate and understand that.
What about you? Are you long-term greedy? Tell me about a time you said no and felt empowered.
Photo via Pixabay
Want more gutsy content delivered straight to your inbox twice a month? Be sure to sign up for my FREE #GetGutsy e-newsletter filled with inspiration, ideas and action items to get out of your comfort zone.