For those who are just catching up, in December 2015, I made a career (and life) changing announcement. I resigned from my job working in public relations to take my business, blog, brand and teaching full time. I'm bringing you along for the ride, giving you a glimpse behind-the-scenes of the exact steps I'm taking to make solopreneurship work in the Becoming CEO series.
You can check out previous posts in the Becoming CEO series here.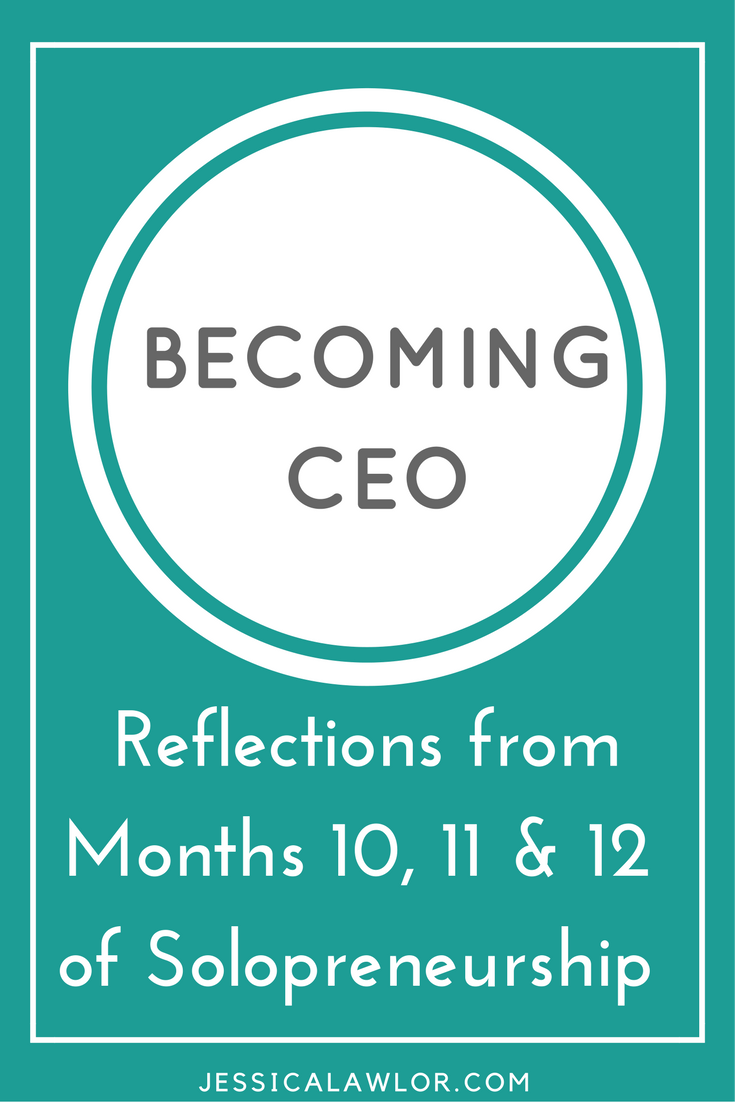 Let's take a look at months 10, 11 and 12 of solopreneurship! Here are these three months by the numbers, an income breakdown, lessons learned, the ups, the downs and how I'm feeling.
Month 10 (November) By The Numbers:
7 phone/Skype calls (as compared to 7 last month)
2 in-person meetings (as compared to 2 last month)
9 meetings total (as compared to 9 last month)
20 yoga classes taught (as compared to 13 last month)
Month 11 (December) By The Numbers:
4 phone/Skype calls (as compared to 7 last month)
5 in-person meetings (as compared to 2 last month)
9 meetings total (as compared to 9 last month)
19 yoga classes taught (as compared to 20 last month)
Month 12 (January) By The Numbers:
8 phone/Skype calls (as compared to 4 last month)
1 in-person meetings (as compared to 5 last month)
9 meetings total (as compared to 9 last month)
17 yoga classes taught (as compared to 19 last month)
Month 10 Income Breakdown:
Each month, I share a percentage breakdown of my income.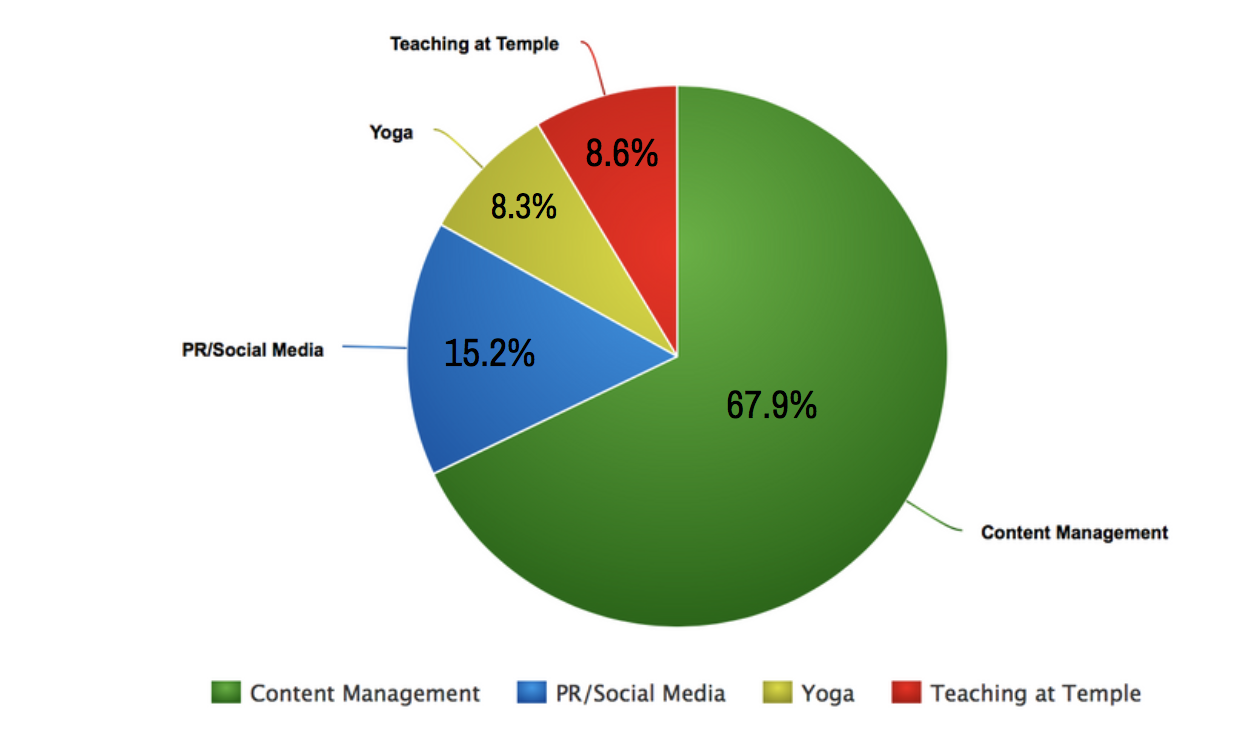 Month 11 Income Breakdown: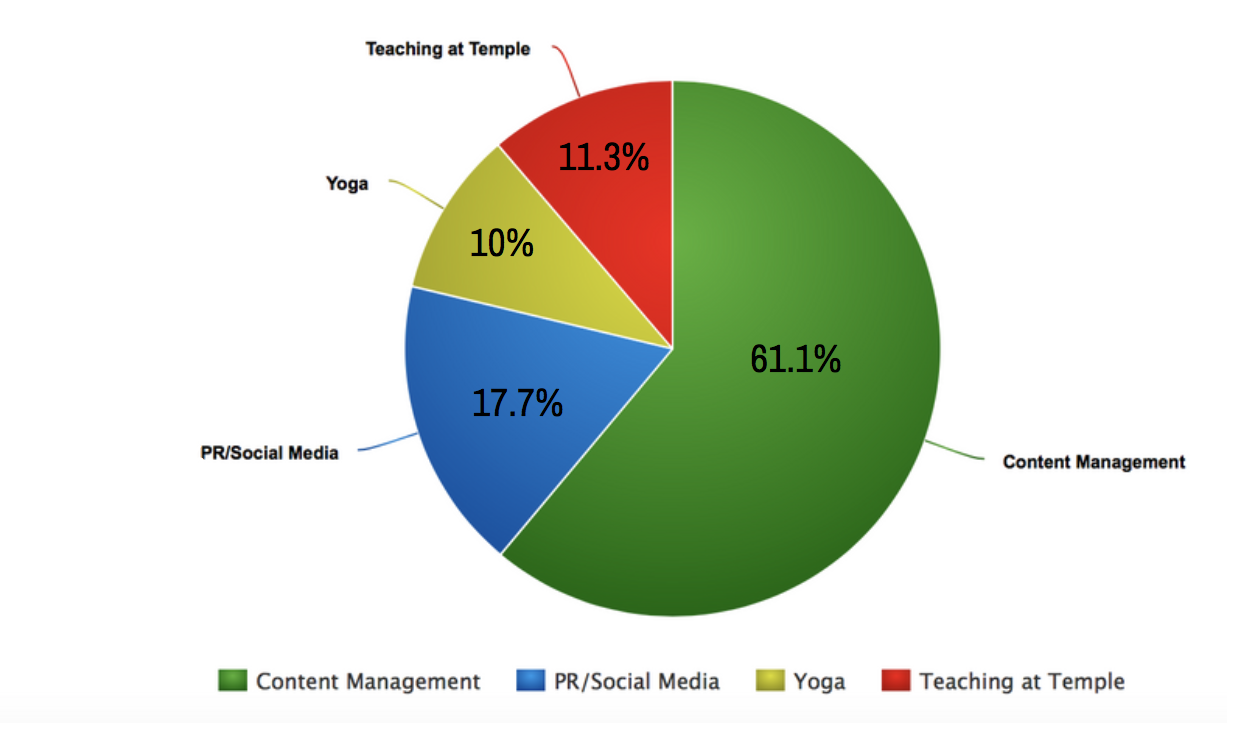 Month 12 Income Breakdown: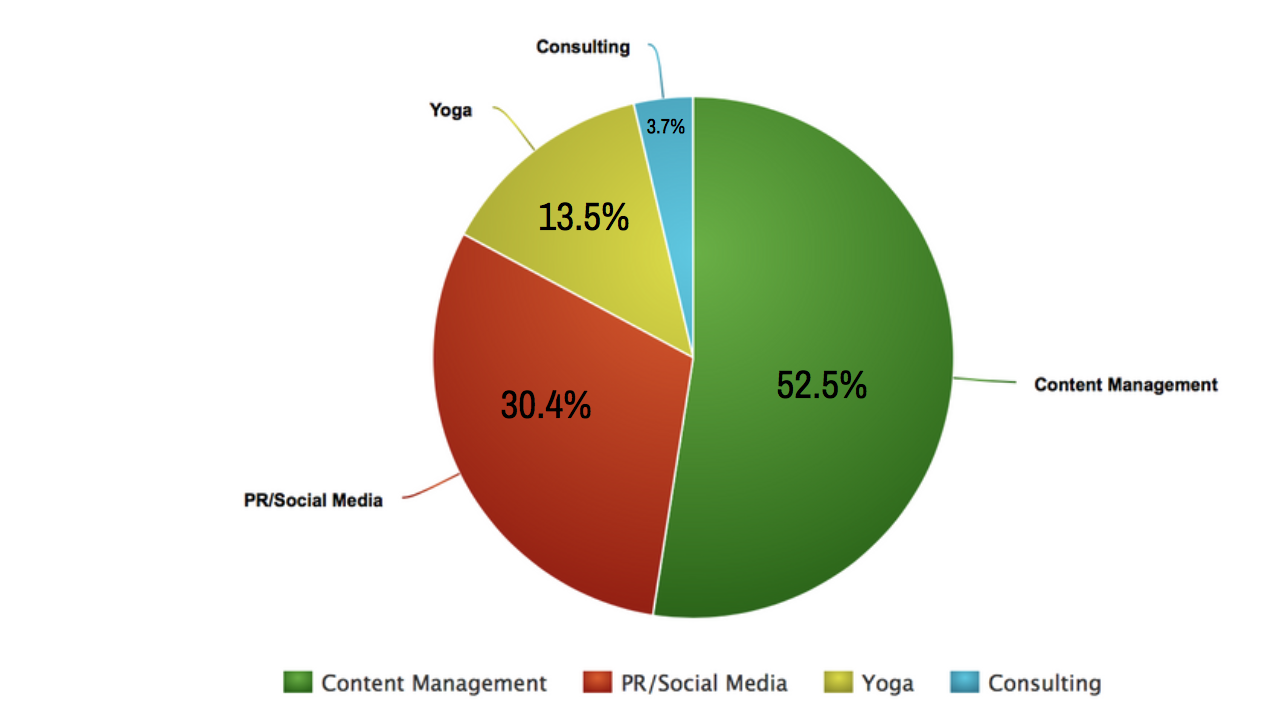 A few thoughts on the income breakdowns from the last few months:
Content management continues to be the area I see the most growth and income. It's where I also spend the majority of time.
Extra income from teaching at Temple University was a really nice addition to my monthly income. I'm sad that it's gone (taking the semester off), but I'm happy to get hours in my week back to focus on other areas of my business.
I parted ways with a client in November, so experienced a serious drop in income in December. More on that below.
I mentioned this in my last report, but sadly, writing hasn't returned as an income stream. With the amount of editing and content management I'm doing, I haven't felt inspired to write my own stuff, but hopefully that will change very soon.
Lessons Learned from Months 10, 11 and 12:
Meet with your accountant early and often. Man, I wish I did. I thought I was doing everything properly; I pay my quarterly taxes and track my income and expenses meticulously. However, at some point throughout the year, I started making more money than I anticipated and didn't loop my accountant in. Therefore, I've been paying a lower amount of quarterly taxes and I'll owe some serious money come tax time. Luckily, I have the money saved and can pay it, but wow, that was a rude awakening. I'm becoming much closer with my accountant these days.
Take a vacation. I am a BIG fan of vacation. When I was in my full-time job, I used every single one of my vacation/personal days. Since starting my business, I think I've worked at least a little bit, every single day, including weekends. Not cool. I finally took my first real vacation since starting my business in early January and it was transformational for my business.
Losing a client sucks, but it isn't the end of the world. As I mentioned above, I lost my biggest client in November. Not going to lie, I got off the call with the client, burst into tears, crawled into bed and took a nap. I allowed myself the day to mope, and then got back into game plan mode the next day. It's never fun to part ways with a client (even if it really had nothing to do with you or your work, as was the case in this situation), but ultimately, I'm grateful for the experience. This just adds more fuel to my fire to find something even more awesome to replace it.
Consider how an opportunity may impact your time/energy levels. In the fall, I taught a college course at Temple University. It was an amazing experience and one I hope to repeat. However, I had *no* idea how much time this great opportunity would actually take away from my business. My class was 90 minutes long on Tuesday/Thursdays, but in actuality, between commuting, prepping, reading, grading and corresponding with students, I'd estimate I spent at least 20 hours a week on Temple stuff. Again, the experience was totally worthwhile, but I decided to take a step back for the spring to focus my attention on growing the business.
The Highs and Lows:
There are always going to be good days and of course, there will always be not-so-hot days. Here are the things that made me super smiley and excited over the past few months, along with some challenges I faced.
The Highs:
I officially announced the name of my business + other important updates.
I added two new yoga classes to my weekly schedule at a new studio in my neighborhood.
I took my first real vacation since starting my business…and when I came back, everything was just fine 🙂 It's possible!
My first semester teaching a college course is officially complete! I received really positive feedback from my students in their evaluation survey.
I announced my newest project for 2017– and I need your input.
I launched a new service- Pick My Brain consulting.
Getting back on the adult train! I'm officially saving for retirement again, thanks to opening a SEP-IRA (similar to a 401K, but for solo biz owners).
Hiring my team member was the single best decision I made in 2016. She made the last three months so much easier than they would have been without her.
The Lows:
I lost my biggest client (income-wise). I had a feeling it was coming, but it was still a major blow to the ego. The reason we parted ways is because the people who hired me had a different vision than the people who eventually ended up managing me and the project, but because of that, it wasn't worth them spending money until they could all get on the same page. I am grateful to have had this experience early on in my business; after all, everyone loses clients. But, it still felt crappy, all the same.
Because I lost this big client, I started worrying more about my finances, especially since I just brought on a team member. Some of my better months definitely make up for the loss of income from this client, but I still spent a lot of time over these months worrying about money.
Teaching at Temple was the most wonderful experience, but it took a lot of time away from my business and client work.
I struggled with keeping up with the blog a bit. Client work and teaching took precedence, but I'm making a focused effort to do things my way, while still blogging in 2017.
I experienced a seriously rude awakening when I met with my accountant and learned I'm going to owe a ton of money this year because I wasn't paying enough in quarterly taxes. Yikes. Very expensive lesson learned.
How I Feel:
Big sigh.
These three months were intense.
Over the course of November, December and January, I felt all kinds of emotions, ranging from super excited about announcing my company name to super depressed about losing a client.
This is all part of the experience, right?
The holidays definitely complicated running my business over these few months, as I was often tempted to indulge or take days off like my counterparts at regular 9-5 jobs. Of course, I allowed myself the time to relax and enjoy the holidays with my family, but also struggled a bit to keep up with all of my work.
Taking a vacation reinvigorated my excitement and energy levels for both my business and my blog. It's amazing what a little sunshine and time away can do.
I'm pumped and excited for what year 2 will bring! Onward!
What's Next:
This is the end of my #BecomingCEO story, but it's just the beginning of my journey.
On February 1, I celebrate one full year in business.
Moving forward into year two of my business, I'll share quarterly income reports like this, but I'll pop in between those posts with other articles about solopreneurship, running a business, productivity and more.
I'm excited to continue openly and transparently sharing my CEO story with you!
Thank you for joining me on this journey! Your support and love mean the world.
Have any questions about becoming CEO and my 10th, 11th and 12th month in business? I'd love to answer your questions and hear your thoughts about this journey!
Want more gutsy content delivered straight to your inbox twice a month? Be sure to sign up for my FREE #GetGutsy e-newsletter filled with inspiration, ideas and action items to get out of your comfort zone.