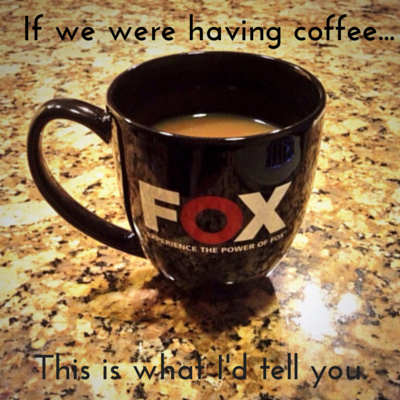 Who else needs a cup of coffee?!
My friend Amber often has "virtual coffee dates" on her blog where she details all the things she'd tell her readers if they were out for a cup of coffee. These are among my favorite posts to read, so let's settle in for a coffee date today!
Leave a comment below and tell me how you like your coffee (or if you don't like coffee, what's your drink of choice?) My favorite coffee is a caramel iced coffee with skim milk and Splenda from Dunkin' Donuts, but right now I'm drinking one of my Donut Shop K-Cups at home. Yum!
If we were having coffee right now…I'd tell you that I'm teaching my first yoga class on June 7! (AHHHH!) It's really happening! Now that a date has been set, things feel REAL. My completed "flow" (or class) is due in about a week and then I'll have from then until June 7 to practice, practice, practice before teaching my first public class to officially get my certification. Oh, and if you're interested in my yoga teacher training journey, a new recap of teacher training weekend 3 is live on the blog.
If we were having coffee right now…I'd tell you that I finally entered 2015 and am fully on board with Netflix, Spotify and the podcast This American Life. How did I wait *this* long to indulge? On Netflix, I already tore through Unbreakable Kimmy Schmidt (HIGHLY recommend…hilarious), laughed my way through Mike Birbiglia's "My Girlfriend's Boyfriend" comedy special and am now watching Chris D'Elia's "Incorrigible" comedy special. What should I watch next?! Tell me! Spotify is just awesome (although I pretty much just plug in the name of an artist I like and listen to whatever's there) and This American Life is such an interesting listen.
If we were having coffee right now… I'd tell you how excited I am that my travel plans for World Domination Summit (WDS) in Portland, Oregon are all set! I've never been to Portland, so I'm pretty pumped about that (recommendations needed!). I've heard such amazing things about WDS and I'm really looking forward to meeting fellow go-getters who are doing awesome things in the world. I'm also super pumped to experience WDS alongside my two good friends Sara and Janelle.
If we were having coffee right now…I'd tell how how obsessed I am with T25. Have you heard of it? FOCUS T25 comes from Shaun T, the creator of the Insanity workouts- the program features five workouts, designed to be done 5-6 days per week, following a calendar for five weeks. I'm on the final week of the Beta version, which means I'm essentially on Week 9 and I'm seeing great results. It's so nice to be able to complete a workout in my living room for just 25 minutes and feel more in shape than I felt when I was going to the gym regularly and spending an hour there, plus commute time.
If we were having coffee right now…I'd tell you how I'm reading the book, Wheels of Life, and it's blowing my mind. The book is all about the chakra system (energy centers in the body), but before you go on thinking this is all "woo-woo", I will say I'm learning SO much about myself, the way I interact with the world around me and how I can change myself to live a more balanced life. I just finished up reading about the third chakra- it's all about personal power and I came across THIS quote about will, which I'm currently obsessed with.
If we were having coffee right now…I'd tell you about the awesome Get Gutsy glitter letters my friend Janelle so kindly made me! How cool are these? I love them so much! On her blog, she details the entire process for those who want to make their own glitter letters. I'd tell you how I'm so not crafty at all, so I really appreciate anyone who can actually create things with their hands like Janelle does.
If we were having coffee right now…I'd probably apologize for gushing so much about yoga and how it has changed my life, but I'd probably keep talking about it anyway. I'd tell you how grateful I feel to have found such a strong and positive community of friends who lift me up. As someone who has always had a lot of surface friendships with lots of different people, it feels really good to be forming deep friendships with people I share a strong passion with.
If we were having coffee right now…I'd tell you how excited I am for Temple's Alumni Weekend this coming weekend! Some of the events on my agenda include a Phillies game, a 5K, a festival and the event I'm most pumped about…Diner en Cherry. For those familiar with the popular pop-up event, Diner en Blanc, this is a variation on that where everyone is encouraged to wear Cherry (Temple's color!) and will find out the surprise location of the massive dinner part just minutes before it begins. Can't wait to reconnect with some of my favorite Temple Owls!
Tell me your coffee or beverage of choice! Also, what would you share with me if we were on a coffee date right now?
Want more gutsy content delivered straight to your inbox twice a month? Be sure to sign up for my FREE #GetGutsy e-newsletter filled with inspiration, ideas and action items to get out of your comfort zone. When you sign up, you'll also be sent a FREE copy of the Get Gutsy ebook, filled with 19 inspirational stories to help you get gutsy.