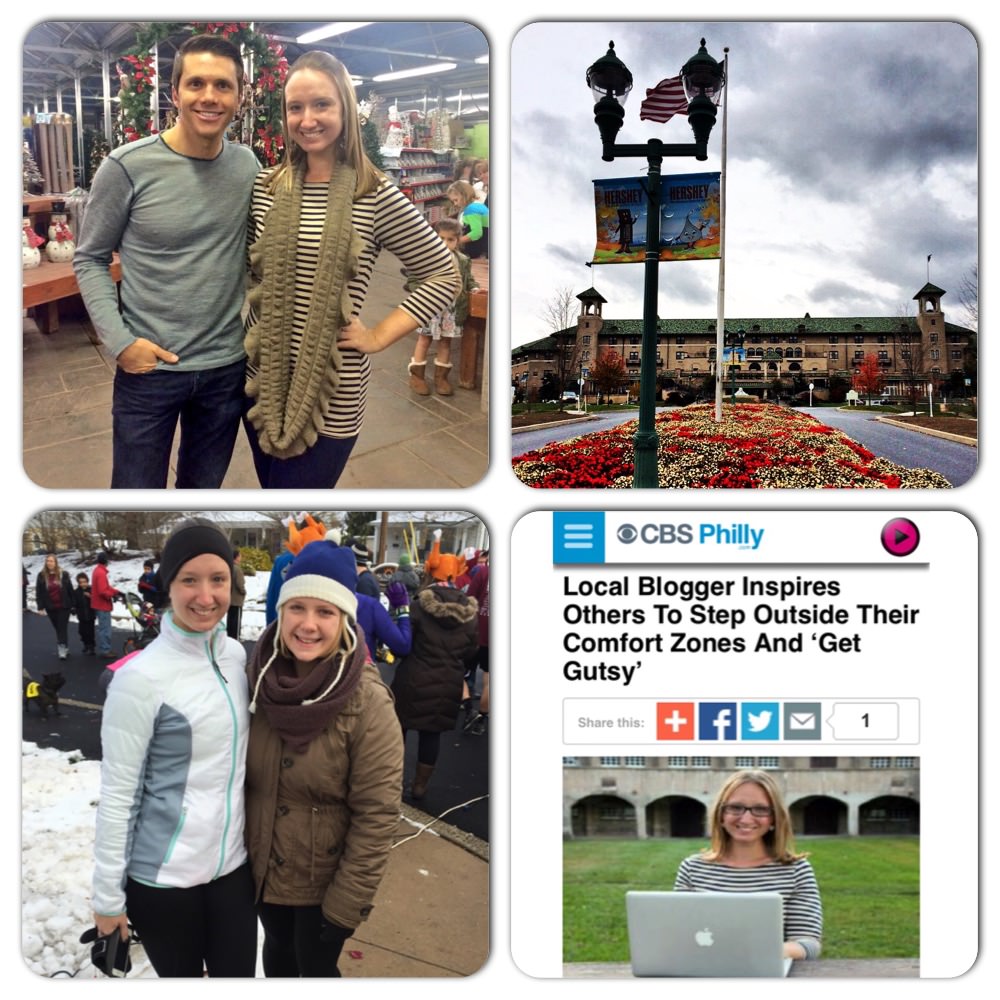 Each month, I share three things I accomplished in the previous month and preview three things I'm excited about or hoping to accomplish in the month ahead. It's fun to look back and forward, and as an added bonus, these monthly check-ins keep me accountable to reach my goals.
I hope you'll join in and share your three things in the comments section! I've been thrilled to see that other bloggers enjoy my monthly check-ins and have adopted the format for their own blogs- this is AWESOME! If you write a similar monthly check-in/look ahead post, please feel free to utilize this format and be sure to leave a link in the comments below so we can all support you in your goals for the coming month!
In November, I…
1. Launched the beta version of the 30 Days of Gutsy Course. After a couple of months of dreaming and talking about it, I gathered a group of 26 amazing go-getters to participate in a beta version of my first-ever course, 30 Days of Gutsy. It is going SO well! I feel like I've really discovered my passion in developing this course and I can't wait to share it with you in January. The course is broken down into four main themes: (1) set goals and achieve your dreams (2) step outside your comfort zone 3) eliminate fear and (4) take action. The course includes daily emails with lessons, quotes, resources, exercises and more. I'm pumped about it! Drop your name here if you're interesting in being THE VERY FIRST to know details about when the official course will launch (along with special discounts for those who express interest early!)
2. Officially applied for yoga teacher training for 2015. I've had this big, scary goal in the back of my head for the past six months or so and finally this month, I made the decision to take action. Earlier this month, I officially applied to participate in yoga teacher training in 2015 and was accepted through my amazing yoga studio's teacher training program. I'm terrified (impostor syndrome happening over here like no other lately!) but more importantly, I'm beyond excited. I truly love yoga and can't wait to learn more about its history and philosophies. I also can't wait to learn more about myself in the process and to deepen my practice. And who knows?! Maybe one day I'll teach yoga classes and have the privilege of introducing others to yoga and helping them find their passion and purpose in the process. Training doesn't start until March, but I'm already counting down the days!
3. Went on my first-ever solo getaway. In early November, I took a road trip to Hershey, PA to visit the beautiful Chocolate Spa at The Hotel Hershey. I left the Philly area on a Saturday morning and spent that Saturday afternoon relaxing at the spa. I had dinner with my lovely friend (who I met through this blog!) Janelle and then spent the night at an area hotel. The next day, I headed back to the spa for another treatment before heading home. It was wonderful to spend so much time by myself disconnecting and relaxing. I also got a ton of planning and plotting done for the 30 Days of Gutsy course, so it was a productive weekend, as well. I look forward to more solo travel in the near future!
In December, I will…
1. Launch the 2nd Annual Get Gutsy Essay Contest. The Get Gutsy Essay Contest and Week was so much fun last year and with nearly 30 participants, I knew I needed to make this an annual event here at Get Gutsy HQ. So many people have asked me if I'm bringing it back because they didn't get the chance to participate last year and the answer is a resounding, YES! Start brainstorming your essay topic now- I'll share details about the contest next week and you'll have about a month to submit your stories. From there, we'll celebrate Get Gutsy Week in January (and it's going to be even bigger and better than last year!) and once again, I'll compile your amazing stories into a free ebook that will launch later in 2015. I hope you'll choose to get gutsy and share your story this year!
2. Stay on track with my health and fitness. One of my major goals for November was to stay on track when it came to working out and eating right. I'm proud to say I did a pretty decent job. I participated in two races in November, so that helped with running and I hope to keep running once or twice a week through December. I also went to yoga more in November than in past months, including a fun Ab Blast for Yogis workshop, where I finally achieved flying crow pose! In December, despite a crazy schedule with the holidays, I hope to continue working out and eating healthy since I'm going to Mexico in January!
3. Let go of stress and enjoy the holidays. Can I admit something? I can be somewhat of a grinch when it comes to the holidays. I do love the Christmas season (Hallmark movies, anyone?!), but I often let the stress of the holidays get to me. I'm a procrastinator, so I'm always behind on buying presents and sending my holiday cards, so I'm working really hard to get ahead this year, so I can fully enjoy what the holidays are actually about. I'm looking forward to a fun girls day later this month with my mom and sister visiting Longwood Gardens. I also have a cookie swap on the calendar and a couple of other fun Christmas-related events. I can't wait to explore all of the gorgeous holiday lights in the city, too! Philly really goes all out for the holidays. I'm trying to change my attitude around the holidays and instead of wishing this month away like I normally do, fully embracing the spirit of enjoying time with friends and family.
November Posts You May Have Missed
No Plans November: What I Learned From One Month With An Empty Calendar 
Get Gutsy with Sierra Elmore: "I Started My Own Design Business at Age 17"
The 5 Things I Know For Sure About What It Means to Get Gutsy
I Am Not For Everyone (And Neither Are You)
Take The Great Get Gutsy Community Survey
10 Spectacular Things Happening Right Now (Join The Movement!)
Three Things Pushing Me Outside My Comfort Zone Right Now
Jessica Around The Web
Guest posts, articles, features and other places you can find me this month online.
Local Blogger Inspires Others to Step Outside Their Comfort Zones and 'Get Gutsy'– feature on CBSPhilly.com
Four Content Marketing Predictions for 2015– for Scribewise
What did you accomplish in November and what are you looking forward to accomplishing in December? Share your three things in the comments below!
Want more gutsy content delivered straight to your inbox twice a month? Be sure to sign up for my FREE #GetGutsy e-newsletter filled with inspiration, ideas and action items to get out of your comfort zone. When you sign up, you'll also be sent a FREE copy of the Get Gutsy ebook, filled with 19 inspirational stories to help you get gutsy.