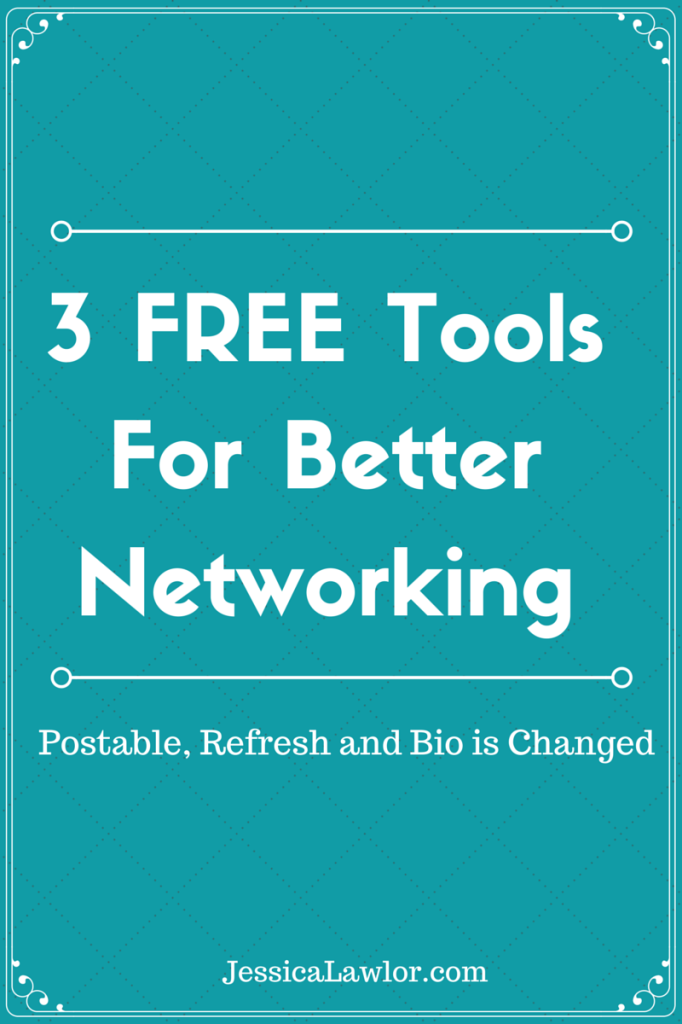 One of my major goals for 2015 is to be more thoughtful, intentional and up-to-date when it comes to staying in touch with the people I love and respect.
It sounds super simple, but in a busy world where we're all so focused on our own goals and paths, it's not always easy to remember to send a birthday card or a random note to say hello.
It's also challenging to stay on top of all of the things happening in your personal and professional network whether that means knowing when your connections change jobs, start businesses, launch blogs, get married, have babies…or whatever else.
No matter what your goals are, networking is incredibly important…and staying active and in-the-know with your connections boosts your own personal brand and reputation. You become known as the person who always knows what's going on and is super thoughtful when it comes to keeping in touch.
Want to become known as an awesome networker and overall good friend?
These three incredible tools are helping me stay in touch and stay more connected with the people in my network:
1. Postable
I am the worst when it comes to sending snail mail whether it's a birthday card, thank you note or simple a random card to say, "I'm thinking of you." But here's the thing…I desperately WANT to be one of those people who regularly sends out mail and fun little surprises to the people I love.
My biggest issues when it comes to snail mail are that 1. I don't have ANYONE's address because I don't keep an address book and 2. I never know until Facebook tells me that it's someone's birthday and by then it's too late to send a card.
Enter Postable.
Postable is an amazing tool that makes sending mail easier and fun. Here's how it works:
A couple of weeks ago, I sent 40 or so of my friends, mentors and colleagues the below email. Here's what it said:
Hi friends!
I hope all is well! 
The New Year is just around the corner (whether you can believe it or not!)…one of my goals for 2015 is to be a little more thoughtful and intentional when it comes to staying in touch with friends.
To help me do that, I'd love if you'd click the link below to fill out your address and birthday: www.postable.com/jessicalawlor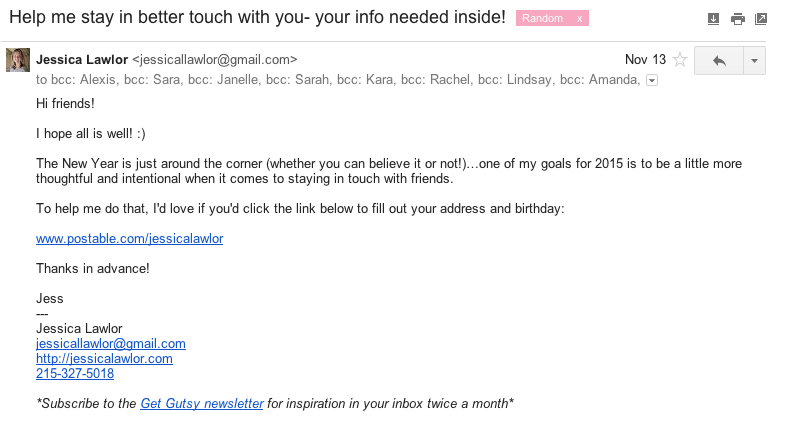 From there, my friends filled out their information using the Postable link provided. Postable collects all of their information for me in a neat, tidy, online address book. If you already know someone's address and don't need to send them the link, you can also enter them manually. It's completely private, secure and best of all, FREE to use Postable's address book feature.
But guess what? Postable takes things to another level by actually allowing you to write and purchase cards ON THEIR SITE. If you're like me and have atrocious handwriting, this might be a good option for you. You can choose from a variety of awesome templates (holiday cards, thank you cards, birthday cards, etc.), type your own personal message and Postable will take care of the rest. You never have to see a physical copy of your card, you don't have to go to the post office to buy stamps. (Because really, besides not knowing everyone's addresses, going to the post office is the worst part of sending snail mail!)
I haven't tried the card purchasing feature yet, though I plan to soon. However, I was super impressed a couple of weeks ago when after browsing through Postable's holiday card selection, I received a card in the mail (the very card I had been browsing, by the way) thanking me for signing up for Postable, explaining that they wanted to show me the quality of the card and even offered me a discount to make a purchase. Way to go, Postable!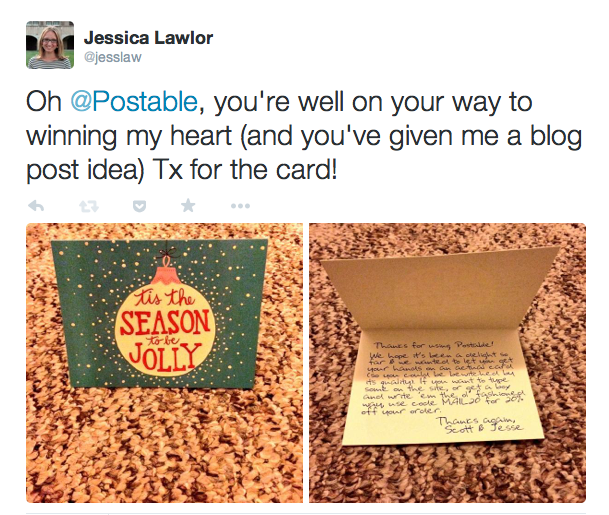 But here's my most favorite part about Postable. It sends you an email a week before someone's birthday to remind you to send them a card. How genius is that? I felt like the best friend in the world last week when I received an email reminding me of my friend Megan's birthday and was able to drop a card in the mail well ahead of time so she received it for her birthday.
Total win in my book!
2. Refresh
[EDITED 4/6/15 TO ADD]: Refresh was JUST acquired by LinkedIn and will shut down as of mid-April 2015. Huge bummer as I loved this tool!
Refresh is a very new-to-me FREE app. I just started using it this week, but it has quickly become one of my must-check apps each day and I honestly think it's going to change the way I network in a big way.
Essentially, Refresh connects your calendar with your email and any/all social media channels you'd like to connect it with to deliver you awesome insights about those in your network.
Every day, I receive a digest email with all of my scheduled meetings for the day, along with a list of insights for all those I'm meeting with. The email digest provides a brief summary with details about those I'm meeting with. Here's an example: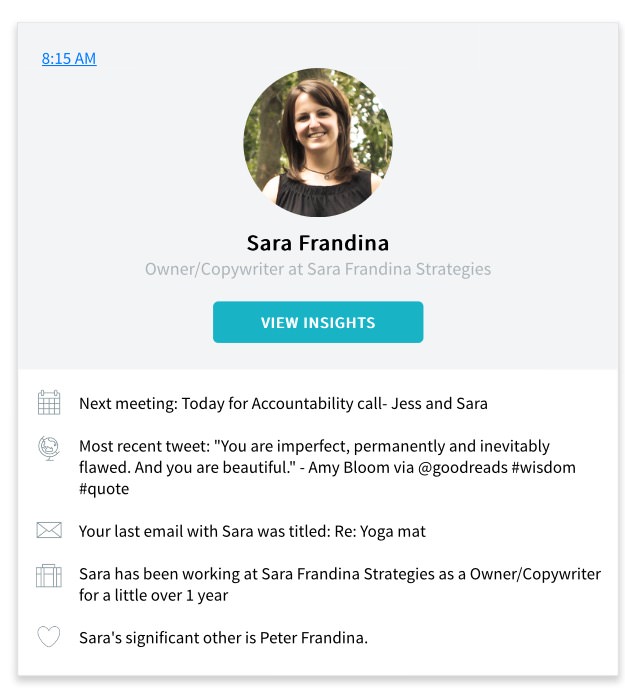 In this particular case, Refresh saw on my calendar that I had my weekly accountability call with my friend and fellow solopreneur Sara Frandina. As you can see, this email pulled some information about Sara, including our latest email to each other, some personal details about Sara, as well as her most recent tweet.
A "refresher", if you will.
When you click, 'View Insights' you're taken to an even more detailed page about Sara with details pulled from her LinkedIn profile, website, social media channels, a list of our mutual contacts, her birthday, a list of our previous/future meetings and so much more. It even tells you fun things like which celebrities your connection shares a birthday with.
The app also sends push notifications before meetings, inviting you to click to learn more insights. It provides suggestions for things to talk about based on commonalities and gets you up-to-speed on the person you're meeting with so you can sound like the informed, interested and caring person you are when you get to that meeting.
The information Refresh provides is seriously endless and gives you a ton of ideas for conversation starters or icebreakers to have a more natural conversation when you meet with someone, whether you know them well or are just meeting for the first time.
Refresh also sends you another notification AFTER your meeting that asking, "Did you learn anything interesting about Sara?" where you can jot down your own notes of anything you want to be reminded about later.
Did I mention this tool is also FREE? Amazing. This is a game-changer for me.
(Thanks to Amy Schmittauer for raving about this tool on her Savvy, Sexy, Social YouTube channel)
3. Bio is Changed
Want to know when your Twitter connections change their Twitter bio or profile photo? Bio is Changed can help by sending you instant notifications or a weekly email with all the changes in your network.
Here's a snippet of my latest Bio is Changed email: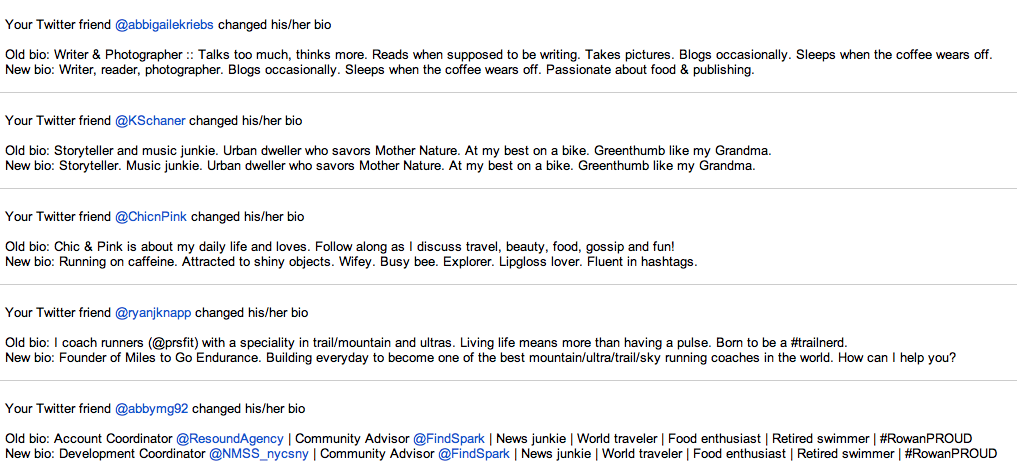 Now you may be thinking, "Why should I care when someone changes their Twitter bio or profile photo?" but hear me out. A Twitter bio is really a look into someone's soul. The way someone crafts their bio (you only get 160 characters, after all) can tell you a lot about that person, how they see themselves and what's most important to them that they want to portray to the outside world.
The best part of the emails Bio is Changed sends is that it shows you a person's old AND new bio, so you can see where something changed. So, for example, you may see one day that a friend's bio previously said, "marketing coordinator at ______" and now says "marketing manager at ______." Now, you have a reason to reconnect with that person on Twitter to say, "Hey! I see your bio says you're the marketing manager at _____. Did you get a promotion?!"
Now you look like a rock star connector who is paying close attention to your network!
I can't wait to experiment more with these tools as we head into a new year- I'm looking forward to staying super up-to-date with my network, but more importantly, being a better friend to the people I love!
Have you tried any of these tools? What do you think of them? If you know of any other awesome tools to better connect with your network, leave them in the comments below. I'd love to check them out!
*This post is not sponsored by any of these companies. I truly love what each company is doing to help you better connect with your network. I only share with you the things I love. Enjoy!
Want more gutsy content delivered straight to your inbox twice a month? Be sure to sign up for my FREE #GetGutsy e-newsletter filled with inspiration, ideas and action items to get out of your comfort zone. When you sign up, you'll also be sent a FREE copy of the Get Gutsy ebook, filled with 19 inspirational stories to help you get gutsy.