Welcome to the Get Gutsy interview series! Each month, I interview people who are getting gutsy– stepping outside their comfort zones to reach their goals and live a life that makes them truly happy.
Click here to read past Get Gutsy interviews.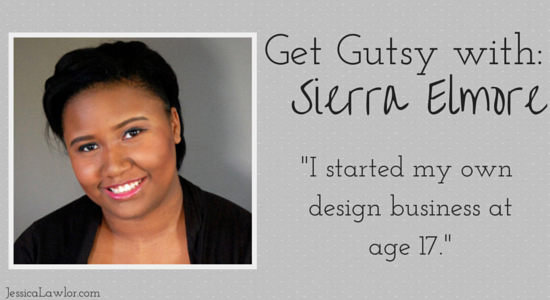 Today, I'm excited to introduce you to an inspiring young woman, Sierra Elmore.
Here's a quick story about me and Sierra: Rewind back to summer and I'm out to dinner with my good friend and fellow solopreneur Amy Chick. I tell Amy how I'm looking for a designer for the Get Gutsy ebook. Amy tells me she knows this amazing young woman who is 17 years old and running her own design business. My first reaction was, "Wait, what?! 17???" Amy said she had hired her and was incredibly impressed with her work and professionalism. I checked out her company, 13 Elm Streets, and decided to hire her to design my book…and the rest is history! That woman? Sierra Elmore.
Let's get into it! Meet Sierra.
1. Hi Sierra! Thanks for being on the blog today. Could you please give us your best Twitter-style introduction? (140 characters or less!)
I do graphic design (PDFs, social media, branding) for creatives, own a online design shop and blog about business/productivity!
2. Tell us about how you are getting gutsy.
Starting a business (13 Elm Streets) at age 17 was pretty scary! I was so scared that I wouldn't be able to make it as a designer at such a young age. So many times over the past few months, I've thought "What if this fails? Maybe I should have gotten a part-time job instead." But I've forged on, and things have gotten so much better than they were when I first started.
3. When I was in high school, I was busy fretting over boys and agonizing over geometry homework. YOU started your own business! Why?
Haha, there was plenty of crying over math homework until I started taking business math! (Now, for some odd reason, I love math.) In all seriousness, though, I started 13 Elm Streets because I saw all of these amazing women starting up unique online businesses and I thought something like that would be perfect for me. I was originally going to just make 13 Elm Streets an Etsy shop when I was 18, but I decided to take the plunge and start this past March! I'm so happy that I didn't wait, since I most likely would have lost interest and moved on to something less sustainable.
4. What kind of projects do you love to work on?
I love, love, LOVE working on PDF design projects and book covers! It must be the reader in me 🙂
5. How did you prepare yourself to run a business? Were there any tools or resources you found particularly useful?
I read a LOT of blogs about business, productivity, ecommerce, craft shows, design..and I still do! The blogs that helped me the most in the beginning are the Etsy Seller Handbook, XO Sarah, your productivity tips (Note from Jess: Aw, thanks!) and Create and Thrive. As for tools, I love, love, LOVE Asana for project management, my Kate Spade planner and Google Calendar for planning my day, my Moleskine for keeping track of random tasks and Evernote for storing articles and keeping notes.
6. How important has it been to collaborate and work with other business owners? Do you have a support system you can lean on for advice?
I love working with other business owners! Right now, I'm working on a Small Business Saturdays blog column where I feature small business owners, and my friend Samantha Zalenski (she's also a teenage entrepreneur and one of the best illustrators I've come across!) and I are working on a Facebook support group for other young entrepreneurs. I get a lot of support from my family, business friends and Facebook groups for small business owners. They've all helped me a lot.
7. Have you faced any challenges because of your age? Tell us how you overcome roadblocks.
Surprisingly, there haven't been too many! My biggest frustration was finding online accounts that I could work with without feeling guilty about lying about my age (although, erm, I may do that with some accounts). That's how I found my awesome online shop host, Storenvy! At first I thought that nobody would take me seriously, but my clients don't even flinch when I say "my mom has to co-sign this contract because I'm 17." In fact, sometimes they congratulate me for my moxie!
8. What one piece of advice would you give to someone who wants to start a business? Maybe other people who are facing obstacles because of their age or some other attribute?
Don't let anybody stop you. Seriously, age is just a number and it says nothing about your abilities. Keep learning your craft, get smart about business and keep creating.
9. What does your life look like five years from now? More importantly, how do you hope to feel?
Five years from now, I'm fresh out of college and am starting to build the all-female design studio that I've been dreaming of. I hope to feel happy, fulfilled and busy with client work – but not overwhelmed!
10. What does getting gutsy mean to you?
Getting Gutsy means not following everybody else's rules and instead choosing to follow your heart. You may be wrong or others may mock you – it doesn't matter. As long as you reach outside of the conventional and do what you feel is right, everything will work out in your favor.
Want to connect with Sierra? 
Website // Facebook // Twitter // Pinterest
Know someone you think I should chat with for the Get Gutsy interview series? I'd love to hear about them! Let me know in the comments below!
Want more gutsy content delivered straight to your inbox twice a month? Be sure to sign up for my FREE #GetGutsy e-newsletter filled with inspiration, ideas and action items to get out of your comfort zone. When you sign up, you'll also be sent a FREE copy of the Get Gutsy ebook, filled with 19 inspirational stories to help you get gutsy.