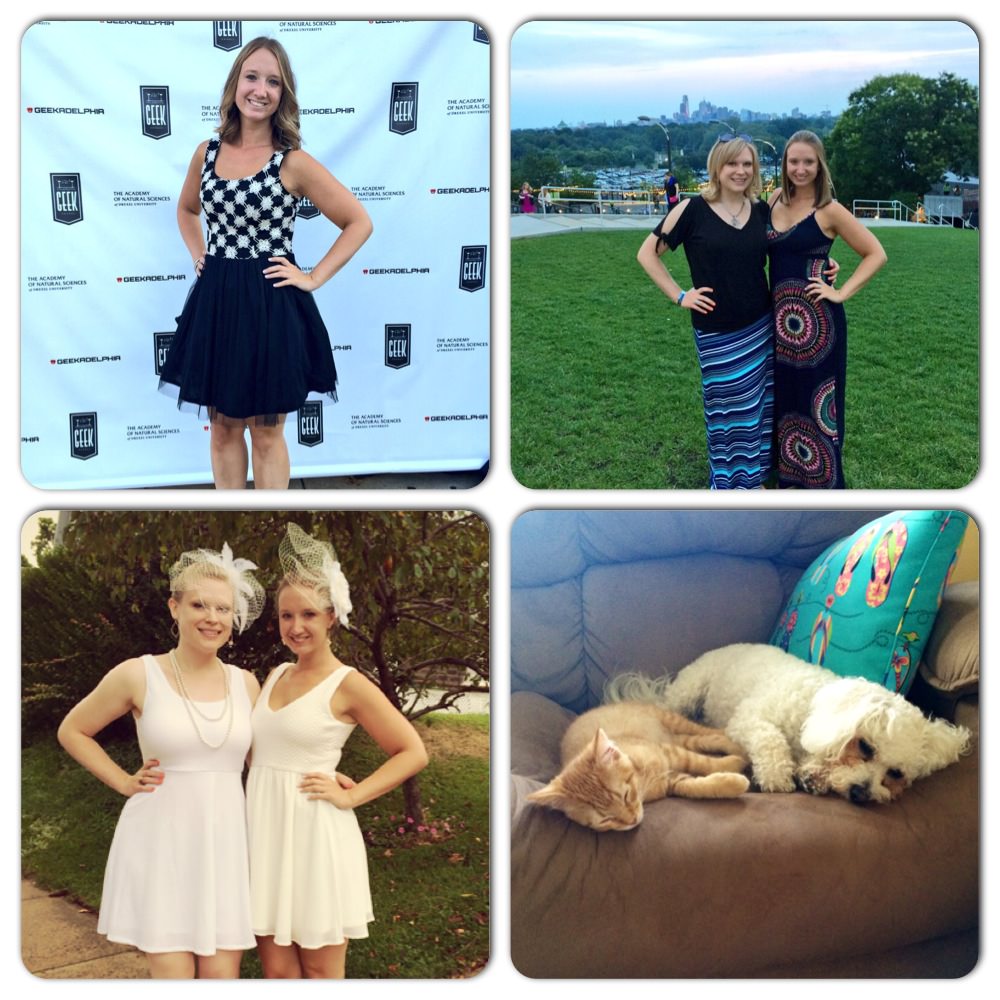 Each month, I share three things I accomplished in the previous month and preview three things I'm excited about or hoping to accomplish in the month ahead. It's fun to look back and forward, and as an added bonus, these monthly check-ins keep me accountable to reach my goals.
I hope you'll join in and share your three things in the comments section! I've been thrilled to see that other bloggers enjoy my monthly check-ins and have adopted the format for their own blogs- this is AWESOME! If you write a similar monthly check-in/look ahead post, please feel free to utilize this format and be sure to leave a link in the comments below so we can all support you in your goals for the coming month!
In August, I…
1. Completed my 100th hot yoga class. It's no secret I'm obsessed with hot yoga and in August, I reached a milestone when I took my 100th hot yoga class in less than a year. For the past two months, I've been compiling a list of the 100 lessons I've learned from yoga- some life-changing, some silly, some quotes that inspire me…all gleaned from 100 classes of an ancient practice still beloved by millions today. I published them in a post on the blog last week. I was amazed when the post was a big hit among both my yoga friends AND non-yoga friends. I was especially honored and humbled that my studio shared my post on Facebook, as well as several of my yoga teachers on their Facebook pages. To celebrate hitting 100 classes, I finally upgraded my mat. Here's to 100+ more hot yoga classes!
2. Added a new animal member to the Lawlor family! If you follow me on Instagram, you may have seen that in early August we adopted a kitten! After losing our family cat when she sadly passed away last year, we were finally ready to open our hearts and home to another cuddly kitty. His name is Axel- that was his name at the shelter and we thought it was so cute and out-of-character for our family that we decided to keep it. He's a funny little guy- playful, mischievous and sweet. Him and Buddy (our Bichon) are getting along just fine (as evidenced in the adorable photo above). Don't pets just make life a little sweeter?
3. Had a blast attending events I've been looking forward to all summer. My August social calendar was packed with fun events! First up, I went to the Gavin DeGraw concert at The Mann Center in Philadelphia. I've never been to this venue and I was super impressed; turns out, it's also home to one of the best views of the Philadelphia skyline. Gorgeous! Next up, I went to the Philadelphia Geek Awards and rocked a tutu dress- always one of my favorite events of the year honoring all the cool, geeky things happening here in the city. Lastly, I donned all white and a fascinator for Stephanie's very classy private Diner en Blanc soirée. Even though the party had to be moved inside due to weather, it was still incredibly beautiful; I'm so amazed by Steph's event planning skills! I also had the opportunity to meet the fabulously inspiring Natalie Sisson of The Suitcase Entrepreneur while she was here in Philly- Nat's podcast is the very first one I ever started listening to, so it was awesome to meet her in person.
In September, I will…
1. Announce the launch of a project I've been brainstorming for some time now. You know they always say start before you're ready? That's exactly what I'm doing here. I had an idea for a free Get Gutsy email course a few months back and have been thinking about it and thinking about it, but not acting on it. If I don't just announce the thing and get it started, I never will, so here's the first time I'm publicly announcing it. Stay tuned for more details about registering! The course will likely run in October. My plan is to then turn the free email course into an expanded and paid ebook before the end of the year. EEEEEEKS! Big goals. Thanks in advance for your support!
2. Enjoy another packed month of fun events. September is another super busy month! In fact, my entire fall is already jam-packed, which can feel a bit overwhelming, but all of the events on my calendar are fun, so I'm excited. In early September, I'm participating in the Philly 10K. I haven't done a longer distance race since the Broad Street Run in May, so I'm a little nervous, but excited to run through Philly's neighborhoods, a route which hasn't been covered yet in any Philadelphia race. Later in the month, the Temple University Women's Network (the alumnae association I'm president of) will officially kick off with a brunch event- if you're a Temple alumna, be sure to register! I'll also be heading back to Temple's campus toward the end of the month to see my mentor Meredith honored with a prestigious award, alongside NBC Nightly News anchor Brian Williams. So cool!
3. Participate in my first business retreat. When my friend Dana Sitar emailed me that Coach Jennie was hosting a day-long retreat in Philly called Astonish Yourself, it didn't take much convincing for me to sign up immediately. I had a call with Coach Jennie a few weeks back and now I'm looking forward to this retreat even more. Hopefully it will give me the kick in the booty I need to reach some of my bigger, scarier, gutsier goals!
August Posts You May Have Missed
100 Lessons From 100 Yoga Classes
Here's What I'm Struggling With Right Now (PS- I Do Not Have It All Together)
The Simple Email Marketing Strategy I've Implemented For One Week With Major Results
Jessica Around The Web
Guest posts, articles and other places you can find me this month online.
Five Must-Have Qualities for Successful and Smart Content Marketers– for Scribewise (also republished by Business2Community)
Three Simple Ways to Take PR 101 To The Next Level– for Spin Sucks (also republished by Ragan.com)
Does Happiness Factor Into Your Decisions?– for CareerMeh (originally published here on JessicaLawlor.com)
What did you accomplish in August and what are you looking forward to accomplishing in September? Share your three things in the comments below!
Want more gutsy content delivered straight to your inbox twice a month? Be sure to sign up for my FREE #GetGutsy e-newsletter filled with inspiration, ideas and action items to get out of your comfort zone.