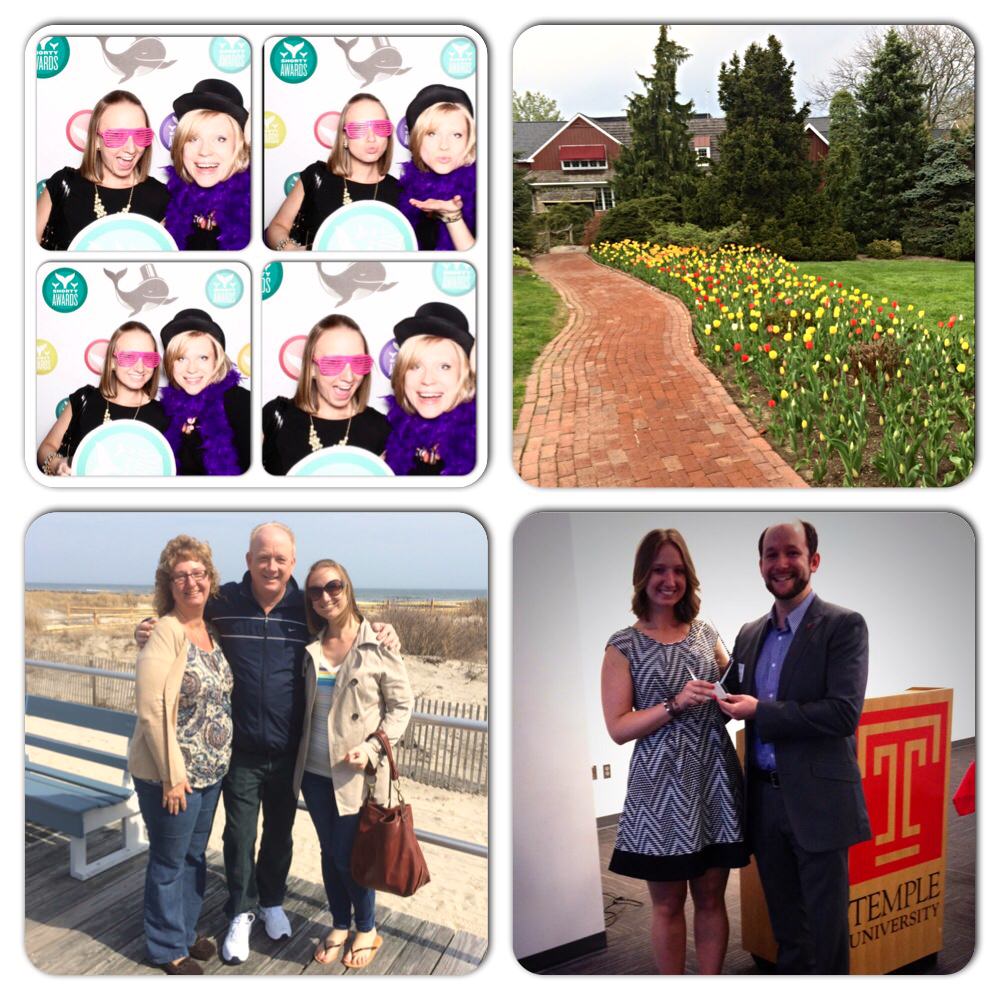 Each month, I share three things I accomplished in the previous month and preview three things I'm excited about or hoping to accomplish in the month ahead. It's fun to look back and forward, and as an added bonus, these monthly check-ins keep me accountable to reach my goals.
I hope you'll join in and share your three things in the comments section! I've been thrilled to see that other bloggers enjoy my monthly check-ins and have adopted the format for their own blogs- this is AWESOME! If you write a similar monthly check-in/look ahead post, please feel free to utilize this format and be sure to leave a link in the comments below so we can all support you in your goals for the coming month!
In April, I…
1. Went on mini-weekend adventures! I made a promise to myself now that the weather is finally nicer to be more adventurous this month. I kicked off the month with a quick trip to DC; got to see the Cherry Blossoms the weekend right before they peaked. The following weekend, I took a day trip to Ocean City, NJ (my absolute favorite place on earth) with my parents. I also went to NYC for a fun event (see #3 below!) And finally, my mom and I spent an awesome day out and about in the countryside here in PA shopping, dining al fresco and doing a wine tasting. It felt so good to finally get out of the house (it really was a tough winter here) and spend some time outdoors trying new things!
2. Got out of my comfort zone professionally. April was an amazing month for my career and professional life. I received a promotion at work! I also am being nominated for a work-related award that required me to submit a four-minute video. As I've mentioned here before, video is not my preferred medium- I think I'd actually rather speak to a room of 500 people than talk to a camera, surprisingly enough. But in any case, I made it through the video with the guidance of an amazing videographer and I'm SO happy with the way it turned out! I hope to be able to share it on the blog in the future. And finally, to cap off an already awesome month, I was honored by my alma mater with the Temple University Young Alumni Diamond Excellence Award. So grateful for everything good that has happened in my career over the past few months!
3. Attended my first-ever Shorty Awards. My freelance client Muck Rack's parent company, Sawhorse Media, puts on these annual social media awards each year and I was so excited to attend for the first time! My friend Rachel and I took the train to New York (SO easy from the Philadelphia area) and even though it was pouring rain, we made it to the beautiful New York Times building with no problem. It's always nice to meet people you only communicate with via email in person, so I had a great time networking and chatting the night away. On the way out, I even ran into Dr. Jen and Bill from the TLC show The Little Couple! It was a star-studded event, that's for sure. Can't wait for next year's awards!
In May, I will…
1. Complete the Broad Street Run. Third year's the charm! Broad Street, we meet again. This month, I'll conquer my third Broad Street Run. This week, I wrote a post about my goals for the race and how things are a little bit different this time around. I didn't train as hard as I should have, but I'm mostly just looking forward to enjoying this iconic race and really soaking it all in. Also, something really cool happened around the topic of this race. On Twitter, I shared a post I wrote last year with ten tips for the Broad Street Run and Philadelphia Magazine actually included it in one of their blog posts this week– my blog traffic went absolutely nuts the day they posted and shared on social media! Such an awesome honor to be included in one of my favorite magazines -thanks Philly Mag!
2. Participate in a yoga pose-off challenge. It's no secret that I love yoga so when I saw that my yoga studio was hosting a social media yoga pose-off challenge for the month of May, I decided to join in. I'll be sharing my photos on Twitter and Instagram– maybe a couple will make it here to the blog. You can check out the first day of the challenge here! I probably won't be able to join in every single day, but I'm looking forward to challenging myself and getting out of my comfort zone by sharing these yoga pictures throughout the month.
3. See my little sister graduate from college! I can't believe my fabulous little sister Jamie is already graduating from college. I feel like it was just yesterday that I cried my eyes out saying goodbye to her as she headed off for the University of Delaware. I'm so proud of all that she has accomplished in her four years there and I can't wait to see what she does next. She's pretty much poised to take over the PR world (yep, she studied PR, too!) and I can't wait to celebrate with her this month and next when we go on a cruise!
April Posts You May Have Missed
 Broad Street Run Round 3: Letting Go Of Goals and Finishing With a Smile
The #1 Way I'm Able To Pack So Much In A Day: Energy Management
What Are You Going to Choose: Fear or Trust?
Letting Go Of The Things That No Longer Serve You
Jessica Around The Web
Guest posts, articles and other places you can find me this month online.
How To Achieve Work/Life Balance (It IS Possible)– for CareerMeh
Four Ways Content Marketing Is Like Running a Race– for Scribewise (Also republished by Newscred)
How To Build Your Online Presence- Five Minutes at a Time– for CareerMeh (republished from A Writer's Bucket List)
What did you accomplish in April and what are you looking forward to accomplishing in May? Share your three things in the comments below!
Want more gutsy content delivered straight to your inbox twice a month? Be sure to sign up for my FREE #Get Gutsy e-newsletter filled with inspiration, ideas and action items to get out of your comfort zone.