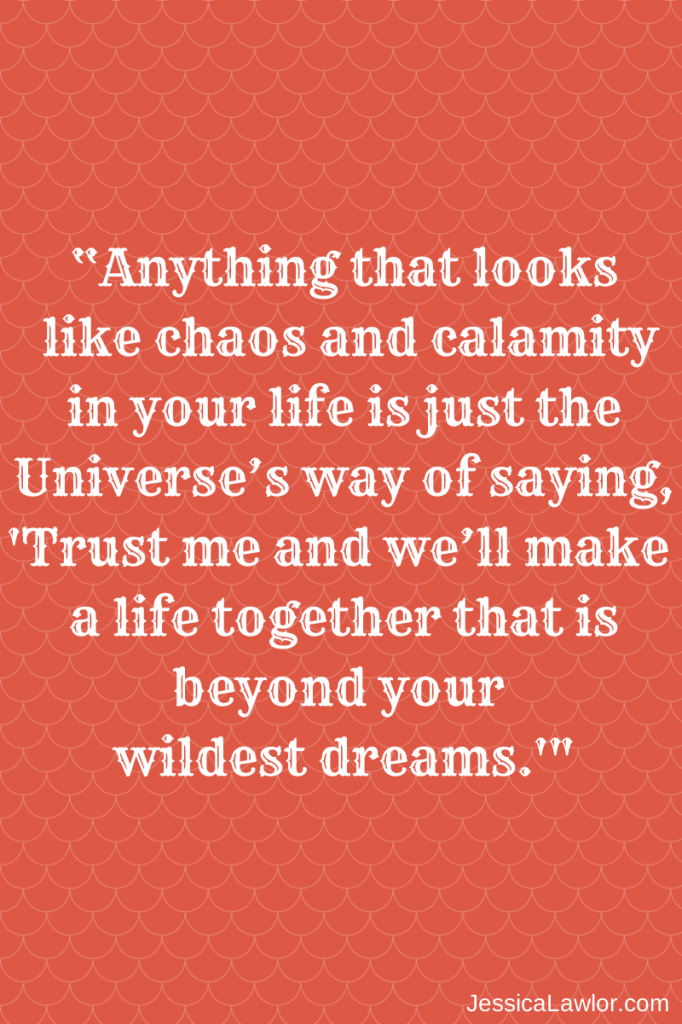 "Anything that looks like chaos and calamity in your life is just the Universe's way of saying 'Trust me and we'll make a life together that is beyond your wildest dreams.' The key is to trust. There's a bigger vision and purpose inside you that your small brain or ego can imagine. The Universe has bigger and better plans for you. It's your job to be of service and not get in your own way. You can only receive what you believe. When you trust, you open yourself up to greater possibilities outside of your control or imagination. So what's it going to be? Fear or trust?" 
-Anonymous
Some days I feel like I have complete control over my destiny. I have the keys to the car, I am in the driver's seat and I know exactly how to get to my destination.
Other days I feel like no matter what I do, no matter how perfectly I plan, I am at the mercy of the universe…and it has far greater plans for me than I have for myself.
Maybe that's not such a bad thing.
The key here, I think, is to choose trust. Trust that good things will happen. After all, if you believe in the law of attraction, those positive thoughts about the future bring about more positivity.
Trust that good things will happen, yes, but also PLAN for good things to happen.
Work hard. Set goals. Dream.
But be prepared to let those things go when life takes an unexpected turn. Don't be afraid to sit back and say, "Hey, universe? You got this one?"
As a Type A, I like the idea of being in control. Neat, tidy to-do lists, perfectly scheduled calendars, three-month plans, six-month plans, five-year plans.
But you know what else I like? I sort of love the idea that, as stated so beautifully in the quote above, "There's a bigger vision and purpose inside you that your small brain or ego can imagine."
How amazing is that concept? Yes, you may have plans for yourself, but some larger force out there (religious, spiritual, emotional, whatever) has big plans for you. It's exciting.
Don't be afraid to embrace uncertainty. Shake fear's hand and say, "Hello, nice to meet you, but I'm doing just fine over here, thank you."
When life gets crazy, when my perfectly plotted plans go awry and when I feel I have zero control or say in my future, I'm choosing trust. (Because, come on, really…who CHOOSES fear?)
Let's discuss: do you trust that some force out there has a bigger plan for you than you have for yourself?
Want more gutsy content delivered straight to your inbox twice a month? Be sure to sign up for my FREE #Get Gutsy e-newsletter filled with inspiration, ideas and action items to get out of your comfort zone.