When Google announced on Wednesday evening that it would be shutting down Google Reader, the RSS service beloved by bloggers and content consumers everywhere, I rightfully freaked out.

After all, according to the Trends section of my personal Google Reader, I've used the service since October 2008 to read more than 100,000 blog posts. That's four and a half years of relying on a website for a much-needed content management tool- especially for an avid reader and blogger.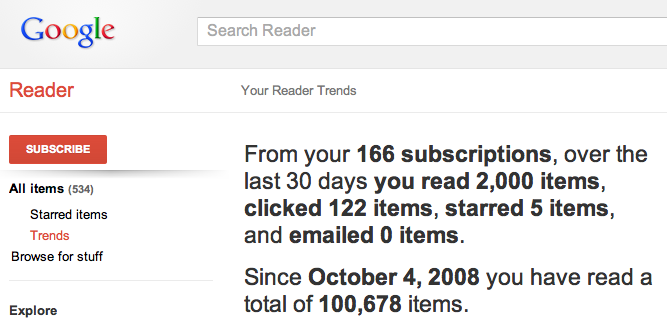 Chaos ensued on Twitter, as people all over the world learned the news. Almost instantly, websites and blogs began publishing posts about Google Reader alternatives. Perhaps the quickest website to post was CNET with this fantastic post listing five worthy alternatives.
That's where I first heard of Feedly, an RSS service that has quickly emerged as the frontrunner for those looking for a new RSS tool. With a little bit of reluctance, I set out to test the site.
How to Use Feedly
Feedly was founded in 2008 and touts itself as "the better way to organize, read and share the content of your favorite sites."
When you click over to Feedly, it should prompt you to log in using your Google Reader information. Currently, Feedly automatically syncs all your Google Reader subscriptions to Feedly (more information on that on Feedly's blog here).
You may be having the same worry that I had when I realized you had to log in to the site using Google Reader credentials; what happens as of July 1 when Reader is shut down? Feedly has assured users that they are working on a fix to make it a completely seamless process, as long as you log in before July 1.
Here's one of my first views upon clicking into Feedly. The "Latest" page, showing previews off all the latest posts from my subscriptions, in what Feedly calls their "Magazine Style" view.

Magazine View is pretty, but one of my favorite things about Google Reader was how simple and clean it was. It was extremely easy to navigate. Thankfully, Feedly has created multiple different ways to view posts, including this simple "Titles" view.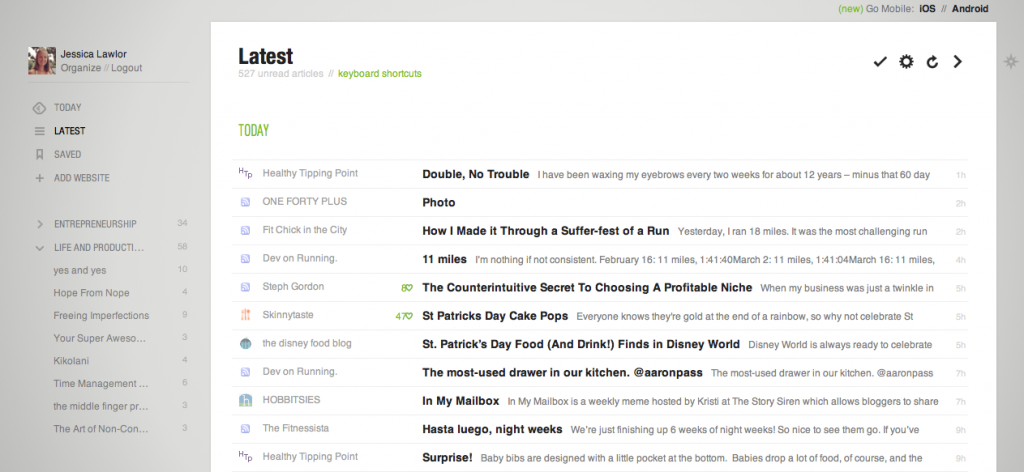 You'll see that all of my categories perfectly transferred over from Google Reader (very important to me since I've spent hours organizing the blogs I read) and you can simply read posts by category. Here's an example of my "Entrepreneurship" category.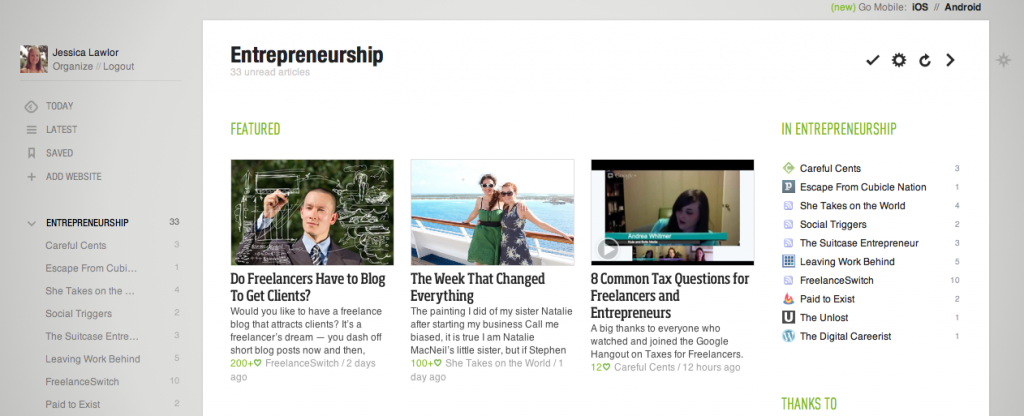 Here's what it looks like when you click in to read a post from a given category. Very similar to Google Reader.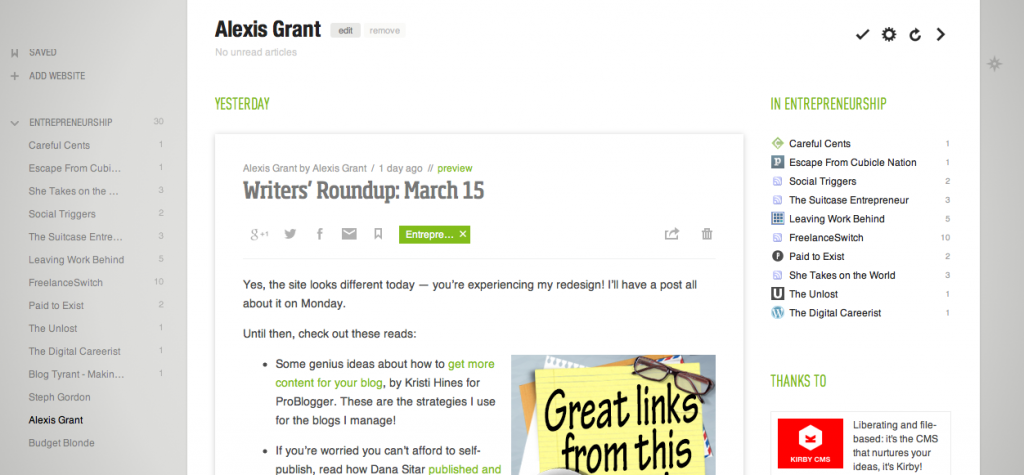 See all those little tabs underneath the title of the post? One of my favorite things about Feedly is you can tweet, post to Facebook, +1 and share posts on all kinds of social media sites directly from the feed. I love this integration and see myself using it often in the future.

Google Reader's "starred items" feature was my absolute favorite part of the service. I can't even tell you how many posts I have starred. I was nervous that they wouldn't transfer over to Feedly, but thankfully, they did. Those posts appear under the "Saved" category on the left hand side, and to save a post while reading, users need to just click the "save for later" button.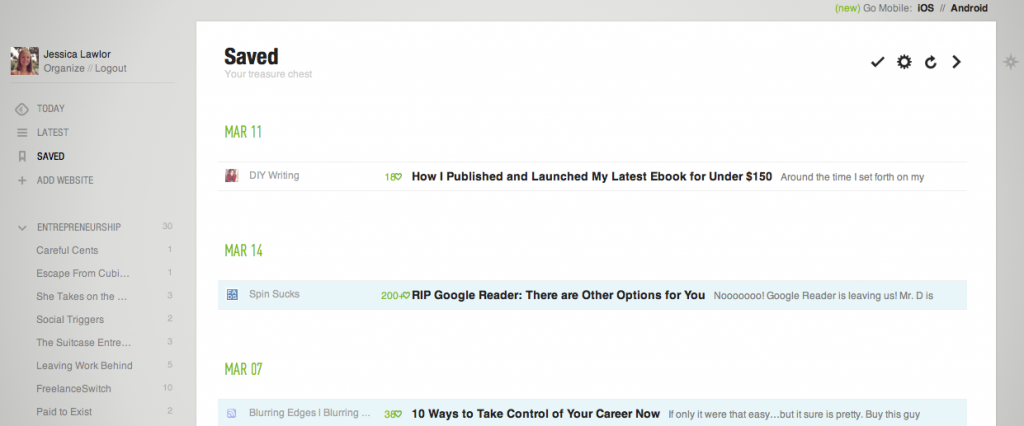 Feedly also has a mobile app which is extremely easy to use (and it's REALLY pretty!). The only issue I've had with the app so far is that a few of my "save for later" posts on the web version aren't syncing over to the mobile version. I reached out to Feedly's CEO on Twitter and he got back to me quickly letting me know that there's a refresh bug in the mobile version, which will be fixed in the update they are currently working on to go live in the next week or so.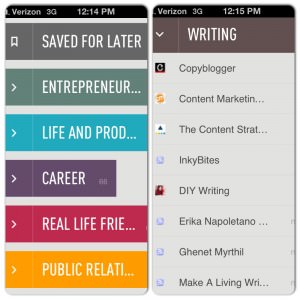 Overall, I am really enjoying Feedly, so far. With 100,000 new users flocking to the site, Feedly's developers are only going to be spending the time between now and July 1 making the site even more friendly for Google Reader fans. If you haven't followed them on Twitter, be sure to do so. They are actively answering questions from new users and embracing ex-Google Reader fanatics wholeheartedly.
UPDATED 6/28 TO ADD: More awesome news from Feedly! As of late June, Feedly launched Feedly Cloud. They describe the service as, "a completely stand-alone Web version of feedly, that works with all major browsers." It's completely independent of Google Reader, faster and provides a standalone web version of Feedly. I migrated my account to the Feedly Cloud (here's how to do that) and I LOVE the way it looks. I liked Feedly to begin with, but the cloud is even better.
My Plan
Google Reader will not officially be eliminated until July 1, 2013. Between now and then, I plan to continue using a combination of Google Reader and Feedly.
I also understand that over the next four months, many companies will set out to build a service almost identical to that of Google Reader. I'm going to keep an eye on what's trending when it comes to RSS services and test out other alternatives before settling on one for good, although Feedly seems to be gaining the most attention, as of right now.
Plus, I'm going to (reluctantly) keep my fingers crossed that the Google Reader petition with more than 100,000 signatures does its job, and Google somehow changes its mind and keeps Reader around for years to come.
What You Need To Do
Download your Google Reader data (subscriptions and all!) using Google Takeout. This way all of your subscriptions will be saved to your computer so that if you need to upload them to a new RSS service, you will be able to do so seamlessly.
Begin testing out another RSS service to figure out which one suits you before July 1. The resources listed below should help you learn about other sites people are trying out.
Subscribe to your favorite blogs via email, so that you'll never miss a post. If you'd like to receive my posts via email, just click here to subscribe.
Other Google Reader Alternative Resources
Since the announcement, I've read several awesome blog posts about Google Reader shutting down and alternatives to the RSS service. If you're looking for more information, be sure to check out the posts below. If you know of other great posts with Google Reader alternatives, please share in the comments, as I'll be updating this list:
Google Reader, please don't go- I need you to do my job via Paid Content
Tips for Google Reader users migrating to Feedly via Feedly
Google Reader Alternatives: 3 Web-Based RSS Readers to Manage Your Subscriptions via Kikolani
RIP Google Reader: There Are Other Options For You via Spin Sucks
BlogLovin' vs. Feedly: Which RSS Reader Reigns Supreme via Nosh On It
Have you checked out Feedly yet? If so, what did you think? Do you have other suggestions for RSS readers to check out?