Say hello to today's guest blogger, Dana Sitar, blogger at DIY Writing, as she shares her story of how she's getting gutsy.
[Editor's note: I absolutely LOVE Dana's blog and find it super inspirational. Just today, she announced her next big project; a book coming out in 2013 called "A Writer's Bucket List: 99 things to do for inspiration, education, and experience before your writing kicks the bucket." Find out more details about her latest venture here.]
This November is my two-year anniversary with my boyfriend, Stefan, and — more importantly — it's  our one-year anniversary of surviving solely on doing work we love. I quit my last day job in May 2011 to be a full-time writer, and he quit his in November 2011 to be a full-time stand-up comedian, and we're still eating. Every day!
This combination of careers is a bit of a match made in heaven, but it also makes for a strange life for the two of us. Neither of these burgeoning careers is lucrative, so we rely on each other's goodwill and a mutual understanding that being poor is far better for us than being enslaved doing anything other than creating the art we love.
I'm in the super uncharted position now of forging my brand-new writing career and business while living the weird life of a road comic. Starting last November, I've traveled with Stefan to almost every gig around the country, and since May we haven't had any home. That means planes, trains, and automobiles galore, plus plenty of hotels, guest rooms, and strangers' couches. He works anywhere from one to four different cities some weeks, and on a busy month we can expect to spend half of each week driving.
That doesn't leave me with a lot of writing time.
Between hours in the car, nightly comedy shows, hotels with spotty internet service, and friends' houses with no quiet space, finding time to work can be tricky. I don't have a steady schedule or a familiar office to return to, or any of the stability you might deem necessary for launching a solo business from scratch. But I've learned to deal with most of the scary stuff through some traditional hard work and some creativity, and that allows me to enjoy how awesome this weird life really is.
I'm able to take advantage of the few days we have off here and there to stay on top of work; I can connect online (Twitter!) with other writers to keep myself educated, sane, and entertained; and I can utilize free time to enjoy the subtle beauties of smallest towns and longest freeways in the country.
My mom is worried to pieces about our unstable income and unpredictable housing, and our friends think we're maybe a little brave but mostly a lot crazy. Other writers either offer glowing support or excuses why they can't afford to take the same path. Other road comics, who travel almost exclusively alone, call me a saint for surviving on the road with Stefan.
I wonder a little bit at all of it, because the decision was so easy for us.
The alternative to wondering when the next check will come, where we'll sleep tonight, or whether we'll work next week would be to constantly wonder What if?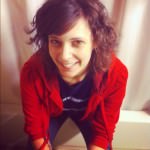 That seems a lot harder to handle.
Dana Sitar is a freelance journalist and indie author. She shares resources, tips, and tools for writers in search of a path at DIY Writing.
How are YOU getting gutsy? Whether you realize it or not, you probably are getting gutsy in both large and small ways, every day. Want to share your story with others looking to make big moves towards a happier life? Just drop me a line. Your post could appear here on the blog as part of the "Get Gutsy" series.