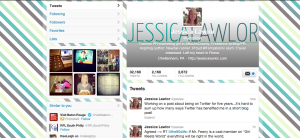 Last week, I celebrated my five year Twitterversary.
(Wondering when you joined Twitter? Click here.)
I learned about Twitter for the first time during my sophomore year of college at a PRSSA meeting at Temple University. After digging through my email all the way back to 2007, I'm almost positive that the guest speaker for that meeting was Steve Lubetkin, who I still have the pleasure of knowing today.
I remember sitting in the meeting (topic: new media) and jotting down notes about all of the upcoming new media trends that were changing the way people communicate. As a young PR student, I knew it was my duty to learn about and adopt these trends. So, after hearing about Twitter, I joined, creating the username @jesslaw (little did I know, five years later, people would actually refer to me as "JessLaw" in person. It's become a sort of nickname, I suppose).
I tried my hardest to find a website that would allow me to see my first tweet, but no such luck. Apparently Twitter only goes back 3,200 tweets, and considering I have more than 30,000, that's not happening. However, I'm pretty sure it was something along the lines of, "First tweet! What the heck is Twitter and what's the point of it?
After that first tweet, I went silent on Twitter for nearly a year. I didn't understand how it worked, I didn't see the point and I simply neglected the site. Nine months later, reeling from a breakup from a nearly four year relationship, I clicked on to Twitter.com again. Not sure what compelled me to return, but I think I was looking for something to throw myself into- any kind of project to distract me from the breakup. From that day forward, I was hooked. (Hey, thanks, ex-boyfriend!)
Five years, 2,672 followers and more than 32,000 tweets later, it's safe to say that Twitter has become a pretty important part of my life. More than just being an enjoyable place to connect with others, Twitter has offered me incredible opportunities that would never have otherwise presented themselves had I not been engaged on the site.
I could ramble on and on about Twitter for hours, but I've summed my entire experience up into the three main reasons I find Twitter so incredibly useful, both professionally and personally:
1. Career. Twitter is absolutely a game-changer when it comes to your career. From the time I applied for my first public relations agency internship in 2008, the fact that I knew how to use Twitter impressed the hiring manager, as he saw how I could help get their clients on board with social media. After that, I met Heather Huhman through Twitter, who offered me my second internship, where I had the opportunity to write an entire PR plan for her start-up company at the time, Come Recommended. When I studied abroad in Rome, through Twitter I met travel bloggers who allowed me to guest post on their sites, further expanding my writing portfolio. My senior year of college, I met young adult author Kristin Walker, who hired me to do all of the publicity surrounding her book launch. Now, the personal brand I've developed for myself on Twitter and beyond has helped me secure full-time jobs and other freelance opportunities. Needless to say, Twitter has helped to propel my career forward, both as a student and as a young professional.
2. Friends. Twitter is great for professional purposes, but I've also found it to be an amazing way to make new friends. Let's face it; finding new friends after college can be pretty daunting. When Anna Cramer and I started chatting on Twitter nearly two years ago about creating a Young Professionals branch of the Philadelphia PRSA chapter, we didn't know each other, except for through Twitter. We met for the first time at a PRSA event in 2011 and became fast friends after that. Now we've expanded our circle to include other PR ladies (I'm looking at you Kathleen and Amanda!) and regularly go out for drinks and dinner. This is definitely not the only group of friends I've met from Twitter. On a more and more regular basis, I'm meeting Twitter friends in real life at conferences, networking events and even just for drinks. As I mentioned, making friends after college is not easy, and Twitter is the perfect way to break the ice since you already "know" each other. Try it; I promise you won't be disappointed.
3. 24/7 Source of information, news and entertainment. It's pretty obvious by now that Twitter has become the ultimate place to break a news story and share up-to-date information. It wasn't always that way though…the first story I remember seeing break on Twitter and thinking, "Wow…this site has the potential to change the news landscape" was in early 2009 when US Airways Flight 1549 crashed in the Hudson River in New York. Case in point: Twitter was still so new at the time that the Wall Street Journal thought it was acceptable to write a story with the title "Twittering the US Airways Plane Crash." Now the examples are endless: the 2012 Olympics, the 2008 and 2012 presidential elections, live tweeting during major television events like the Oscars and the Superbowl…the list goes on. As a news junkie and PR professional, I appreciate and enjoy the endless stream of constant communication and information. Plus, besides just being a great source for news, Twitter can be hilarious, with satirical accounts, memes and more. It's a fun (and useful) place to hang out online.
When did you join Twitter? Why do you love using the site? Share your stories in the comments below!