Today, I'm participating in Waiting on Wednesday, a weekly event hosted by Jill at Breaking The Spine. This event highlights the upcoming releases that we are eagerly awaiting!
Today, I am waiting for…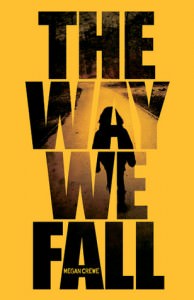 The Way We Fall by Megan Crewe (January 24, 2012 by Disney Hyperion)
Check out this Goodreads summary:
It starts with an itch you just can't shake. Then comes a fever and a tickle in your throat. A few days later, you'll be blabbing your secrets and chatting with strangers like they're old friends. Three more, and the paranoid hallucinations kick in.

And then you're dead.

When a deadly virus begins to sweep through sixteen-year-old Kaelyn's community, the government quarantines her island""no one can leave, and no one can come back.

Those still healthy must fight for dwindling supplies, or lose all chance of survival. As everything familiar comes crashing down, Kaelyn joins forces with a former rival and discovers a new love in the midst of heartbreak. When the virus starts to rob her of friends and family, she clings to the belief that there must be a way to save the people she holds dearest.

Because how will she go on if there isn't?
As you likely know, I am absolutely crazy for dystopian novels, and this one seems like one I should not miss! I like the idea that those infected with the disease blab their secrets. I'm sure this will be a very interesting read!
What are you anxiously waiting for this Wednesday?