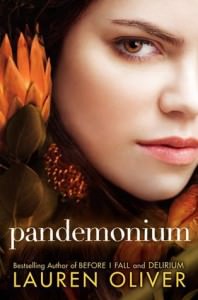 Pandemonium
Author: Lauren Oliver
Release Date: February 28, 2012
Goodreads| Amazon| Author Website
Goodreads Summary:
I'm pushing aside the memory of my nightmare, 
pushing aside thoughts of Alex, 
pushing aside thoughts of Hana and my old school, 
push, 
push, 
push, 
like Raven taught me to do.
The old life is dead.
But the old Lena is dead too.
I buried her.
I left her beyond a fence,
behind a wall of smoke and flame.
Lauren Oliver delivers an electrifying follow-up to her acclaimed New York Times bestseller, Delirium. This riveting, brilliant novel crackles with the fire of fierce defiance, forbidden romance, and the sparks of a revolution about to ignite.
What I Thought:
Lauren Oliver has done it again! I know it seems silly to start a book review talking about the ending of the book, but let's start there. THE ENDING OF THIS BOOK. Oh my goodness. I can't even write about it. I knew something big was coming…but I never expected THAT. My jaw literally dropped and I kept flipping praying that there would be another chapter, or SOMETHING to grab onto, even though I definitely knew better. If anything, Lauren Oliver has perfect the art of the cliffhanger. And the ending of PANDEMONIUM? The ultimate cliffhanger. Perhaps even moreso than DELIRIUM.
Okay, but back to the beginning of the book. Needless to say, I was thrilled with the lovely Tara sent me an ARC of the book. I immediately dove in and started reading and was a little shocked when I couldn't get into the book. After all, this is the sequel to DELIRIUM, my absolute favorite book of 2011. Still, for the first hundred pages or so, I trudged along, praying that the action would pick up. I should have known that it would, and somewhere around page 150, I was sucked in and stayed up late into the night to finish the book.
I was disappointed that it took me so long to get into the book, but after finishing and thinking back on it, I realized that Oliver was giving plenty of background information about Lena's life in the wilds to help readers understand why she acts the way she does and to help set up scenes for later in the book. I didn't appreciate the slowness of the first half of the book while reading, but I think if I were to read the book again, I might appreciate those details that I may have skimmed over the first time.
Speaking of Lena's life in the wilds, those were some of my least favorite scenes, even though I understand how important they are to the overall story. Even though I didn't love reading these scenes, I enjoyed meeting some new and important characters like Raven and Tack. I love how they sort of took on the role of parents to Lena; it was nice to see Lena have someone to look up to and emulate as she adjusted to her new life in the wilds.
My favorite part of this book was Lena's character development. Since the first book, Lena has definitely grown and changed! In the first book, she is a bit meek, following the rules of the society and slowly begins to change throughout the book. But in PANDEMONIUM, Lena is FIERCE. Her entire demeanor has changed, and it's obvious that she's been hardened by her time in the wilds. I absolutely loved seeing this side of Lena.
Another aspect of PANDEMONIUM that I really enjoyed was the introduction of a new male character, Julian. At first, I was staunchly against Julian. I missed Alex, and didn't want any other male in the picture for Lena. However, without spoiling anything, I will say that I definitely warmed up to this new character throughout the book.
The second half of this book is full of the action I came to know and love after reading DELIRIUM. I was literally on the edge of my seat, holding my breath with knots in my stomach for several chapters in this book. There is so much suspense in this book, and so many scary scenes. I kept trying to imagine what life would be like if we lived in Lena's world right now, and it's definitely frightening to think about.
Even though I feel so lucky to have had the chance to read this book early, I'm a little sad because now I have to wait all the more longer to get my hands on the final book in the trilogy!
4/5