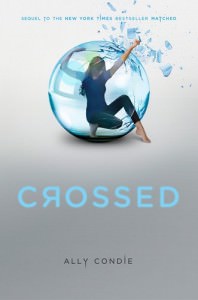 Crossed
Author: Ally Condie
Goodreads| Amazon| Author Website
Goodreads Summary:
In search of a future that may not exist and faced with the decision of who to share it with, Cassia journeys to the Outer Provinces in pursuit of Ky – taken by the Society to his certain death – only to find that he has escaped, leaving a series of clues in his wake.
Cassia's quest leads her to question much of what she holds dear, even as she finds glimmers of a different life across the border. But as Cassia nears resolve and certainty about her future with Ky, an invitation for rebellion, an unexpected betrayal, and a surprise visit from Xander – who may hold the key to the uprising and, still, to Cassia's heart – change the game once again. Nothing is as expected on the edge of Society, where crosses and double crosses make the path more twisted than ever.
What I Thought:
This is going to be a difficult book to review.
When CROSSED came out back in November, I excitedly put my name on the reserve list at the library. I avoided reading any and all reviews I came across on blogs because I wanted to read this book with absolutely no idea of what was to come. And then I patiently waited until almost the end of December before I finally got a copy of the book in my anxious little hands. When I finally got my copy, I began to read…and was sorely disappointed.
You see, I was VERY excited for this book. After reading and loving MATCHED last year, I had high hopes for CROSSED. I fell in love with Cassia's world, and even more in love with her two suitors, Ky and Xander. I struggled right alongside her as she chose between the two men and between a comfortable yet unsatisfying life or a dangerous, but life filled with love.
In my review of MATCHED, I talked about how the first book in a dystopian trilogy can afford to move a bit slower, can pace the reader and leave them wanting more in books 2 and 3. If anything, MATCHED kept my attention while CROSSED slowed to an almost complete stop.
My biggest problem with CROSSED was how slowly the plot moved along. To be completely blunt, this book bored me. It took me more than three weeks to make my way through (which is very rare for me) and I found myself no longer caring about Cassia, Ky or Xander. In fact, I found myself getting frustrated that I couldn't get into this book, especially since I really wanted to love it. When I think back to what happened throughout this book, the only thing I can really come up with is that our main characters wandered around a cave searching for The Rising (which is still as elusive as it was in book 1) for more than 200 pages.
This book is told in alternating chapters from both Cassia and Ky's perspective, something that absolutely set this book apart from the first book. While I thought I might enjoy getting to know Ky more, I actually found myself skimming through his chapters, hoping to get to Cassia's sooner. I became attached to Cassia after reading the first book, and still saw Ky as a secondary character, not as the person driving the entire story. However, even though I wasn't a fan of the alternating viewpoints, I was able to appreciate Condie's skills in developing two completely different voices, and doing so really well.
The one redeeming quality in CROSSED is that despite plot and pacing issues, Ally Condie writes beautiful prose. I continued to be impressed by her writing style throughout the book. The woman can write…and that gives me hope for book 3.
CROSSED lacked the suspense and excitement that kept me intrigued and interested in MATCHED. I will give the final book in this trilogy a chance, if only because I think Ally Condie writes beautifully and I know that something more has to happen in the final book. Plus, now I'm invested in the series, and I still want to see how it concludes!
1.5/5