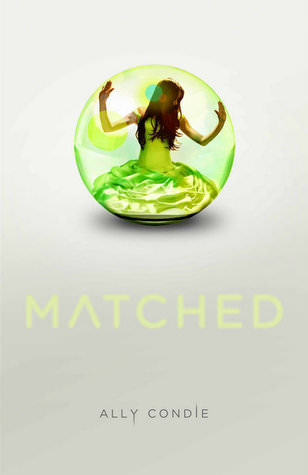 Matched
Author: Ally Condie
Goodreads| Amazon| Author Website
On the evening of her 17th birthday, Cassia will learn who her match is; the man she will spend the rest of her life with. Cassia doesn't mind that the Society chooses her match for her. After all, the Society only has her best interests at heart. She trusts their choices; it makes life easier.
In the Society, citizens are given jobs that best suit them. They are given specific foods to ensure that they will stay healthy and productive. Free time is spent monitored by Officials. But no one seems to mind. Life is simple.
When Cassia learns that her match is Xander, her childhood friend, she is thrilled. She knows she would have  a long and happy life with Xander. But when Cassia gets home and plugs in her microcard which should give her more information about Xander, her match, she is shocked when another face appears on the screen, and then promptly disapperars. It's Ky, another friend from her childhood. Suddenly, Cassia is faced with a problem of epic proportions as she begins to question the Society.
Wow. Another fabulous dystopian read.
I immediately fell into Cassia's world. Told from Cassia's perspective, I felt as if I was right alongside her for the entire ride. From the nerves she felt at her Match Banquet, to her feelings of confusion about the Society, I was able to identify with Cassia throughout the entire book. I loved watching Cassia learn and grow throughout the book. We watched her blossom from completely trusting in the Society and all she had learned growing up to skeptical and questioning.
While I loved learning about the Society, I yearned for more detail. Perhaps it's just me, but in awesome dystopian novels like this one, I crave descriptive details about the world these characters live in. While I loved learning all of the tiny nuances of this new Society, I also wanted to know what life was like before and what made it change.  There were vague snippets including too much technology and people knowing too much about everything and not specializing in one strength.I did feel like I got a good idea about the Society, but I definitely would have appreciated learning even more. Hopefully we'll see more of this in the next two books of this trilogy.
In terms of world-building though, while I wasn't completely satisfied, I was impressed with what I did learn. I thought it was really unique and kind of cool that in Cassia's society, there were 100 songs, 100 poems, 100 stories, etc. It really got me thinking; can you imagine a world with only 100 stories? I certainly can't. I was also super interested in the fact that citizens of the Society often have to wear monitors when they go to sleep so the Society can monitor their dreams. Also, the three little pills Cassia and the others have to tote around had me intrigued too.
My favorite part about this book was the love triangle between Cassia, Xander and Ky. What I really loved about this plot line was that it was no normal love triangle. Because normally in a love triangle, I can immediately pick the guy I want the girl to fall for and then I can root for him throughout the book. MATCHED was different. Condie created two male love interests who I could really get behind. I loved Xander for his kindness and his willingness to protect Cassia. I loved Ky because of his sense of adventure, breaking the rules and overall bad boy image. Even though I had an obvious feeling who Cassia would end up going for, I would have been happy had it been either of them.
It seems like many other reviewers had a problem with the pacing in this story, but the pacing felt just right to me. I think in dystopian novels (and especially ones that are part of a series) the first book can afford to move slowly. The detail, prose and description are what count for me. Once I'm invested in the story and the world, I'm pretty much sold. I know there is more action to come in the next two books and I can't wait!
5/5