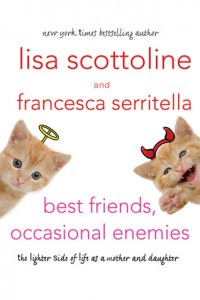 Best Friends, Occasional Enemies
Author: Lisa Scottoline and Francesca Serritella (Narrated by Lisa Scottoline and Francesca Serritella)
Goodreads| Amazon| Author Website (Lisa) | Author Website (Francesca)
*Scroll to the bottom to enter for a chance to win BEST FRIENDS, OCCASIONAL ENEMIES
Goodreads Summary:
New York Times bestselling author Lisa Scottoline and her daughter Francesca Serritella are the best of friends""99.9% of the time. They're number one on each other's speed dial and they tell each other everything""well, almost everything. They share shoes and clothes""except one very special green jacket, which almost caused a catfight.
In other words, they're just like every mother and daughter in the world. Best friends, and occasional enemies. Now they're dishing about it all""their lives, their relationship, and their carb count. 
Inspired by their weekly column, "Chick Wit" for The Philadelphia Inquirer, this book is one you'll have to put down""just to stop laughing.
What I Thought:
It's no secret that I absolutely adore Lisa Scottoline and her daughter Francesca Serritella. I raved about their first book together, MY NEST ISN'T EMPTY, IT JUST HAS MORE CLOSET SPACE and I recently recapped meeting them at a signing with my mom. So getting to LISTEN to them narrate their second book together? A true treat.
I reviewed my first audiobook over the summer, and with this being my second audiobook experience, I have to say, I'm hooked! Especially now that I have a bit of a longer commute, listening to an audiobook is so much nicer than flipping back and forth from radio station to radio station.
I love Scottoline and Serritella's writing style anyway, but getting to actually hear them narrate the stories in their own voices absolutely made this book awesome. It was like being at one of their signings, but from the comfort of my car. If you've never been to one of their signings, it's basically like a mini comed y show, and this audiobook was no exception. I found myself laughing out loud in the car on more than one occasion. I can't stress enough how awesome it was to hear the actual authors read this book; it made the experience feel so much more real.
Also, like I mentioned in my review for their first book, I absolutely love the tone of these books. You really do feel as if you're best friends with the authors just out for a drink and chatting. I love the way they make each reader feel like they're family. The tone of this book is extremely conversational, a little bit sarcastic and full of heart.
All mom's and daughters will relate to this book in some way. Even the title is very relatable. What girl doesn't consider their mom a close friend, but at times an enemy? Hearing the way the two interact absolutely reminded me of the way my mom and I act together. It also made me want to go give my mom a hug. The columns told from Lisa's perspective truly show how much she loves and cares for her daughter, and definitely reminds me of how much I know my mom loves me.
I was especially able to relate to daughter Francesca's columns in the book because we're very close in age. We've both recently graduated from college and are both trying to juggle career, friends and dating. Not all the columns are laugh out loud funny; some are downright heartfelt. My favorite column in the book is written by Francesca about getting your hopes up when starting to date someone. The column explores the way young women act when they meet someone they're interested in, and I found myself nodding along the entire time she was reading.
I can't wait to see what Lisa and Francesca come up with next!
Want to get a little taste of what the audiobook sounds like? Just click here to listen to a clip. AND, be sure to enter my giveaway to win your very own BEST FRIENDS, OCCASIONAL ENEMIES audiobook!
4.5/5
Audiobook review copy provided by publicist.
Enter the giveaway here:


a Rafflecopter giveaway