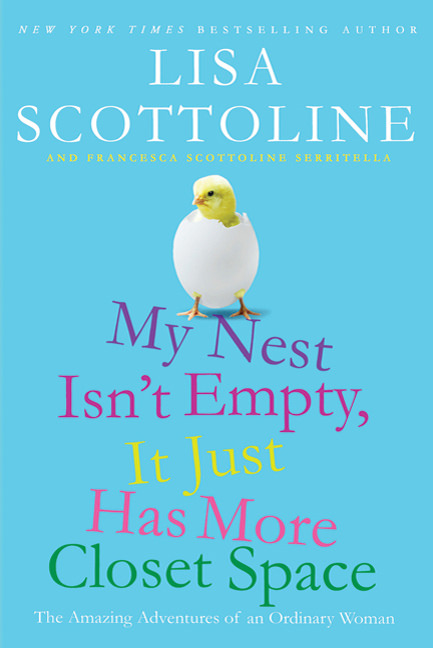 My Nest Isn't Empty, It Just Has More Closet Space
Authors: Lisa Scottoline and Francesca Scottoline Serritella
ISBN: 9780312662295
My Nest Isn't Empty, It Just Has More Closet Space by Lisa Scottoline and Francesca Scottoline Serritella (see my interview from yesterday with Francesca here) is a collection of essays (some of which appeared in Scottoline's column in the Philadelphia Inquirer Chick Wit) and some of which were written exclusively for this book.
If you've ever read Scottoline's hilarious column (my mom got me hooked- she regularly clips the column and leaves it on my desk), you'd know that you were in for a treat when you picked up this book. Scottoline's column takes a laugh out load approach to commentating on life as a mom, a single woman in her 50's and her obsession with her five dogs.
Now, I love this column on it's own, but the icing on the cake is when Scottoline's 24 year old daughter Francesca pens her own columns (and she contributed several essays to this book). I can relate a bit more to Francesca because of my age, and I also completely admire her relationship with her mom (my mom wants to know when we can write our own book together— Not happening, mom! Sorry!) Francesca is going through what most 20-somethings go through as they graduate college and move on to the big bad real world. I can certainly relate, just like I'm sure my mom can relate to Lisa's musings about her daughter growing up.
Both Lisa and Francesca have a writing style that I really enjoy reading- slightly sarcastic, wry, honest and not afraid to get a little silly. I mean, there is an entire chapter in the book dedicated to figuring out the perfect purse to carry each day.
This was the first book I ever read on my mom's Nook, and guess where I read it? The gym! Seriously. What a perfect place to read such a funny book. I'm sure people were saying, "Look at that weird girl laughing her butt off on the elliptical!"  This was the perfect book to read at the gym because each story was completely on its own. Of course, the cast of characters remained the same, but it was simple to put the book down at the end of a chapter and come back to it the next day and not have to worry about remembering details.
I also loved the conversational tone in this book. Lisa and Francesca bring you right into their living rooms and make you feel like you're just another member of the family, sitting down to chat. I also got this same vibe when I heard the two ladies speak last month at Barnes and Noble.
If you're looking for a fun, light, laugh out loud funny read, this is definitely the book for you. I think it appeals to all women, regardless of age, because we've all been there. First dates, pets, heartbreaks, family; we all share these things. Lisa and Francesca embrace our commonalities and make you feel like you're just one of the girls, right along with them.
Enjoy!
4.5/5