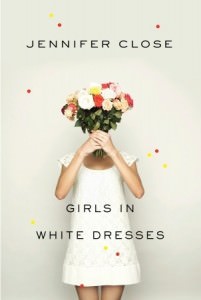 Girls In White Dresses
Author: Jennifer Close
Goodreads| Amazon| Author Website
Isabella, Mary and Lauren are three twenty-somethings navigating life in the real world after graduating from college. All are figuring out how to manage working full-time with maintaining some semblance of a social life and finding someone special to spend their time with. All are at the age where it feels like everyone they know is getting married. Every weekend is filled with bridal showers oohing and ahhing over kitchen supplies, bachelorette parties and weddings, weddings and more weddings.
After seeing this book on Goodreads and reading the summary, I was pumped to read this book simply because of its genre. I would consider this book what many are starting to call 'new adult.' This book features characters who have recently graduated from college and are navigating their first jobs, living on their own and new relationships. As many of you know, these are exactly the kinds of books I wish there were more of, so needless to say, I was excited to give this book a try.
GIRLS IN WHITE DRESSES definitely did not disappoint. Jennifer Close expertly told this story with the right amount of humor and heart. Several of the stories were laugh out loud funny and others made my heart ache for the characters. GIRLS IN WHITE DRESSES truly took me through an honest and realistic journey of life as a twenty-something; I was absolutely able to relate.
If you appreciate dry humor, you will likely love this book. The main characters in this book aren't always happy and don't always have the highest self-esteem, but they are pretty hilarious in the way they talk about their lives. These are the kinds of girls that I would want to be friends with; the kind of girls you'd want to invite over for a night of wine and gossip. I appreciated how realistic all of the characters in this book were.
One thing I didn't like about the book was how difficult it was to keep track of the main characters. Even though the book mainly follows the lives of Isabella, Mary and Lauren, several other characters share their stories. I normally like books with multiple characters, but I found this one extremely difficult to follow and stay engaged with. However, after awhile, I stopped trying to figure out who was who, and settled in to just enjoy their stories. This certainly made my reading experience more enjoyable. Even though I didn't like trying to keep track of multiple characters, I did like that all of the stories intertwined, as each character knew the others. It was fun getting to see some of the main characters take a backseat in a different woman's story.
A few weeks after reading this book, I still can't decide how I feel about the ending of the story. Without giving anything away, I struggle because I always love a happy ending, but I also appreciate an honest and realistic ending. This novel certainly wasn't all happy, and we watched our main characters struggle. Even still, I have mixed feelings about the way this one ended.
More books like this one! Please! These are the kinds of book I, as a young adult, want to read. A few years out of college at the age of 23, I was able to relate to much of what the main characters in this book are going through. Looking forward to whatever Jennifer Close writes next!
4/5