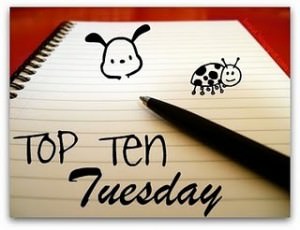 Today, I'm participating in The Broke and Bookish'sweekly feature Top Ten Tuesday. Today's topic is:
Top Ten Books I Want To Reread
Prior to starting Cover to Cover two years ago, I was an avid rereader. If I loved a book, you can bet that less than a year later, I would have read it two, maybe three times. But since becoming a book blogger, and discovering so many fantastic books, I haven't reread a book once. Crazy, I know. However, when I do start rereading again, these are the books I'll definitely be starting with.
1. Harry Potter series: This is pretty much a given! I think I could read these books over and over again and never get sick of them.
2. Before I Fall by Lauren Oliver: I was so impressed by this book, and I feel like it's the kind of book that you get more out of the second time you read it.
3. Delirium by Lauren Oliver: I raced my way through DELIRIUM because I was so immersed in the story. I'd like to read it again slower, and really appreciate the entire book.
4. God Never Blinks by Regina Brett: This fantastic book outlines so many little life lessons; perfect for many rereads in the future!
5. Mostly Good Girls by Leila Sales: MOSTLY GOOD GIRLS knocked me off my feet. I was captured by Leila Sales' writing style and would love to reread this one to pick up some tips and tricks.
6. The Princess Diaries series by Meg Cabot: Oh this series…pure love from the time I was 13 until now and forever more. I actually have reread this series already and plan to do so many, many more times.
7. The Giver by Lois Lowry: This book is the original dystopian novel, in my eyes. It was certainly the first one I ever read and it was the first book that was required reading for school that I actually enjoyed.
8. The Great Gatsby: In high school, I didn't truly take advantage of all of the wonderful books we read in English class. I think if I took the opportunity to try some of them again (including this one) I would absolutely love them.
9. Anna and the French Kiss by Stephanie Perkins: Much like DELIRIUM, I raced my way through this book because I was so enamored with the story. When I reread this, I know I'll fall in love with a million tiny things, as well as the overall story.
10. Everyone Worth Knowing by Lauren Weisberger: Of course, I adored THE DEVIL WEARS PRADA, but this book about a PR pro obviously has a place close to my heart. Now that I actually work in PR, it will be fun to reread this one!
What books do you want to reread?