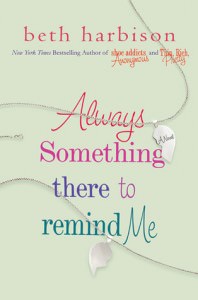 Always Something There to Remind Me
Author: Beth Harbison (Narrated by Orlagh Cassidy)
Goodreads| Amazon| Author Website
Back in July, I accepted my first audiobook for review. Never having listened to an audiobook before, I had no idea what I was in for, but I found that I really enjoyed the experience. Mid-way through listening to ALWAYS SOMETHING THERE TO REMIND ME, I wrote a post outlining the pros and cons of audiobooks, and now that I've finished listening to the book, it's time for the official review.
Party planner and mom Erin Edwards has a good life. She enjoys her work, loves her teenage daughter, and is happily dating again. But when her boyfriend proposes to her, a memory of her high school boyfriend, Nate, pops into her head, and suddenly Erin is drowning in feelings and memories from two decades prior. The more she tries to put Nate out of her head for mind and heart for good, the more she remembers, and can't ignore. Can she finally commit to the great guy she's been dating or will Erin be destined to live in the past forever?
Sigh. Everyone remembers their first love, right? I know I do. And I won't lie and tell you that even though it's been several years since we were together, I don't think about him and what he's up to from time to time. These feelings that I have (and I'm sure many of you have had) are what make Erin Edwards such a relatable main character. Even though years have passed, Erin still thinks of Nate every so often, and wonders "what if?" Who hasn't been there?
ALWAYS SOMETHING THERE TO REMIND ME switches from the past to the present in alternating chapters, a technique I've really come to love in books. In the 80's high school version of Erin, we see Erin fall for Nate and then have her heart broken by Nate. We're introduced to her friends, some of whom reappear in her adult life. In the present version of Erin, we see her at work planning parties, taking care of her teenage daughter and grappling with how to respond to the proposal of her new boyfriend. I loved the alternating chapters, and enjoyed learning about Erin as a teenager, just as much as Erin as an adult. It was fun to see how she grew up and changed, but how some things remained the same, despite the years going by. The alternating chapters definitely kept me interested, as every time something in the past would get really good, we'd switch to the present and vice versa. This technique certainly kept my attention, and kept me listening.
From the beginning of the book, I liked Erin. As an event planner at a hotel, I related to Erin's passion for her work. I also loved the fact that I could relate to teenage Erin just as much as I could relate to adult Erin. But teenage Erin? Oh man. I think we've all been there, but I was one hundred percent on board with all of teenage Erin's feelings about her first love.
For some reason, I wasn't as in love with Nate (teenage or adult) as I would have hoped and expected. Something about him just didn't feel right to me, and it took me awhile to warm up to him. While I enjoyed all of the backstory, some of the scenes with Nate dragged on a bit too much (although I won't complain about the many sexy scenes featuring Nate). However, it was obvious from just a few chapters that Erin was head over heels in love with Nate, and after awhile, some of the chapters seemed a bit tedious.
I loved reading about Erin's job as a party planner. While it took me awhile to figure out how these scenes fit into the rest of the story, once I figured it out, I was able to sit back and relax as I read about Erin planning teenage brat Roxanne's birthday party. Toward the end of the book, the lessons Erin was able to teach Roxanne (and herself) were extremely worthwhile, and I understood the purpose of this plot point.
This was an absolutely fantastic first audiobook experience! While it definitely took a few chapters for me to fully relax into listening to a book rather than reading it, once I was settled, I loved every minute of the book. I think ALWAYS SOMETHING THERE TO REMIND ME worked extremely well as an audiobook, especially since the book flashed back between past and present. This give the narrator Orlagh Cassidy a chance to use many different voices and tones. Cassidy did a fantastic job narrating; I wasn't completely sold on her at first, but once I gave it a chance, I loved the way she narrated the story. This book was full of emotion, and I think Cassidy did a wonderful job expressing the different feelings Erin experienced throughout the book. Additionally, Erin did a lot of thinking in this book, and having it read aloud really gave it the extra power it needed to really sink in with me as a listener. If I had been reading, I perhaps may have skimmed over some of that internal dialogue, but hearing it out loud really resonated with me and added an entire new level of emotion to the story.
Oh and in case you were wondering, I am completely sold on audiobooks now, and will absolutely be looking for more books to listen to! Even though it took me about two months to finish listening to this book (since I mainly only listened to about twenty minutes at a time each time I went to the gym) it was a very enjoyable experience.
I am so enamored with Beth Harbison. Her stories always blow me away and ALWAYS SOMETHING THERE TO REMIND ME was no exception.
4/5
Audiobook review copy provided by publicist.