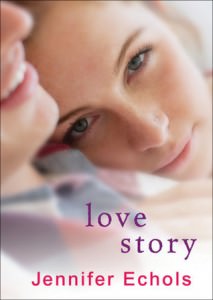 Love Story
Author: Jennifer Echols
Goodreads| Amazon| Author Website
When Erin Blackwell moves to New York City to pursue her dream of studying creative writing in college, she should be thrilled at the chance to start a new life. But making the move from the farm in Kentucky to the big city isn't as easy as Erin had hoped. Before Erin left for school, her grandmother yanked her inheritance (and college tuition) away from her when Erin broke the news that she wouldn't be studying business with the intention to come back to Kentucky to run the farm. Instead, Erin's grandmother has offered the deal to Hunter Allen, her former crush and kind of friend from Kentucky. To make matters worse, Hunter goes to the same college as Erin, lives in the same dorm…and now he's joined her creative writing class.
Erin is mortified when Hunter walks into class on the day her story is being critiqued- a story about him. A very romantic story about him. She's equally stunned a few days later when Hunter's story is critiqued…and it's about her. From there, Erin and Hunter begin to communicate with each other via their writing, but will they ever fess up their true feelings?
Up until LOVE STORY, I had never read anything by Jennifer Echols. I'd  seen rave reviews of her books and Joli even emailed me offering to let me borrow her copies. It was then that I knew that I must get my hands on a book by Echols to see what I was missing out on. Luckily, at about that time, Jennifer Echols put a call out on Twitter to see if any bloggers wanted to review LOVE STORY. I immediately jumped at the opportunity and was elated when I received a package of not only LOVE STORY, but also Echols' other two books ENDLESS SUMMER and THE BOYS NEXT DOOR.
One of the best things about this book? It's about college students! Remember a few weeks ago when I lamented there not being any books out there for twenty-somethings? LOVE STORY is a perfect example of what I'd love to see more of from some of my favorite authors. I can't remember the last book I read about college students…what a refreshing and welcome change. It was fun to read a book that reminded me a little bit of my own college experience. Setting the book in college also allowed for a pretty awesome beach themed party scene in a dorm room boys bathroom.
I adored this story. From Erin wanting to become an author, to most of the story taking place in a creative writing class, to the handsome and gentlemanly Hunter, there was just so much to like about LOVE STORY. Erin was so easy to relate to, and such a likable main character (although, a bit stubborn). I admired Erin's drive and her willingness to do literally anything to stay in NYC, even if it meant working hours on end at the coffee shop. I also enjoyed how introspective Erin was throughout the book; I loved hearing her thoughts…Erin overanalyzed everything; something I can definitely relate to!
What I loved most about this book was the fact that part of it was told in both Erin and Hunter's creative writing assignments. Such a creative way to tell a story! I enjoyed reading the stories between the lines and trying to figure out Erin and Hunter's true feelings and emotions. Plus, setting much of the story in a creative writing class allowed me as a reader to get to know many characters (not only Erin and Hunter, but also a few of their friends who played a big role in the story).
At first, I wasn't sure how I'd feel about the whole horse farm part of the storyline. It didn't really interest me, and I worried a little about where the story was heading. A few pages later, I realized my worry was for nothing. Erin's life before New York City set the scene for the rest of the story and helped me understand her better. Plus, the juxtaposition between the scenes in NYC and the scenes in Kentucky took the story to the next level. I actually loved the scenes in Kentucky, surprisingly.
The relationship between Erin and Hunter totally captured me from page one. The sexual tension between the two throughout the book was written perfectly, and definitely kept me on the edge of my seat. While it was definitely frustrating to see the two get so close to being together, and then find themselves apart again, Echols expertly kept me paying attention to the story.
I am one hundred percent sold on Jennifer Echols and can't wait to start reading one of her other two books. Thanks to everyone who urged me to check her out!
4.5/5
Review copy provided by author.