Today, I'm participating in Waiting on Wednesday, a weekly event hosted by Jill at Breaking The Spine. This event highlights the upcoming releases that we are eagerly awaiting!
Today, I am waiting for…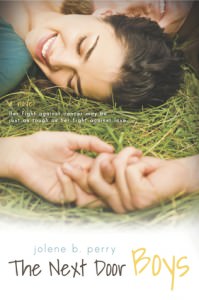 The Next Door Boys by Jolene B. Perry (October 4, 2011 by Cedar Fort, Inc.)
There is just SO much to like about this book. First there's the intriguing title…and then there's the gorgeous cover. And still after all of that goodness, there's the awesome summary.
Check out this Goodreads summary:
With her body still recovering from last year's cancer treatments, Leigh Tressman is determined to be independent. Despite the interference from her overprotective brother, the ever-expanding line of young men ready to fall in love with her–not to mention the physical frustrations and spiritual dilemmas Leigh discovers what it actually means to stand on her own and learns that love can be found in unexpected but comfortable places.
I am SO looking forward to getting my hands on a copy of this book ASAP. Unfortunately, almost everyone has been touched by cancer in some way. Besides having several personal connections to cancer through family members, I work on the public relations team at a hospital where I have the privilege of getting to know many cancer patients. I haven't seen the issue of cancer (especially cancer affecting a teenager) in any YA book I've read. I'm so interested to see how Jolene B. Perry approaches the topic.
What are you anxiously waiting for this Wednesday?