Today, I'm participating in Waiting on Wednesday, a weekly event hosted by Jill at Breaking The Spine. This event highlights the upcoming releases that we are eagerly awaiting!
Today, I am waiting for…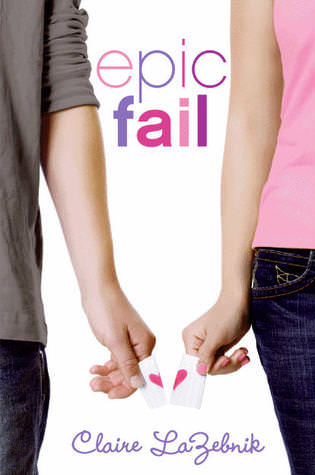 Epic Fail by Claire LaZebnik (August 2, 2011 by HarperTeen)
Check out this Goodreads summary:
At Coral Tree Prep in Los Angeles, who your parents are can make or break you. Case in point:

– As the son of Hollywood royalty, Derek Edwards is pretty much prince of the school""not that he deigns to acknowledge many of his loyal subjects.

– As the daughter of the new principal, new-girl-on-campus Elise Benton isn't exactly on everyone's must-sit-next-to-at-lunch list.

When Elise's beautiful sister catches the eye of the prince's best friend, Elise gets to spend a lot of time with Derek, making her the envy of every girl. Except she refuses to fall for any of his rare smiles and instead warms up to his enemy, the surprisingly charming social outcast Webster Grant. But in this hilarious tale of fitting in and flirting, not all snubs are undeserved, not all celebrity brats are bratty, and pride and prejudice can get in the way of true love for only so long.
I have been a fan of Claire LaZebnik for a long time now and I'm really excited to see her make her YA debut!
This book sounds REALLY cute. I love the idea of these different characters and how their parents make or break their image in a cliquey high school. From the short summary above, Elise sounds like a strong character- one who won't take crap from anyone and doesn't exactly go with the crowd.  I like that about her already!
Plus, if I wasn't already sold based on the awesome summary, the cover and title definitely caught my eye. I catch myself saying "epic fail" all the time when I do something silly or things don't go my way and I the cover is just adorable.
What are you anxiously waiting for this Wednesday?