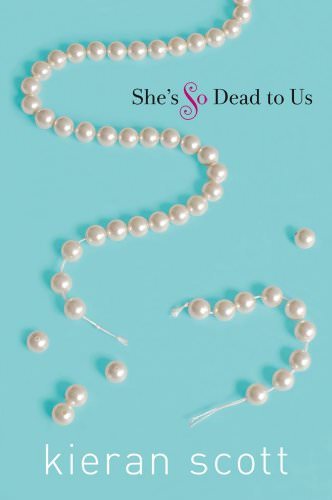 She's So Dead To Us
Author: Kieran Scott
Goodreads| Amazon| Author Website
When Ally Ryan returns home after two years away, she doesn't expect that everything will be the same as when she left, but she certainly didn't expect everything to be so bad. Two years earlier, Ally had it all. She lived on a cul de sac in a beautiful mansion, with all of her best friends living in the houses surrounding hers. Pretty and popular, Ally had lots of friends and a pretty good life.
When her dad makes a few bad investments- with her friends parents money, practically bankrupting them, Ally and her family flee, without so much as a goodbye. Now two years later, Ally's dad has disappeared, leaving Ally and her mom on their own. Ally's mom finds a job, back in their old neighborhood and before Ally knows it, she's back in her old town, living in a small house and wondering if she'll ever rekindle her friendships with her old friends who seem to want nothing to do with her. Then she meets Jake, who lives in her old bedroom. He doesn't know much about why Ally's old friends hate her, but he finds himself completely drawn to her, and she to him, but they face a ton of drama when Ally's old friends find out.
I was super excited to read this book because I absolutely love Kieran Scott's books under her pen name Kate Brian. This book did not disappoint!
As a main character, I immediately liked Ally. Even after her fall from grace, she is still so strong and resilient. Even though she knows what life with money and friends is like, she accepts her new life, and tries to make the most of it. I especially admired her when she joined the Backslappers, a high school activity she previously enjoyed, even though all of her old friends tried to make sure she didn't join. Ally exhibited a confidence that is quite unusual for a "normal" high schooler….I thought this trait made her an excellent, and certainly an admirable main character.
My major problem with this book was Jake. I thought he was a complete JERK! Especially in the beginning of the book, I was disgusted by how he would make out with other girls "because he couldn't be with Ally."  Ugh. I kept waiting for him to become more *swoonworthy* but it never happened. Yes, I know MOST teenage boys are immature, but I think Jake took it a bit far.  I thought it was pathetic that he wouldn't stand up to his friends.
My favorite part of this book was that it was told from two different perspectives-Ally's and Jake. The alternating chapters kept me interested and paying attention since I was able to see the stories from two sides. It was nice to get a glimpse into Jake's head, especially because I definitely wasn't a fan of him throughout the book; hearing his perspective at least gave me an idea of WHY he acted the way he did, even if I didn't agree with the way he acted.
I've heard from several other bloggers that they dislike the cover of this book. I actually like it; it's very simple but has a lot of meaning. It definitely catches my eye, although I also REALLY like the cover for the sequel to this book  HE'S SO NOT WORTH IT, coming out in June 2011.
The last few pages of the book, leading up to the intense cliffhanger ending were my favorite parts of the book. Ally's bitchy ex-best friends show their true colors; Ally's secret is revealed, and we're introduced to a character we may not have thought we'd ever meet. Needless to say, I am anxiously awaiting HE'S SO NOT WORTH IT. Can't wait to see what happens next in Ally's world!
4/5