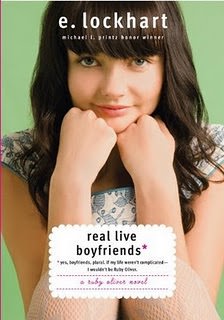 Real Live Boyfriends
Author: E. Lockhart
Goodreads| Amazon| Author Website
Ruby Oliver is back; bit more mature since her days of making list upon list of the boys in her life, but still the same sweet and somewhat quirky Ruby readers have come to know and love.
In this fourth installment, Ruby is ecstatic because she finally has a real live boyfriend, Noel. What's the difference between a real live boyfriend and a boyfriend, you may be wondering. Ruby has a much better explanation that I could ever give, but in essence, a real live boyfriend is 100 percent present; he calls because he wants to, he would never dream of not sitting with you at lunch and he really listens. Noel is all of these things to Ruby…until he's not.
After heading to New York to visit his brother for the month of August, Noel returns different; more quiet and less interested. In the meantime, besides trying to figure out what Noel's deal is, Ruby is in the middle of college applications, dealing with her crazy and irrational parents and once again, learning who her true friends are. All of the stress is enough to bring Ruby back to panic attacks, but this time…our Ruby seems to have grown up.
One of my favorite things about E. Lockhart's Ruby Oliver series is the way the books are written. Less a novel, and written more in lists, footnotes and poetry form, it's easy to get lost in Ruby's world- and also makes for a fairly quick read.
It's nice to see how much Ruby has evolved since THE BOYFRIEND LIST. Back then, we knew an anxious, nerve-ridden Ruby and now we see a more confident and comfortable main character.  I love seeing how much she has grown and learned from her own experiences, as well as her conversations with her psychologist Doctor Z.
The one thing that has remained consistent throughout the series, and rightfully so, is Ruby's wit and charm. It's one of the aspects of the book that makes them so enticing and easy to read. Ruby's sense of humor make this series shine. Without the bit of humor, you'd have just another book painting a picture of one girl's struggles in high school.
I wasn't crazy about Ruby's parents- I don't remember them being quite so annoying in the past books (though it's been a year since I've read them). Ruby's mom seemed irresponsible and pretty irrational, where her dad just came across as needy and pathetic. I understand the importance of her parents having these traits- it shows where Ruby comes from, and why she deals with problems the way she does, but her parents actions went a little over the top in this book, in my opinion.
I'm not sure if this is the end of the series, although if it is, E. Lockhart did a great job wrapping the story up. I love that the ending isn't perfect- everything isn't wrapped up in a neat, perfect bow. Sure, Ruby is happy, but she also recognizes that with high school ending soon, things in her life are about to change. E. Lockhart leaves the reader feeling confident that Ruby now has the skills to make it through any changes or issues that life presents to her.
Bonus points go to E. Lockhart for giving a shout out to my alma mater, Temple University, as one of the schools Ruby considers for college!
4/5