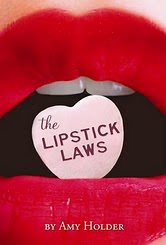 The Lipstick Laws
Release date: 4/4/11
Author: Amy Holder
Goodreads| Amazon| Author Website
Unpopular April Bowers is used to feeling invisible. When gorgeous and popular Britney Taylor plucks April out of obscurity in gym class, April feels like her prayers have been answered. Quickly whisked from nothingness to fabulous, April enjoys the warm glow of popularity; but that popularity comes with a hefty price.
Britney may be beautiful, but that doesn't mean she's nice. As April begins to get to know Britney and her friends, she is told that April has some serious work to do and will be considered a "friend in training"  until Britney and the girls deem her ready. A few weeks later, April is brought into the inner circle when she is asked to sign the Lipstick Laws, seven rules that all members must abide by.
When April breaks the Lipstick Laws, she is promptly kicked out of the group and Britney vows to ruin her life. Not one to stand by idly, April discovers that there are other girls out there like her- girls who have been shunned by Britney and her group; and they all want revenge.
What an ADORABLE 2011 debut! I was intrigued by the title and the summary when I first heard of this book a few months back, but I didn't expect that I'd love it so much. While I wouldn't say I was skeptical, I would say that I was really interested to see what direction this book would take because this storyline has certainly been done before. However, THE LIPSTICK LAWS definitely proves itself unique and different! In some other reviews I've read, this book has drawn some comparisons to the movie Mean Girls. Yes, there are a few similarities, but this book has so much more heart than the movie.
How fun was this book? I loved all of the scheming and pranks that April and the other Lipstick Lawbreakers pulled off. Though the girls originally came together to get revenge on Britney, I really appreciated the fact that they found true friendship in each other. And of course, I'll admit, it was nice to see Britney get what she deserved.
I love the journey April took throughout the book. She started out as a nice girl and slowly found herself spiraling into mean girl mode, as she became friends with Britney and eventually decided to get revenge. My favorite part of the book was when April came full circle and realized that she was acting just as mean and horrible as Britney and had definitely stooped down to her level.
And how can I forget to mention swoonworthy Mr. Hottie-Body Brentwood? I was rooting for him and April (although I wasn't a fan of when he became all weak to Britney's charms). In fact, my favorite line came at the end of the book, as part of the Matt and April storyline: "Smiling to myself, I realize that it's definitely better to be wanted than to be the one wanting."
This is a fun and fairly quick contemporary read. You'll love this book if you're looking for a girly story, but also one that has some depth. In addition to crazy schemes and funny dialogue, this book delves into issues like body image, self-esteem and confidence. Holder touches on some important issues that every teenage girl can relate to. I really appreciated that in the midst of all the cuteness and fun, I walked away absolutely knowing what the moral of the story was.
Amy Holder is definitely a new author to watch out for! And the best part is, she lives in Philadelphia, so I'm looking forward to her release date because I'm hoping for a local signing.  Can't wait to see what she writes next…perhaps a sequel?
5/5
Review copy provided by NetGalley.